Featured Testimonial About Creighton University
Values, principles, ethics and becoming men and women for and with others are components of a Creighton education, and time only increases their value.

Dick Jeffries
JD'68, BA'95
Dick Jeffries passed away earlier this year. In lieu of flowers, his family asked that memorials be directed to Creighton University School of Law. You can make a gift to Creighton's law school here.
* * *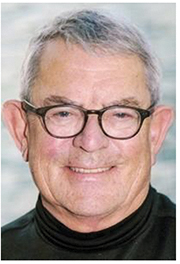 One of the first things people mention about Dick Jeffries, JD'68, BA'95, is just how funny he was.
"His sense of humor was so dry, disarming and self-deprecating," said his friend Tom Grennan, BA'75, JD'78. "He could get anyone laughing. He was just one of those people who immediately put you at ease."
Jeffries' wit was a gift he gave everyone he knew, said Ron Volkmer, BA'66, JD'68.
"He was the heart and soul of our class. All this time later, he is part of many of my most treasured law school memories."
One such memory: Jeffries and Volkmer's second year of law school, in the civil procedure class taught by the stern and demanding School of Law Dean James A. Doyle. "Everyone was kind of afraid of Dean Doyle," Volkmer said.
In class, Doyle called on Jeffries regarding a particular case. Jeffries admitted that he hadn't prepared for that case. Shortly after, Doyle called on Jeffries regarding a different case: "Are you prepared for this one, Mr. Jeffries?"
Jeffries: "Well, Dean, yes, I am. It's better to have some of your eggs in one basket rather than no eggs in no baskets."
Dean Doyle couldn't help it. He smiled.
Moments like these said so much about who Dick Jeffries was — How he took life lightly. How he took risks (which usually paid off). How he knew how to get the room's attention and how he understood that nothing could smooth over cracks or cut through a setback quite like a well-timed joke.
Jeffries never lost his good humor — not in the face of professional failures nor personal tragedies. He knew not to take anything too seriously. And in spite of that — perhaps more likely because of that — Dick Jeffries lived a seriously successful life.
* * *
"In my eulogy for my father, I said he was at his best when he was both optimistic and a tiny bit irresponsible," said Rick Jeffries, JD'93. "He would come up with these adventures, both in business and in our lives. Some of them worked out. Some of them didn't."
So much of what Dick did with his life did end up going well that it's difficult to know where to begin.
Let's start with Godfather's Pizza. Jeffries was at the ground floor of the Omaha-founded franchise. Like much else in his life, how it happened was kind of a funny story ...
A few years out of law school, Jeffries was the member of a three-man firm, when he took a call from Willy Theisen, soon to be the founder and owner of Godfather's.
"The lawyer he was looking for was out," Jeffries told the Omaha World-Herald in 1988. "So, I talked to him. Later we had lunch."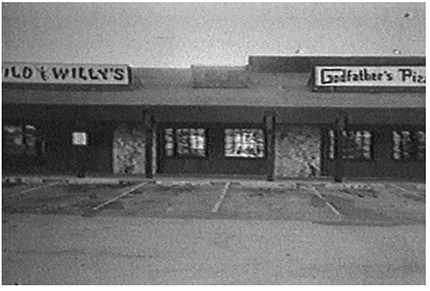 They became friends and business partners, and not too long after Jeffries became the co-pilot of the fastest-growing restaurant chain in America. At its peak, Godfather's was opening a new store every 36 hours.
Jeffries, initially a trial lawyer, quickly became an expert in franchise law. He would go on to serve as the chain's general counsel and executive vice president.
Years after Theisen sold Godfather's, The World-Herald wrote a feature about Jeffries with the headline: "Busyness Man."
To name just a few of the things Jeffries did after law school ...
He ran a car dealership, worked as a corporate attorney and learned how to fly airplanes. (He once said that flying was like golf to him, but "a lot less hazardous.") He served as director of the Omaha Public Power District and on the Creighton Board of Directors. He made gifts to Creighton's law school, chaired the school's alumni advisory committee and taught trial practice to a new generation of Creighton lawyers.
It must be noted that Jeffries did all this while also raising four children with his first wife, Kathie, who passed away in 2009. If Jeffries' whole personality could be summed up in a few words, it might be the text on the sign outside the School of Law study room he funded:
"In honor of Kathie Jeffries, the sweet girl who paid my tuition."
Somewhere along his unlikely path, Jeffries even found time to return to Creighton and get his bachelor's degree, nearly three decades after graduating from law school. (More on this in a moment.)
Through all his endeavors, Jeffries stayed self-effacing. Because he knew that behind every success were multiple false starts.
Take the case of First National Frank. Before Godfather's, Jeffries and Theisen set out to create the world's finest hotdog, a foot-long quarter-pound colossus. The business went bust after nine months, their road to a pizza empire paved with hotdog failure.
"But whatever happened, nothing dimmed his curiosity or his joy for life," Rick Jeffries said of his father. "If things didn't go well, he was always ready to make fun of himself and try something new."
* * *
Even amid all his successes — even while serving as a Creighton board member — Dick Jeffries still didn't have his bachelor's degree. As an undergrad, he hadn't been able to pass his foreign-language requirement but had enough credits to enter law school.
In the mid-'90s, Jeffries decided to finally complete the 13 hours required for a degree in journalism. He loved every minute of his return to Creighton. Rick Jeffries recalls his father showing off his homework at the dinner table.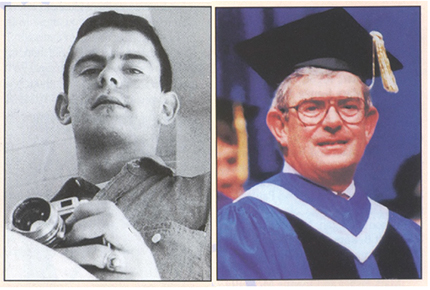 At '95 commencement, a 52-year-old Dick Jeffries said, "I'm real proud of (my degree). I've finished what I started."
He later wrote about his experience in a Creighton magazine (then Windows magazine) column titled, "Creighton today, Creighton yesterday, Creighton always" ...
"So, what did this student in his autumn years learn? I learned that Creighton and its mission are even more important today than they were 30 years ago. Values, principles, ethics and becoming men and women for and with others are components of a Creighton education, and time only increases their value."
Before Creighton law school, Jeffries hadn't been the best student, his family says. But when the School of Law accepted him, something clicked into place.
"He got a second wind there," his son said. "And he realized that it was his obligation, his privilege to give back and to serve. He wanted to carry out Creighton's mission."
Jane Huerter, BA'72, JD'76, Dick Jeffries' widow, said her husband carried the compassion, empathy and Ignatian values of his education with him through everything he did.
He never stopped looking out for the place that took a chance on him — that helped a wayward student find his path, become Student Board president and later earn the Spirt of Creighton award, the University's highest student honor.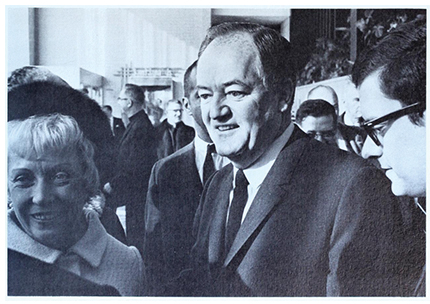 "He was so proud of his Spirit of Creighton award," Huerter said. "I mean, he would talk about it in the self-deprecating way he did most things. But it was a very big deal for him."
The rest of Jeffries' life post-law school became a balancing act — between work and service, between business and law, between pizza chains and flight lessons.
Yet in spite of how busy the "Busyness Man" was over the course of his career, his No. 1 priority was always the people he loved.
"That surprises some people because he was so involved in so many things, they didn't know where he found the time," Huerter said. "But his friends and family always came first."
More than anything, he loved to make them laugh.