Featured Testimonial About Creighton University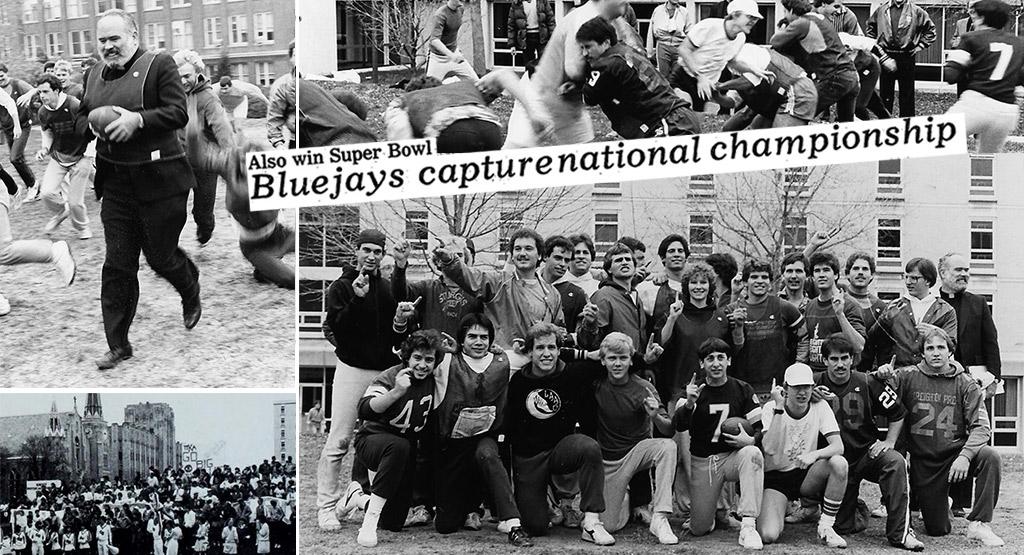 In the grand scheme of things, this wasn't an earthshaking event. But it was one of the oddest and best experiences of my life.
Editor's note: This story was originally published in the fall of 2021 as part of a series on the history of Creighton's football program. To honor the 40-year anniversary of Creighton's fake football team playing a mock game for a real CBS News crew, we've re-upped the article.
Read on to see how one student's joke in the Creightonian snowballed into a national news story culminating with Father Michael G. Morrison, SJ, running a touchdown on national television.
* * *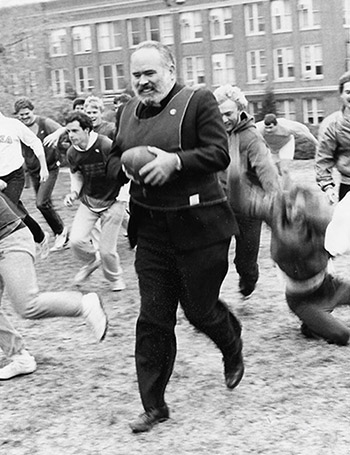 On a Saturday morning in November 1983, more than 250 students gathered east of Kiewit Hall to cheer on a game of football.
The Creighton crowd sported blue and white faces. They held banners reading "Go Big Blue" or "CU at the Orange Bowl." Then-Creighton President Michael G. Morrison, SJ, (Bluejay football's head coach) bent the rules a little, taking the field, grabbing the ball and running for a touchdown himself. The team hoisted him on their shoulders.
This team was undefeated. This team boasted some of the best players in the country. This team wasn't real. (The last actual team was in 1942.)
But no matter. In the fall of '83, Creighton football was unstoppable, scoring as much national media attention as a fictitious team could ask for.
On the day of the "game," CBS and WOWT camera crews were there to film the fake team for a real news segment to air a few weeks later, during the Nebraska vs. Oklahoma game. (Attempts to retrieve this footage have so been unsuccessful.)
Mark Weber, BA'84, JD'87 — who played on the '83 football "team" — recalls a few details of that segment …
An announcer said: "Some say Nebraska is the best team in the country. Well, there are some who say Nebraska isn't the best team in the state."
The camera then went to Nebraska coach Tom Osborne, who deadpanned that he would be honored to play Creighton in the Orange Bowl.
The joke didn't end there.
Creighton later received offers to play three other schools, two of which, like Creighton, didn't really have a football program either.
In the pages of the Creightonian, the mythical 11-0 season would continue, up to and well beyond the point of true blue absurdity.
Creighton would win college football's national championship and even the Super Bowl, following Coach Morrison's last-minute decision for the Bluejays to disguise themselves as the (then-L.A.) Raiders. The Bluejays/Raiders defeated the Washington Redskins 38-9.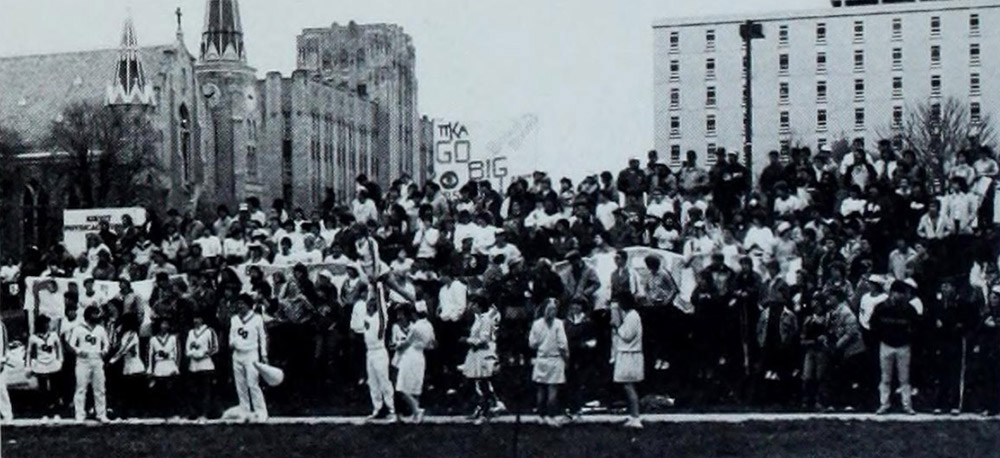 * * *
How does a dumb joke go so far?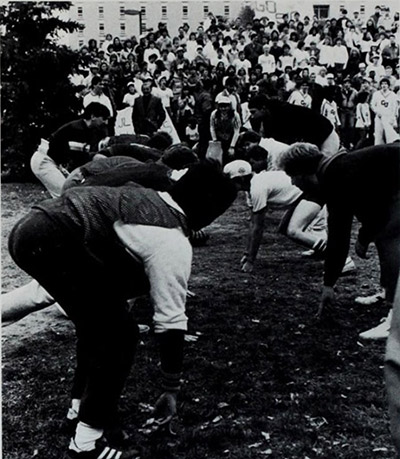 Looking back nearly 40 years after the fact, the gag's conspirators aren't entirely sure.
"Few things in the world today put a smile on my face like this topic," said Bob McDonald, BA'84, the fake football team's mastermind. "In the grand scheme of things, this wasn't an earthshaking event. But it was one of the oddest and best experiences of my life."
The joke started with a Creighton football poster listing a bogus schedule for the team's '83 season. McDonald recalls receiving a copy of the poster, distributed by Stanek Distributing Co., while registering for classes that semester. From there, he picked up the ball and ran with it.
A short while later, McDonald — then a Creightonian writer — was helping put together an issue set to print that night, and the front page needed another story fast. Deadline looming, McDonald offered a last-minute solution:
"I said, 'Hey, I'll just write a story pretending there's a football team and give the results.'"
In McDonald's account, the Bluejays beat the Michigan Wolverines 20-17. This was intended to be a one-and-done joke, no follow-up. But the reaction was so positive that his goofy Hail Mary of a filler article became a season-long series.
Every one of McDonald's stories carried the disclaimer: "The following story is entirely fictional."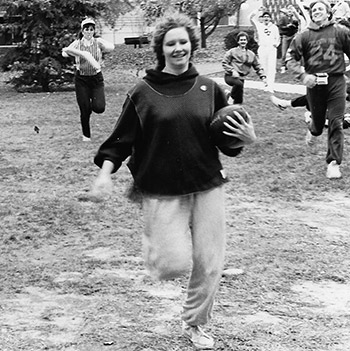 Details grew more and more outlandish. The Bluejays always won — even against Notre Dame, even against NFL teams. In McDonald's coverage …
Fr. Morrison had in fact resigned from his post as President to take on the "more important" role of coaching the football team.
The Bluejays played their home games on top of Interstate 480. (Turf was added just in time for Creighton's homecoming game against Penn State.)
Creighton's team boasted "the only female football player in the country": Kristi Palaschak, BSN'84, who brought home a 68-yard touchdown pass in the Michigan game, according to McDonald's inaugural article.
Like every other fake Creighton player/real Creighton student featured in McDonald's game recaps, Palaschak had no idea she was on the team until she read about it in the paper.
"I always looked forward to reading the Creightonian," Palaschak says now. "And one day I was reading this hilarious article about Creighton's fake football team, then right there's my name. I'm apparently on the team."
She continued, deadpan: "I'm still thrilled I was able to break the glass ceiling like that."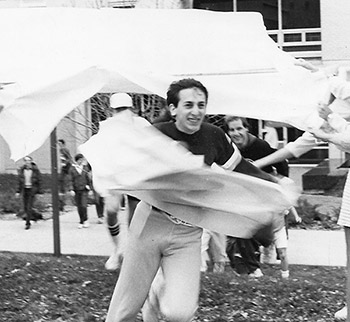 For the gridiron heroes of his game recaps, McDonald picked fellow students he knew would be good sports about the whole thing. He named his friend Lewis Hofmann, MD, BS'84, the team's quarterback.
"People on campus would come up and congratulate me for winning the game," Hofmann says now. "I remember that whole time as one of the oddest, most silly and heartwarming times of my life.
"And then CBS came to Creighton. We all had our 15 minutes of fame, and by gosh, we were going to use them."
* * *
News of the fake Creighton team's miracle season spread slowly.
In October of '83, the Omaha World-Herald wrote a story about Creighton football's faux revival. The Associated Press picked up the story, which then ran in papers across the country. The Sporting News soon wrote its own feature. (That article, incidentally, prompted fan mail for Palaschak from a man in Massachusetts who wanted her autograph. She sent him one, saying his request was more sweet and less creepy than it might sound now.)
The coverage snowballed from there. One day McDonald got a call from a CBS producer.
McDonald: "This guy calls me out of the blue on a Wednesday afternoon. They wanted to film the team to run as a segment during the Husker game a few weeks later. He said, 'We'll be there to film the team on Saturday.'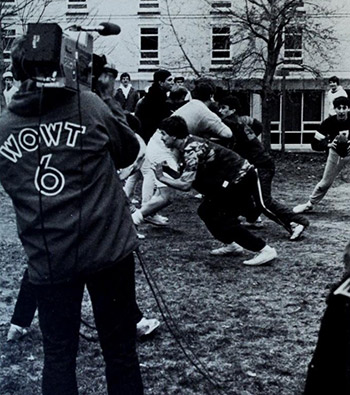 "And I said, 'You do realize this is a fictional team? There's nothing to film!'"
The producer: "Well, you'll think of something."
McDonald did think of something. He spent the next few days filling out the team's roster with enough players to host a Creighton football scrimmage on campus. A friend put signs around the Mall to drum up buzz for the game.
Fr. Morrison committed to fulfilling his role as head coach. Psychology professors Gary Leak and Rich Millard agreed to play assistant coaches. But later, at kickoff, neither Leak nor Millard had shown up. McDonald called one of them to ask where they were. The response: "Wait, this is real? We thought you were kidding." Both professors later made it to the game.
The game was (nearly) as ridiculous as the articles that inspired it. As CBS and WOWT camera crews roved the makeshift Kiewit field, the team executed an increasingly absurd series of plays, including one that ended in the aforementioned touchdown run by head coach Fr. Morrison.
McDonald especially cherishes the moment when Lewis Hofmann threw a pass to Walter Tomasino, BA'85, who was from El Salvador and knew next to nothing about American football. CBS captured that catch for the cameras.
McDonald: "Fictional or not, it's incredible how that season of Creighton football worked out."
Mark Stenner, BA'86. player on the '83 team: "It was an early version of fantasy sports, a group of students bringing some national attention to a small Jesuit school in Nebraska."
Palaschak: "It was so nice to be able to represent this fictitious team and this wonderful school in such an unusual way. This crazy moment was just part of the fabric of the spirit and community of Creighton and of our experience as students, just one of the many great things happening on campus. As I get older, things like this are what I remember most."

McDonald recalls his late friend Mike Carlson, BA'84, MS'03, coming up to him a week after the big game to tell him that was the most fun he ever had.
Was this real? Was it fake? Uplifting? Ridiculous? Who cared when everyone was having so much fun?
And after all, what is any game in any sport but an agreed-upon fiction, an invented assembly of rules and traditions adding up to something greater than the sum of its parts, something fake made real through a community's collective spirit?
(To be sure, the 1983 game was no less real — and no more ridiculous — than the very first game of Creighton football in 1891.)
In the aftermath of the Bluejays' undefeated '83 season, Omaha World-Herald sportswriter Don Lee, BA'43, would weigh in on the fake team in the Creightonian.
As a former student sports reporter, Lee had covered the University's final real seasons of football for the Creightonian in '41 and '42.
On the topic of Creighton's fake team, Lee said, "It's great to relive those times. I wouldn't trade them for anything. Whether it's fact or fantasy, it's good for school spirit."
More photos from the game ...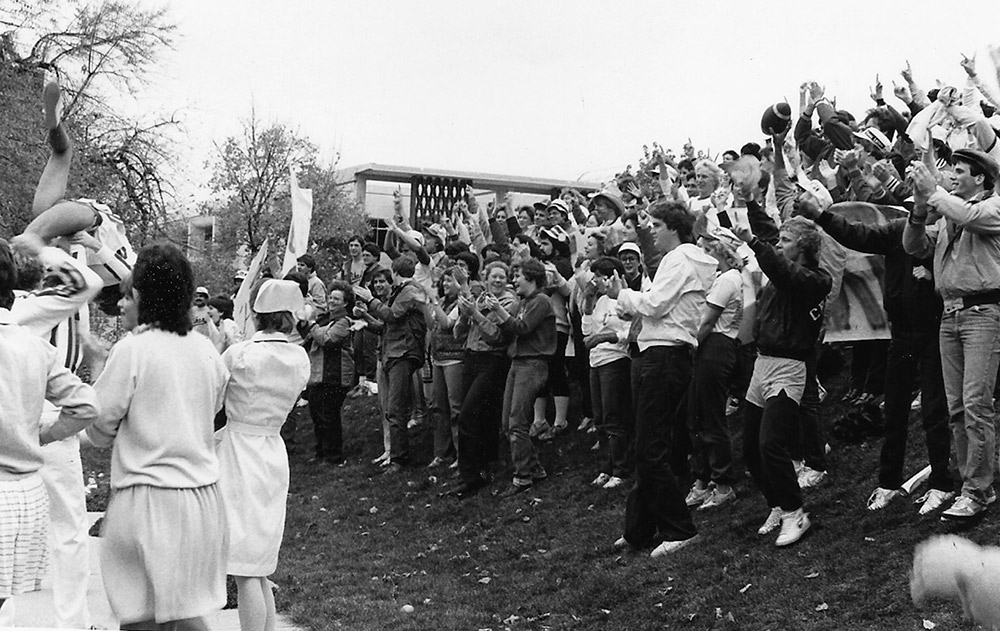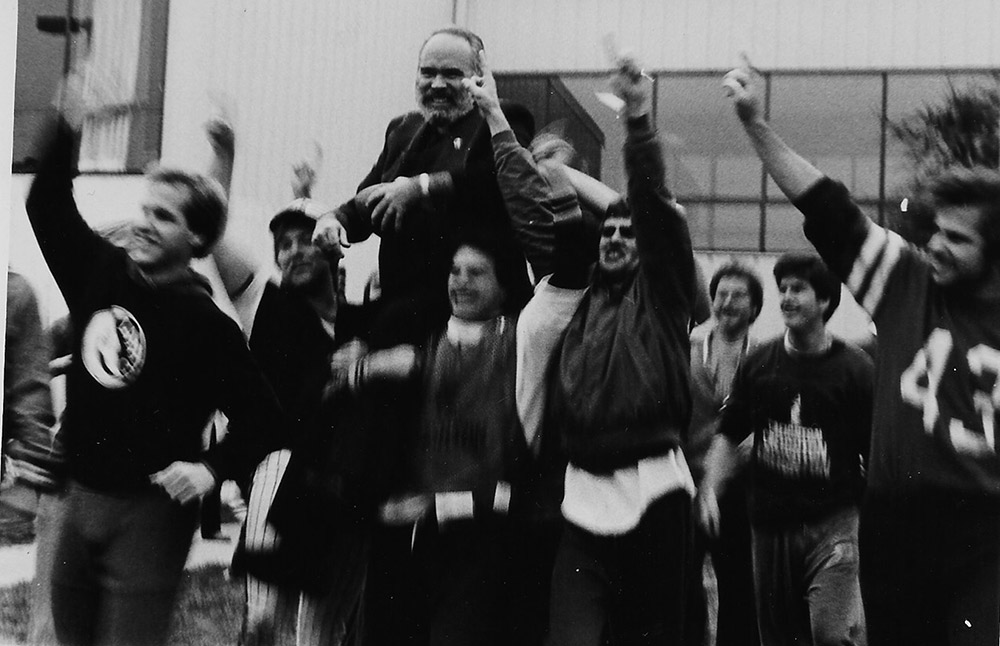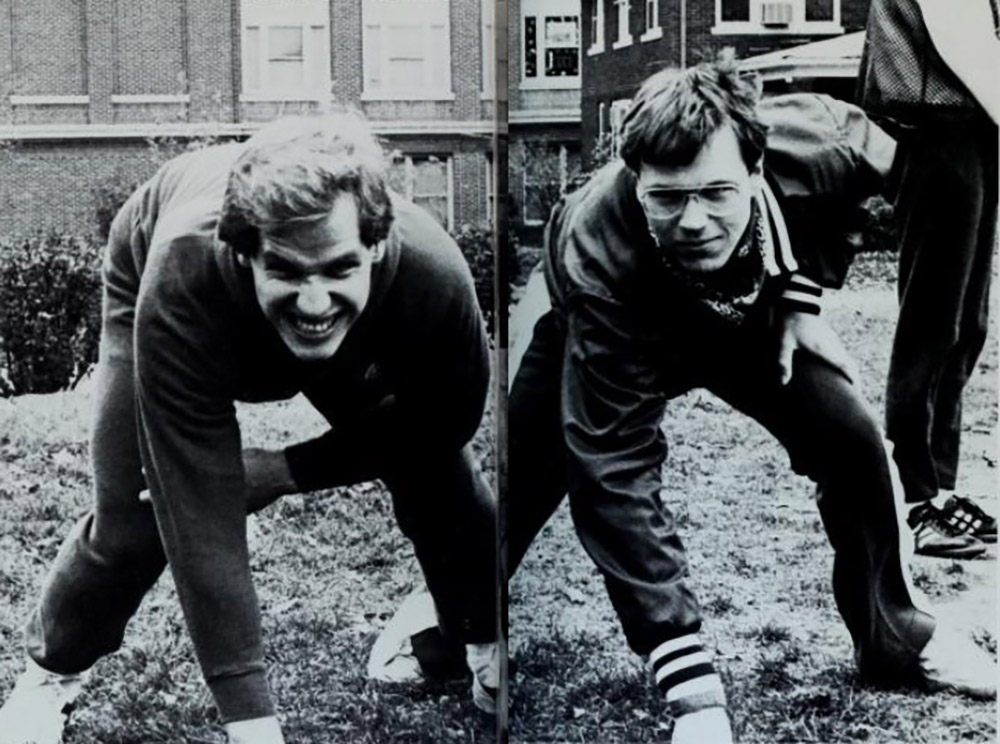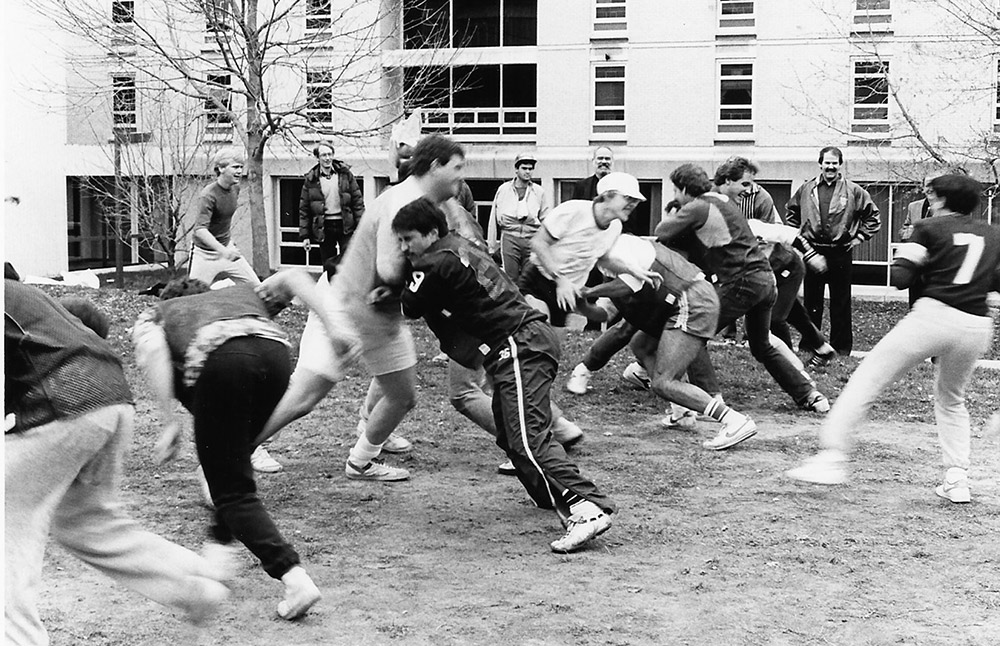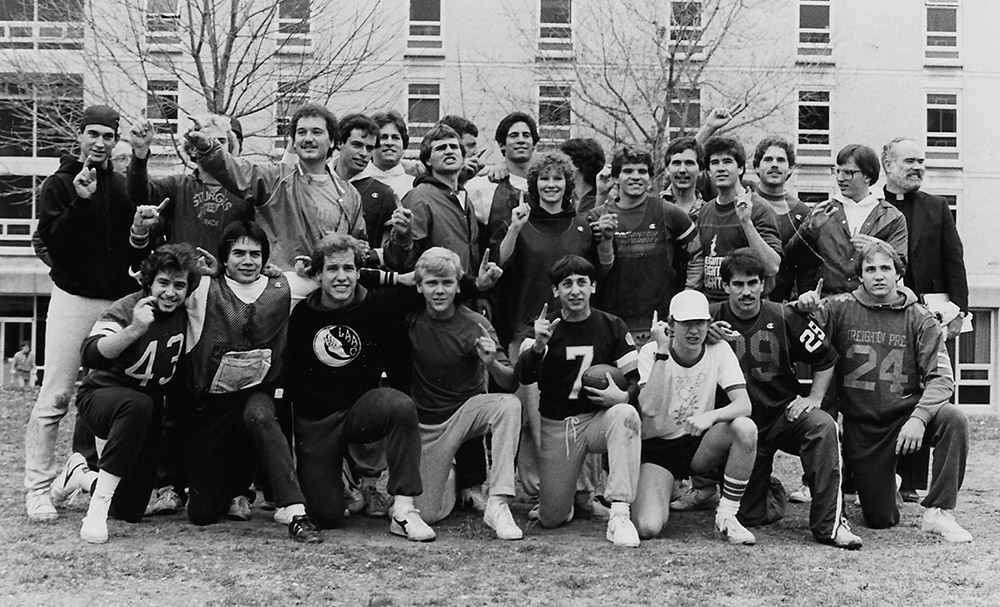 Creighton football
This story is the third installment in a series about the early days, abrupt end and short-lived comeback of Creighton University's football team. Read more at the links below.
Part One — 1891: The Rise of Creighton Football
Part Two — 1942: The Fall of Creighton Football
Epilogue: Images of Creighton football and its stadium
* * *
Sources for this series: the University Archives, the Creightonian, the Blue Jay Yearbook, the Omaha World-Herald and the Creighton Window.
* * *
The football program may no longer exist, but we still have 14 varsity teams carrying on the proud tradition of Creighton Athletics. You can keep our many programs and student-athletes successful by making a gift today!