Featured Testimonial About Creighton University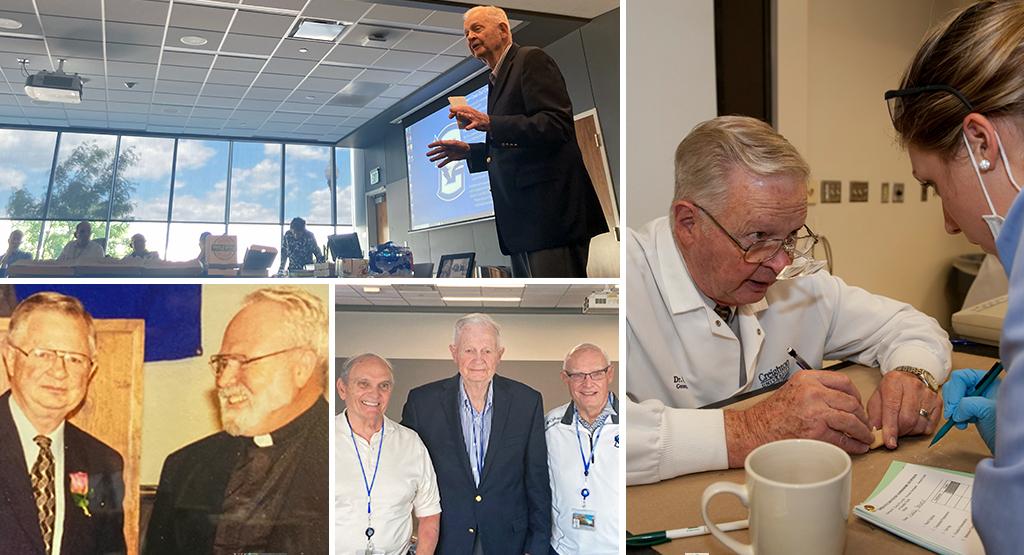 Remember, you're a part of the best place in the world. Thank you for keeping it that way.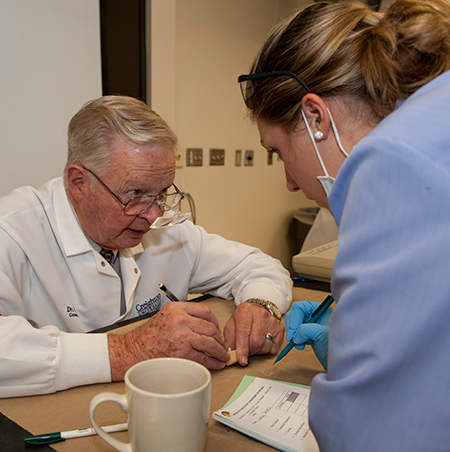 Want to support School of Dentistry clinic patients with the greatest financial need? Consider making a gift to the Dental Patient Assistance Fund today!
* * *
By Micah Mertes
There's a joke Bill Carlisle, DDS'58, likes to tell dental students.
"They ask me how long I've been here," Bill says. "I tell them, 'So long that I knew John and Ed (Creighton) personally.'"
Bill hasn't been with Creighton that long. But the 89-year-old alumnus and professor has been an essential part of the School of Dentistry for more than half its history, joining the faculty shortly after he graduated and teaching operative dentistry for the past 63 years.
He's taught thousands of students and served multiple deans across three different dental school buildings. He's spent so many hours teaching students in the pre-clinical lab that the room is named after him (as it also was in the Boyne Building, the dental school's previous home).
At his retirement party this month in the dental school, Bill and his family, friends and colleagues reminisced about the many ways Creighton has changed over the years. And the many ways it hasn't.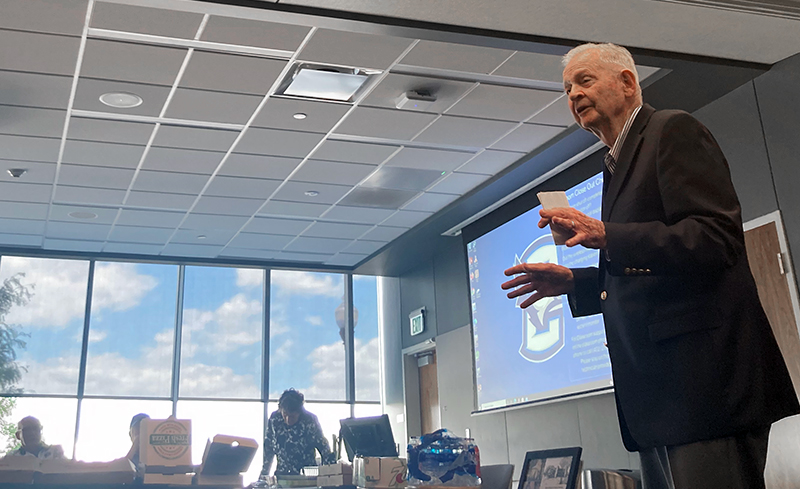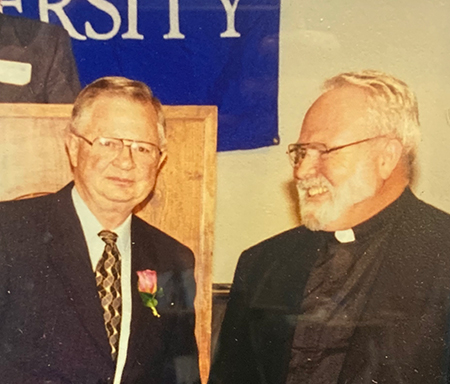 "I recall the Jesuit influence being very important to me early on," Bill said. "Being a person for others is something I tried to pass on.
"I always told the students, 'You're treating a person. Computers are great, but the patient doesn't want to be treated by a computer. They want a relationship with you.' I hope they listened because that's very important."
Several of the people at Bill's retirement party were his former students who, in turn, became Creighton dental faculty themselves. They seemed to have taken all of Bill's lessons to heart. They told him as much, paying tribute to (while gently roasting) that "tall, lanky John Wayne-looking guy" known for hitting grand slams at faculty/staff baseball games.
"Bill, I'll miss you," longtime former professor Ted Bolamperti, DDS'65, told his friend and colleague of many years. "So will the school and so will the students. You're a good man and a good dentist."
Associate professor Bruce Mowat, DDS (who has himself taught at the dental school for nearly 60 years), recalled the countless lunches he had with Bill and Gene Stormberg, DDS'53, at Mr. C's Steakhouse. If delayed orders ever had the trio running late to afternoon clinic, it fell to Bruce (as the crew's junior professor) to have to call up then-Dean Ray Shaddy, DDS'52, and ask him to cover for them.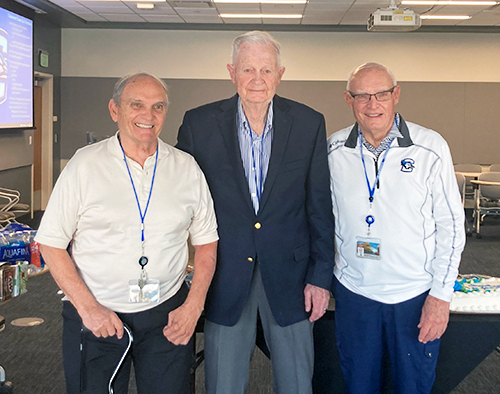 Dean Shaddy himself hired Bill. Now, more than 60 years later, here was the former dean's son, associate professor Scott Shaddy, DDS'88, wishing Bill farewell.
Professor Tom Cavel, DDS'70, remembered when he was a third-year dental student. His mother had a toothache one weekend, and he brought her into Bill Carlisle's practice.
"I fixed my mother's tooth, but with a lot of help from that young man over there," Tom said, his voice cracking as he pointed to his mentor. "Bill, thank you for all your help all these years. Don't be a stranger. You still know how to get into the building."
Associate professor Jenn Hasslen, DDS'03, said Bill and his longtime fellow professors are living proof of the unique legacy and quality of Creighton's dental school. These were some of the very mentors who taught her how to be a dentist, a teacher, a person.
"It's an honor to teach in this school, and I'm flattered they want me to," she said. "I hope I can make them proud. We want to be able to continue their legacy."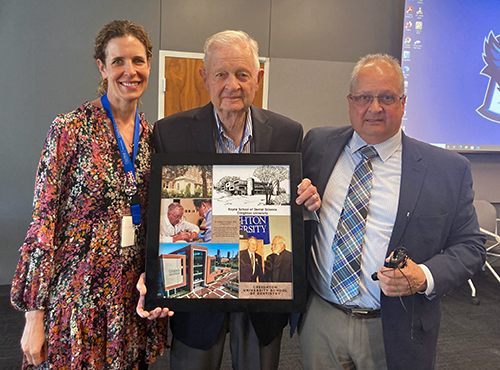 Speaking of legacy, Bill's own son, Mike Carlisle, BA'84, DDS'92, has been teaching in the dental school for three decades. After years of working as an adjunct professor, Mike is moving away from private practice to teach at Creighton full time next semester.
"I won't make it to 63 years at Creighton like my father," Mike said. "Not unless there's some miracle of science I don't know about."
As long as Mike can remember, Creighton has been a massive part of his family's life.
All six of Bill's children attended Creighton, as have many others in the family. Overall, Bill said, the Carlisle family have racked up 124 years of Creighton education, and they're far from finished.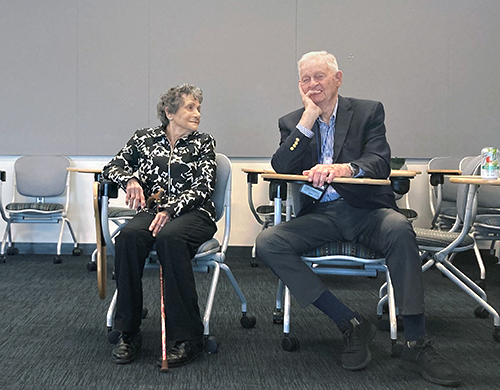 Bill's Creighton story actually goes back much further than dental school. He started high school on the hilltop 75 years ago, back when 24th Street had a streetcar track and Creighton Prep still resided in Creighton Hall. He would continue on at the University, his undergrad years marking the most important moment of his life — meeting fellow student and future wife Dolores Franco Carlisle.
Dolores said she and Bill first got to know each other on a bus trip to and from Iowa for a Creighton men's basketball game. They talked the whole way there and back, returning to campus at 3 a.m. and attending St. John's Mass together. The two have been men's basketball season ticket holders for 60 years. They never miss a home game.
Dolores recalls the first time she spoke to Bill. It was in 1952 or thereabouts, when they took their first class together — zoology.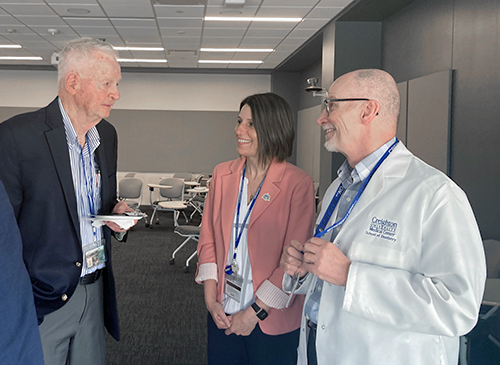 "I hated that class," Dolores said. "I almost didn't pass it. But walking up the hill with Bill one day after class, I remember telling him one thing that stuck with me: 'Ontogeny recapitulates phylogeny.'"
This phrase — now scientifically rejected, yet still metaphorically useful — means that an organism's growth replays the full evolution of its species. That within every individual lives the whole story of the ancestors' journey.
"It's been my privilege and honor to be a part of this institution for all these years," Bill Carlisle told his friends, family, colleagues and former students on his last day at Creighton.
"Remember, you're a part of the best place in the world. Thank you for keeping it that way."
* * *
Want to support School of Dentistry clinic patients with the greatest financial need? Consider making a gift to the Dental Patient Assistance Fund today!