Featured Testimonial About Creighton University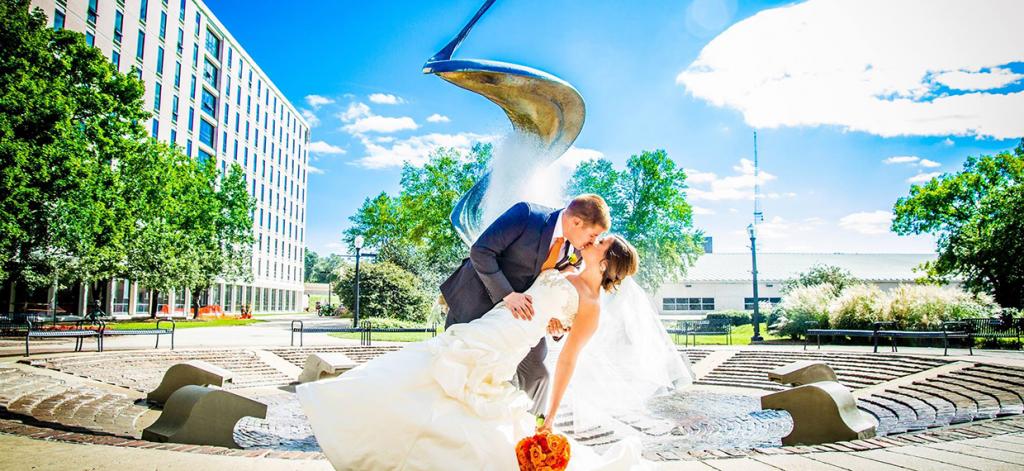 We thank Creighton every day for introducing us!
Creighton offers a wide variety of successful alumni outcomes. To name a few — a good career, a strong network, a lifelong commitment to service.
But when we're talking about the value of the Creighton experience, one factor perhaps underrated is love. A whole lot of our alumni found it here, with Billy Bluejay serving as matchmaker to many a Creighton couple.
Here are a few alumni who met that very special someone while at Creighton — along the Mall, in front of the fountain, even … at Gallagher.
And you can share your Creighton love story.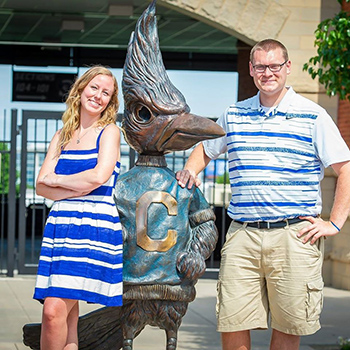 Peter, BS'15, and Amanda Davis, BA'15
At a Creighton athletic event, a man dressed as a big blue bird put his arm around Amanda.
Amanda realized she knew the guy in the Billy Bluejay costume. She and Peter had been in a theology class together, though he rarely showed up. Being the school's mascot took a lot of time.
"A year later, Peter got up the courage to finally ask me out without the costume on. Shout out to Coach Mac and the athletics staff for helping him pop the question!"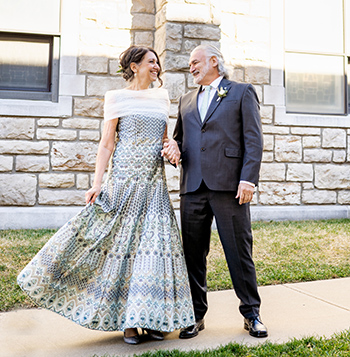 Joyce Eisenmenger, BA'77, and Steve Chavez, BS'77
"It's fair to say that a Creighton reunion changed our lives forever!" Read about Joyce and Steve's Reunion Weekend love story, nearly 50 years in the making.
Melissa, BS'11, and Kevin Zientarski, BSBA'11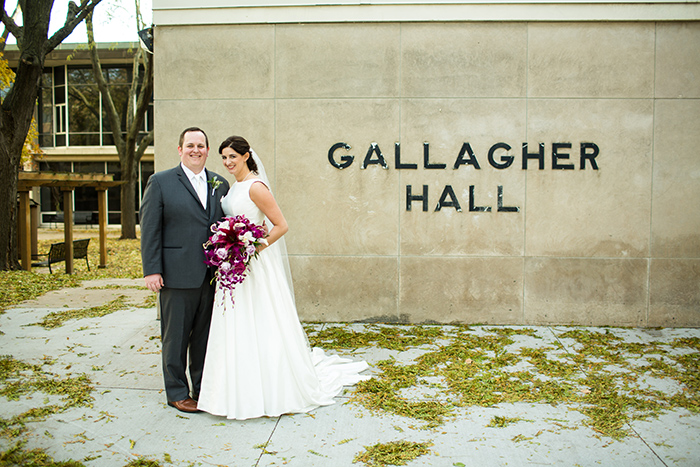 They met at Gallagher Hall their freshman year. They dated for a while, parted ways for a few years and, after graduation, reunited at a wedding for two other Creighton alumni.
One Christmas Eve, he proposed in front of Gallagher Hall. They later had their wedding day photos taken in front of the residence hall.
"(To celebrate the anniversary), we make it a point to make sure we drive by campus on Christmas Eve."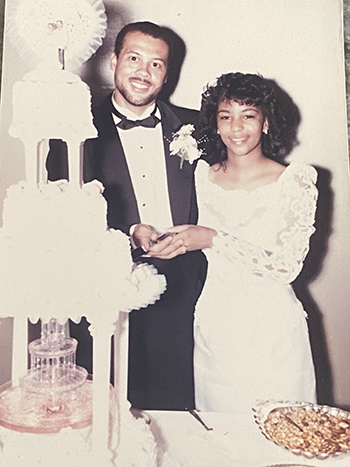 Juanda Lowe, BA'85, and The Honorable Darryl R. Lowe, JD'84
They knew it was serious after the car accident.
Not too long after they started dating, Darryl bought a muscle car, and he was quite fond of it. He let Juanda use the car one weekend, and she totaled it.
"His first reaction was, 'Are you OK?!,'" Juanda says now. "He loved that car, but he didn't even ask about it. All his concern was for me. I think that's the moment we both were like, 'Well, I guess this is a serious relationship.'"
Meeting each other was one of the many ways Creighton shaped their lives, she says. Juanda was the first person in her family to go to college. Her Creighton experience helped her "see the wider world. That ideal of selflessness in service really came through to me, and it still does."
The Lowes also made many terrific friends at Creighton. One who is no longer with them.
In 1987, a few months before the Lowes were married, one of their Creighton friends, Karen, passed away.
Darryl and Juanda later named their first child after her. Karen wasn't just one of their best friends. She was the reason they met, the mutual friend who introduced them, spurring the relationship that's shaped the rest of their lives.
Darryl is a member of the newly formed National Black Alumni Advisory Board.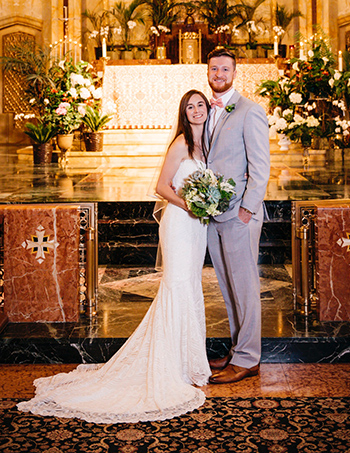 David Waters, BA'12, MD'16, and Danielle Fiumefreddo Waters, BS'12
David and Danielle met their first year at Creighton, through the freshman leadership program. A mutual friend in the program "worked her magic" and got them to date. They stayed together the rest of their time at Creighton, participating in Greek life and other many campus activities.
"We owe everything to Creighton bringing us together," they said. "We now have a beautiful new baby, who has already made his first trip to campus!"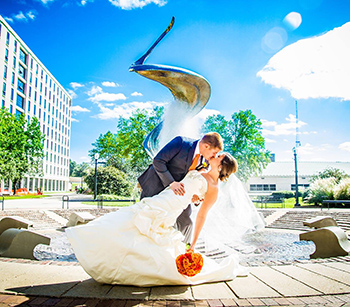 Carrie, OTD'12, BSHS'12, and Spencer Werth, BA'11, MS'14, JD'14
The Werths met through the Creighton Pep Band in the first few months of their freshman year and dated all through undergrad and grad school. They stayed in the Omaha area, where they're now raising their two young children.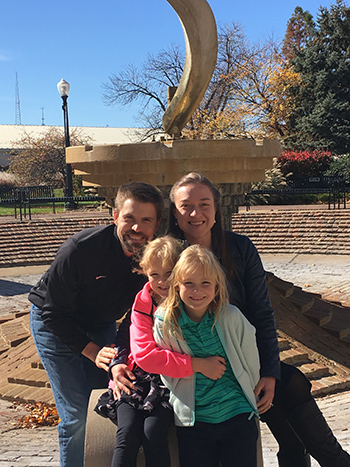 Tom, MD'10, and Christine Jensen, PHARMD'10
Tom and Christine first met in front of the fountain at St. John's after a month of talking online. Tom had been interested in faith-based groups on campus, so he reached out to Christine, vice president of the Rosary Club.
Soon they started dating. Two years later, they were engaged. And a few years after that … identical twin girls!
The Jensens proudly wear their Creighton Bluejays gear in their home of Denver.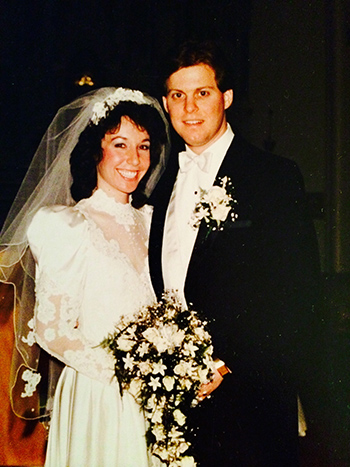 John C., BSBA'84, and Esther M. Sciaccotta
They met in 1983 at a fraternity party. Two years later, they were married in St. John's, where Esther had received all her sacraments and where her parents were longtime parishioners.
"We thank Creighton every day for introducing us to each other!"