Featured Testimonial About Creighton University
We are grateful to our Heritage Society members for their deeply personal and distinctive gifts. It's an honor to work with alumni and friends to help each meet the needs and goals of their family and to secure their legacy with Creighton.

Mike Johnson
Director of Gift and Estate Planning
Through generous estate gifts, Creighton's Heritage Society members signify a shared vision with our founding family to educate women and men in the service of others. Your will provides the foundation for estate planning and a final expression of your values. Your will can also help ensure special bequests to your loved ones and the causes and institutions, like Creighton, that you care about are not lost.
* * *
Creighton University was founded 144 years ago through a transformative act of generosity. When Mary Lucretia Creighton made an estate gift in honor of her late husband Edward, for whom the University is named, she fulfilled their vision to establish a school for higher education.
Today, members of Creighton's Heritage Society, like Doug Head, BA'69, honor this tradition by remembering Creighton in their estate.
"With my intentions to create the Robert and Dorothy Head Endowed Scholarship expressed in my will, I know my wish to remember my parents will be carried out," said Head. "Their legacy will be helping future generations access education, something they highly valued."
Legacy gifts signify a shared vision with our founders to educate women and men in the service of others.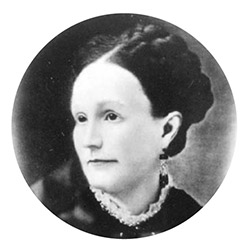 When Edward died in 1874 without a will, Mary inherited his entire estate. John Creighton, Mary's brother-in-law, advised her to leave a will to ensure her estate was not lost. In her will, Mary stated:
"The said school shall be known as Creighton College and is designed by me as a memorial of my late husband. I have selected this mode of testifying to his virtues and my affection to his memory because such a work was one which he in his lifetime proposed himself."
The Creighton family saw the good they could do — during their lifetime and beyond. Now, many alumni and friends, like Head, ensure their own legacies and the greatest impact for our students through planned giving.
"My parents taught me and my siblings the value of work, but my mother also emphasized the value of education. She always told us, 'Education is something that no one can ever take away from you,'" said Head.
When you include the University in your estate plan, you serve our students, you inspire your peers, and you fuel the Creighton experience for future generations. Creighton's dedicated Gift and Estate Planning team is here to help you support Creighton in the manner most meaningful to you and beneficial to the University. Please contact us so that we can learn about your wishes.
​