Featured Testimonial About Creighton University
I never got to meet Joella, but this dynamo of a woman has changed my life.
A journalist turned antiques dealer, the late Joella Cohen was always digging for the details to find and tell a story. More than 70 years after her graduation from the College of Arts and Sciences, the ardent supporter of the University continues to influence future generations of storytellers.
In 2017, the estate of Joella Cohen established an endowed chair at Creighton to recognize a faculty member with a record of excellence in teaching journalism. This fall, Carol Zuegner, PhD, BA'77, will fulfill a three-year term as the first holder of the Joella Cohen Endowed Chair in Journalism.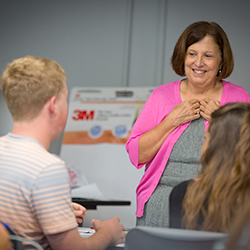 "I never got to meet Joella, but this dynamo of a woman has changed my life," Zuegner said. "She was a journalist-public relations professional-producer-antiques dealer, and likely many more titles. As the inaugural chairholder, it is an honor and challenge that takes my breath away."
Cohen, an Omaha native and 1948 Creighton journalism graduate, served as managing editor of The Creightonian student newspaper. She enjoyed a decades-long, successful career spanning many fields of journalism before a desire to have her own business inspired her to pursue her love of antiques. She returned to Omaha and became an antiques dealer and curator of the Omaha Auction Center and a nationally recognized expert on pharmacy and medical-related antiques.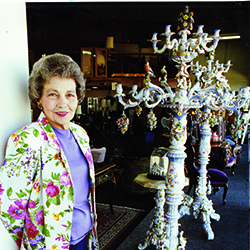 "I love that Joella was a Creightonian editor, as I was. I love that she had this varied career—likely not as common when she was doing it, but very common today. I love her entrepreneurial spirit," Zuegner said. "And she was a terrific mentor to so many people. I see that as such a vital part of what I do."
Largely through mentorship from Zuegner as well as a beneficiary of the Joella Cohen Endowed Scholarship, Arts and Sciences junior Emma Kissling found her calling in journalism.
"Dr. Zuegner is one of the best mentors I've ever had," Kissling said. "I've grown so much more confident in myself and in my abilities to tell a story because Dr. Zuegner knows how to empower her students. And beyond class, she genuinely cares about each of us as a person."
Like Cohen, Zuegner is a seasoned practitioner who has worked extensively as a reporter and editor. For 10 years, she was with the Associated Press, and has also worked for other newspapers across the country. She earned a master's degree as a Kiplinger Fellow in investigative reporting and her doctorate in communications with a specialization in journalism.
As an undergraduate at Creighton, Zuegner learned from professors such as David Haberman and her father, the late Chuck Zuegner, both longtime faculty members in the journalism department. Then, as it is now, the emphasis of the department is with an eye toward creating discerning, critical minds to report the news.
"I think my dad would be incredulous that we've got an endowed chair in journalism," Zuegner said. "But I think it's something he would agree makes sense, given the world of news as it continues to evolve.
"With my dad, and with Dave Haberman, I always felt the sense that I was being mentored, that I was being cared for, and that we, in turn, were caring for the human being at the end of every story. That's the message I want to continue to bring out."
Zuegner has initiated projects to spur interest in journalism and digital media. She says the Cohen chair's focus on innovation and teaching has provided time and resources to explore ways to meet people's information needs.
"It's about putting all those pieces together—the human element, the data science," she said. "We're a small department, but we're operating with some big plans that we see at work every day. You still have to get the story, but you're still always mindful that people are at the end of every piece you write."
As one of three leaders of the University's Backpack Journalism program, which has produced award-winning documentaries from places as far-flung as Alaska, Uganda and the U.S.-Mexico border, Zuegner continues putting a spotlight on how journalism can serve a crucial advocacy role.
"Our students want to make a difference. They want to be creative. They want a career that has an impact. To honor Joella's legacy, we have to be entrepreneurial," Zuegner said. "We will always focus on good writing, ethics, accuracy and integrity, but the way we tell people's stories is constantly changing."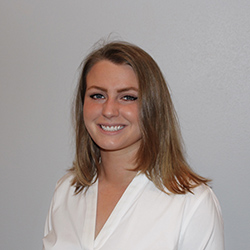 Kissling says that she hopes to take part in Backpack Journalism—each experience and each encounter helping her become a better version of herself. She also looks forward to advancing her role on The Creightonian and further developing her journalism skills.
The significance of Cohen's gifts and her regard for Creighton and the profession is not lost on Kissling.
"I wouldn't be who I am today without Creighton or journalism," Kissling said. "It's an honor to know Joella's story and to help carry her legacy. She is also a great role model to me and for other young women—really, a role model for any aspiring journalist."