Featured Testimonial About Creighton University
A new Creighton endowed chair will help the University and its partners advance research, training, clinical care, and community engagement, collectively taking a significant step forward as leaders of whole person care.
Scott Shipman, MD, MPH, was installed as inaugural holder of the CyncHealth Endowed Chair for Population Health at Creighton University on April 25.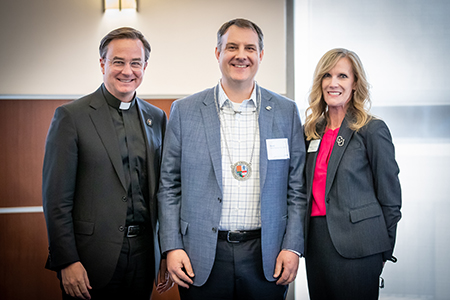 "This chair was pivotal in recruiting a top researcher and educator to our campus," said Creighton University President, the Rev. Daniel S. Hendrickson, SJ, PhD. "Support from CyncHealth will amplify the work undertaken by Dr. Shipman and create a knowledge environment that benefits our student scholars and communities."
In his role, Shipman will collaborate with leaders from all of Creighton's schools in Omaha and Phoenix, along with Creighton's affiliated health systems and CyncHealth's Nebraska Healthcare Collaborative, to extend the collective impact on improving population health and health equity.
The Nebraska Healthcare Collaborative focuses on enhancing population health through education and research. In support of its mission, it partners with more than 15 academic institutions and has two population health endowed chairs.
"CyncHealth is proud to have Dr. Shipman serve as our inaugural chair holder," said President and Chief Executive Officer, Jaime Bland, DNP, RN-BC. "His knowledge of the healthcare ecosystem, data quality, and policy translation are invaluable to our mission."

In addition to serving as the CyncHealth Endowed Chair, Shipman will maintain an appointment as professor in the Department of Clinical Research and Public Health in the School of Medicine.
"I am eager to leverage this position to support and scale innovative efforts to improve the health of our communities and the effectiveness of clinical care, in the service of advancing health justice," Shipman said. "I wish to express my sincere appreciation to the CyncHealth Foundation and to Creighton's leaders for embracing my vision for what we can achieve together."

Creighton has 48 endowed chairs, 11 of which have been established since the start of Forward Blue, the largest comprehensive fundraising campaign in the University's history.
"I am grateful to CyncHealth for entrusting Creighton with this gift," Hendrickson said. "Resources from CyncHealth will help our University and partners excel as leaders of whole person care, which has always been at the heart of health sciences education at Creighton."