Featured Testimonial About Creighton University
John Daly, PhB'38, JD'40, was devoted to Catholic education, to daily Mass and to the welfare of everyone around him.
The Omaha native died on June 9, 2014, at the age of 98, but his legacy will live on through the John F. and Anne Hanighen Daly Scholarships benefiting School of Law and College of Arts and Sciences students. The $1.87 million gift was established through Daly's estate plan at the request of his closest living relative, his cousin Joe Daly, BA'67, JD'70. Another $500,000 in unrestricted funds was received from John Daly's estate.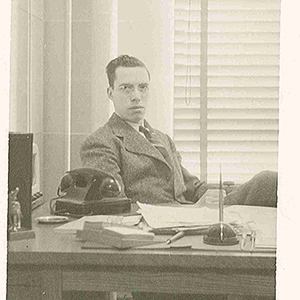 Bridget Keegan, Ph.D., dean of the College of Arts and Sciences, says the college is grateful for Daly's generosity.
"Support for student scholarships is one of our top priorities," says Keegan. "Mr. Daly's bequest will ensure that we can continue to provide access to a high-quality Jesuit, Catholic liberal arts education for more students, regardless of their background, and will help make it possible for students to major in what they are passionate about and pursue meaningful careers."
Those closest to Daly describe him as a lawyer who embodied the Creighton mission – a loyal, ethical practitioner who lived his life in service to God, his family and the law. The Rev. George Sullivan, S.J., JD'81, a former president of Daly's high school alma mater, Creighton Prep, calls John a gracious and extraordinary friend who lived a frugal life and saved his resources to help young people.
"He and his wonderful wife, Anne, were not blessed with children and this was their way of extending their love into the next generations through faith-centered education," says Fr. Sullivan.
Daly was born on Jan. 9, 1916, and attended grade school at Holy Cross Catholic School before graduating from Creighton High School (Creighton Prep) in 1933. He then earned Bachelor of Philosophy and Juris Doctor degrees from Creighton University.
Joe Daly says that John valued his Catholic education and was partial to Jesuit education. One of John's most prized possessions was a group photo of his 1933 high school graduation class.
"He wrote the names of every one of his classmates, in order, on the back of that photo," says Joe. "It is still in pristine condition."
After graduating from Creighton University, John served in the Army Air Corps in World War II and then returned to Omaha to work for the law firm Spielhagen & Spielhagen.
John worked at the firm for a few years before joining his father and uncles at the Yellow Cab Company in Omaha. John's father, J.A. (Jack) Daly, had started as a bookkeeper at Yellow Cab and worked his way up to president. John joined the company as vice president, became president after his father retired and continued in that role until the company was sold and he retired. Joe also worked at the cab company, beginning part-time at the age of 14 until graduating from Creighton University.
John and Anne Hanighen wed in 1955 and were happily married for 48 years until her death in 2003. John's commitment to his faith endured and, even into his 90s, he remained determined to attend Mass daily. Both Fr. Sullivan and Joe recall his resolve, particularly after a Christmas Eve snowstorm.
"Archbishop George Lucas had told everyone to stay in their homes on Christmas day and to watch Christmas Mass on television," says Fr. Sullivan. "Christmas morning, John called his cousin Joe and he said to him, 'Joseph, I got to Mass this morning. I followed the snowplows to Boys Town.'"
In 2008, at the age of 92 and after his driver's license was not approved for renewal, John decided it was time to sell his home and move to assisted living. He moved to New Cassel Retirement Center in Omaha, where he continued to attend daily Mass and live frugally.
In addition to Creighton, the totality of John's generosity benefited many other causes and institutions, including Creighton Prep, Duchesne Academy of the Sacred Heart, Marian High School, Court Appointed Special Advocates (CASA) and the Omaha Archdiocesan Educational Foundation (OAEF).
"Mr. Daly truly was the personification of the millionaire next door," says Steve Scholer, JD'79, senior philanthropic advisor at Creighton. "He lived a very modest life but was an ardent stock investor and subscribed wholeheartedly to reinvesting his dividends."
"Everyone enjoyed and respected his grace, gentlemanly manner, and his example of faith, reverence and prayer," says Fr. Sullivan. "John was a model for all, and it was a tremendous privilege to know him."