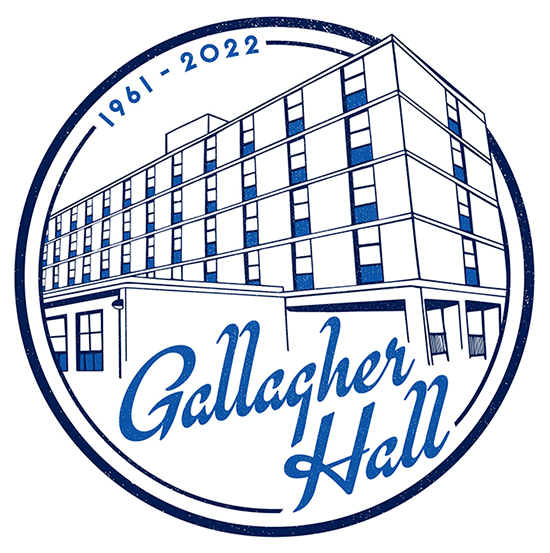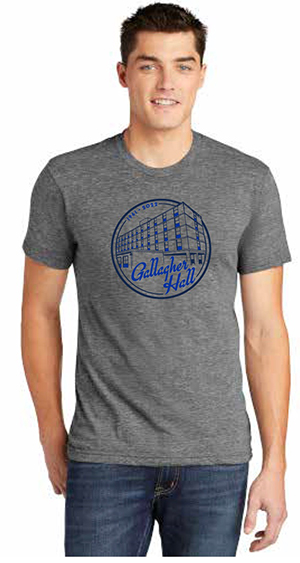 Long live Gallagher!
It's begun. After more than 60 years of life, Gallagher Hall is coming down.
Yet the one-of-a-kind community forged in those four walls lives on. As one Creighton alum told us, "Gallagher is not a place. It's a people."
It is now, also, a T-shirt.
To honor the residence hall in its final days, we've made a limited-edition Gallagher Hall T-shirt and sticker. (We've got a feeling these are going to run out fast.)
Want to get one (or both) while there's still time? Make a gift to Creighton. You'll be paying tribute to your old dorm and helping to ensure the Creighton campus experience carries on for thousands more students.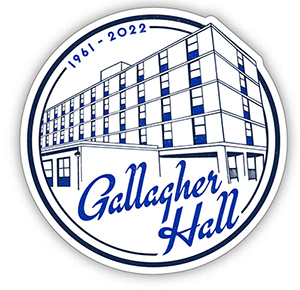 Sticker
Make a gift of $25 or more, and we'll mail you the sticker.
(Sticker dimensions are 3.169 x 3.169 inches.)

T-shirt and sticker
Make a gift of $35 or more, and we'll send you both.
(Note: Tees and/or stickers are limited to one per gift transaction. To receive more than one shirt, multiple transactions are required.)
Thank you for keeping the priceless memories of a Creighton education alive and thriving for generations to come! Long live Gallagher!
---
Gallagher Hall stories
If your nostalgia hasn't yet been sufficiently Gallganized, we recommend enjoying any or all of the following features.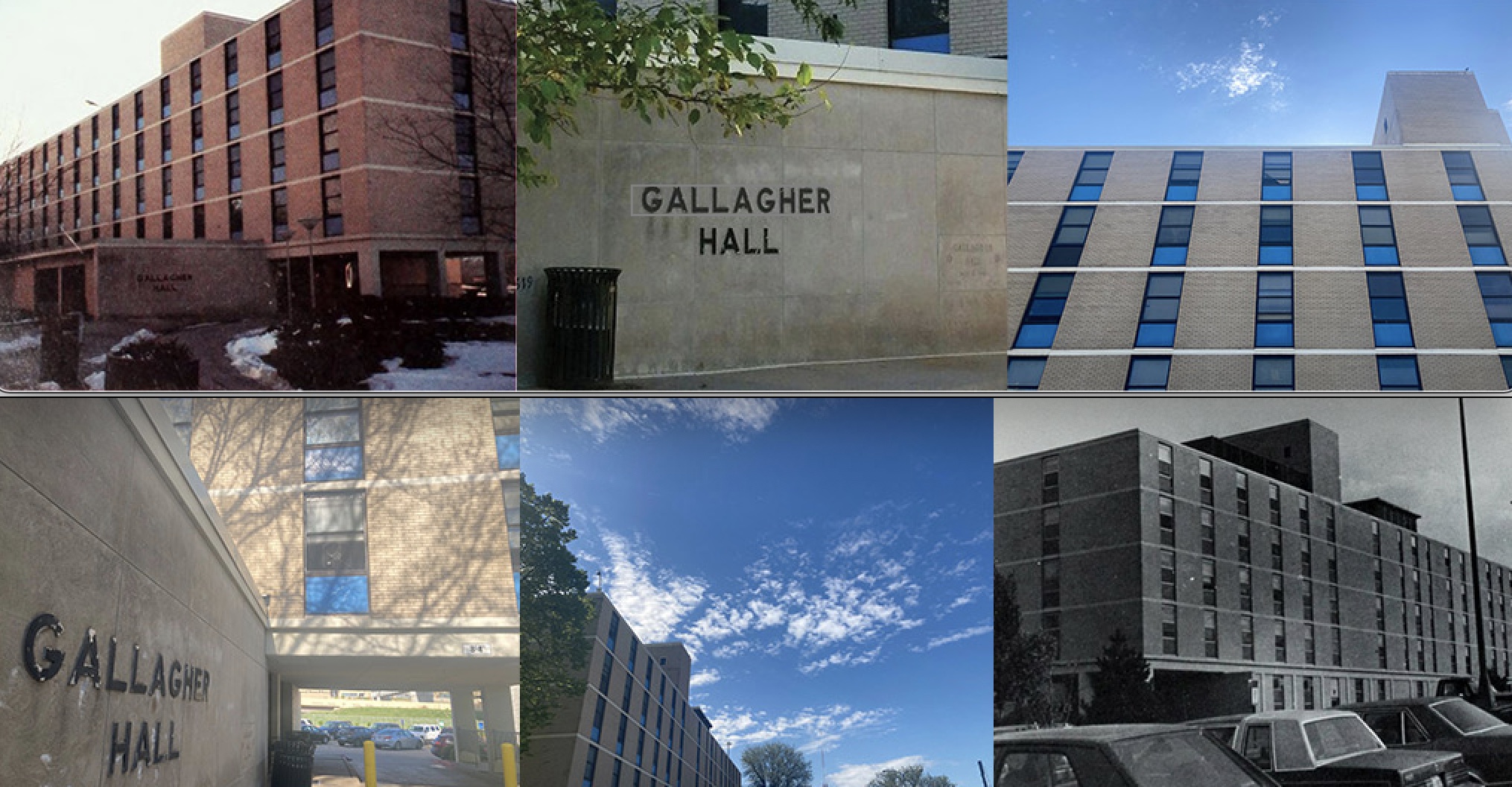 There is a place. A place like no other anywhere in the world. We call it ... Gallagher. Read about its history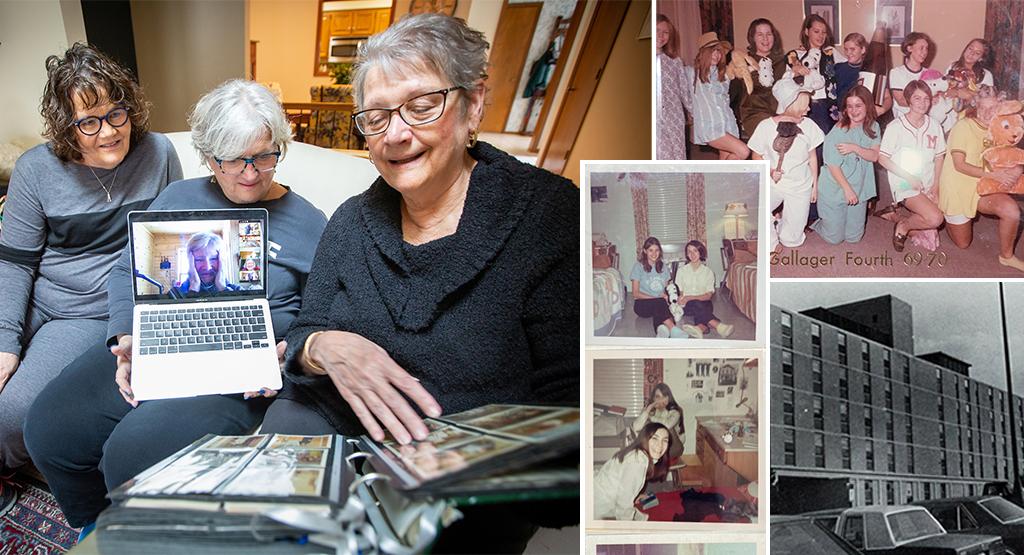 In the fall semester of 1969, a group of women moved into Gallagher Hall, sparking a friendship that's still going strong more than half a century since freshman year. They call themselves the Poopas. Read about the Poopas

Like more Creighton couples than you might expect, they met in Gallagher. They were freshmen living in the dorm, and that first semester, he was constantly teasing her. She found him a little obnoxious. Yet it was a sweet, romantic kind of obnoxious. Read the couple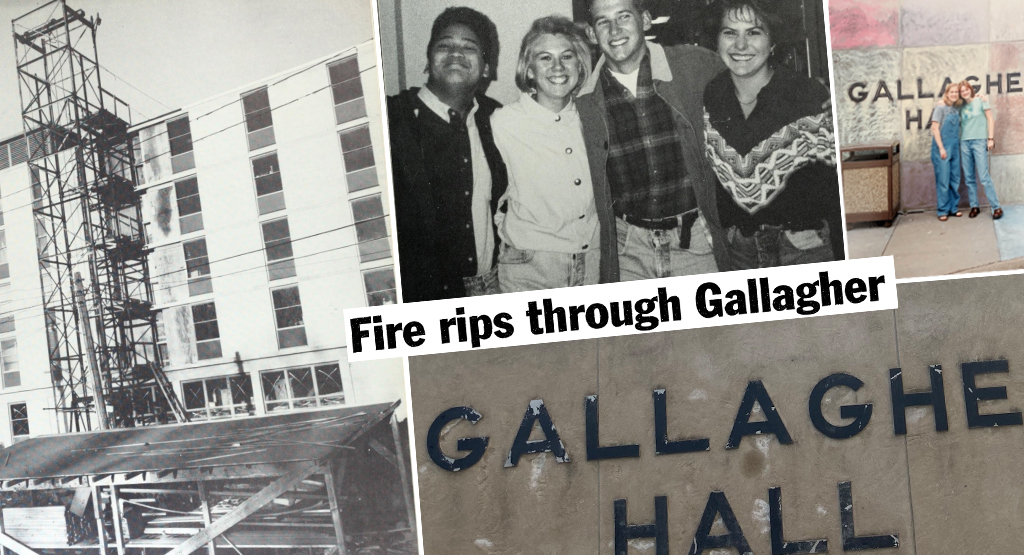 On the eve of Gallagher's demise, alumni offered accounts of such formative events as the fire of 1999, the early-bird dumpster wakeup call and that time the pillow-wielding, couch-forted men of G5 seceded from the building. See their memories
---
How your gift helps
Whatever you support — scholarships, mission, academics, programs, research — you're driving the Creighton experience for the Bluejays of today and tomorrow and creating the next generation of Jesuit-educated agents of change.
Every gift counts. And together, they add up to a huge collective impact for the University.