Making a difference
Each year, Creighton awards approximately 200 merit scholarships to our best and brightest students. The Ignatian Merit Scholars program is one way we open the door to these tremendous undergraduate students in the Heider College of Business, College of Nursing and College of Arts and Sciences.
The program especially benefits students from diverse backgrounds and low- and middle-income families. Our goal is to create a more inclusive environment in the Jesuit, Catholic tradition, and scholarships are one of the best ways we can do this.
Through the Ignatian Merit Scholars program, the University will match your investment.
You can become a partner by sponsoring an Ignatian Merit Scholar — investing $50,000 (or $12,500 a year for four years) in a student's future. The University will match the $12,500 contribution the donor makes each year, meaning that our most gifted students will receive a $25,000 scholarship annually through the length of their program.
You can also fund a named endowed Ignatian Merit Scholarship by investing $300,000.
Want to learn more? Contact giving@creighton.edu.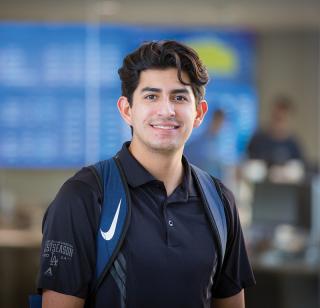 A second home
Ignatian Scholar Noah Morales, Class of 2021, is the first in his family to leave his home state of California for college. He gets why 78 percent of Heider College students come to Creighton from outside Nebraska, and why more than half stay in Omaha after graduation.
"You make a home for yourself here — on campus and in Omaha," he said. "I have two homes now."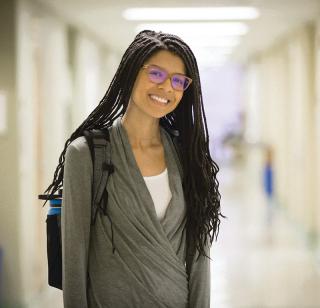 Meant to be here
Ignatian Scholar Olivia Lewis, a College of Arts and Sciences student, has her sights set on medical school. The pre-med-track Spanish major and biology minor from San Diego is grateful for the support and connectedness she feels here — something she doesn't think she would get from any other college.
"Once I got here I realized this is where I needed to be. I'm very thankful I was given scholarship support."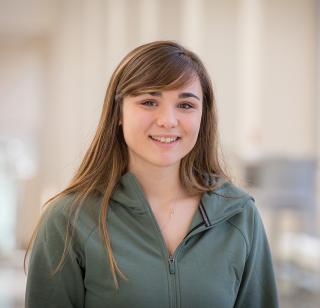 On the right path
College of Nursing student Clare Banaszewski received a big affirmation when she earned a merit scholarship. The scholarship also validated a path Clare started as a preschooler, when she completed the prompt, "When I grow up, I want to be a _______", with "nurse."
"The donors recognized my accomplishments and reinforced my decision to attend Creighton University."
Ignatian Merit Scholarships
The Carol and Paul Henkels Ignatian Merit Scholarship
Mr. Mark W. Henkels, BSBA'83; and Mrs. Deborah Niegowski Henkels, BA'83
Diana De Meyer Equality Ignatian Merit Scholarship
Mr. Bryan J. Carlson and Mrs. Elizabeth A. Carlson
The Joseph and Margaret Elias Ignatian Merit Scholarship
Christopher J. Elias, BS'79, MD'83, HON'09; and Mrs. Therese Caouette Elias, BA'79
Goza Family Ignatian Merit Scholarship
Mr. John S. Goza and Mrs. MarySue C. Goza
The Hefflinger Ignatian Merit Endowed Scholarship Fund
Mr. David L. Hefflinger, BA'69, JD'72; and Mrs. Juliana Nicholsen Hefflinger, BA'70
Peter A. Neenan, Ph.D. Ignatian Merit Scholarship
Mr. Robert J. Bertrand, BA'69; and Ms. Mary Jo Warnke
The Rupiper-Chase Ignatian Merit Scholarship
Anonymous
The Schropp-Kiewit Ignatian Merit Scholarship
Mr. Tobin A. Schropp and Mrs. Mary E. Molly Schropp
Marcella and Thomas Barry, BSBA '88, Ignatian Merit Scholarship
Mr. Thomas D. Barry, BSBA'88; and Mrs. Marcella Orlando Barry
Travers Ignatian Merit Scholarship
Mr. Kevin N. Travers, BA'95; and Mrs. Keely Brierton Travers, BA'97
The Jack and Lois Wareham Ignatian Merit Scholarship
Dr. John P. Wareham, BSPHA'64, HON'16; and Mrs. Lois C. Wareham
The Hoeffel Family Ignatian Merit Scholarship
Dr. Daniel P. Hoeffel and Mrs. Pamela S. Hoeffel
The Diane Duren, BSBA'81, and Drew Collier Ignatian Merit Scholarship
Ms. Diane K. Duren, BSBA'81, and Mr. Drew R. Collier
The Valerie and Nizar Ghoussaini Ignatian Merit Scholarship
Mrs. Valerie Petrovich Ghoussaini and Mr. Nizar N. Ghoussaini, BS'75, MS'76
Pay It Forward Ignatian Merit Scholarship
Patrick and Barbara Rayball
Weber Family Ignatian Merit Scholarship
Mr. Mark A. Weber, BA'74, JD'77; and Mrs. Patricia Phillips Weber, BSMT'75
Tom and Kathleen Aller Ignatian Merit Scholarship
Mr. Thomas L. Aller, BA'71, and Mrs. Kathleen Lower Aller, BA'71
Bruckner-Seifert Ignatian Merit Scholarship
Mrs. Anne Seifert Bruckner, BSPHA'81, PHARMD'05; and Mr. Stephen M. Bruckner, BA'79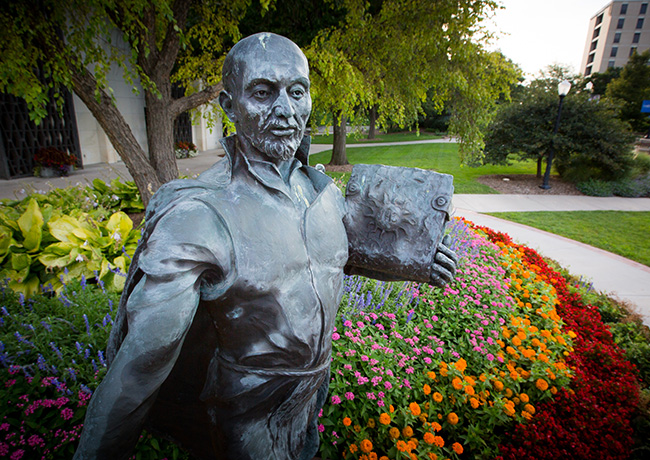 A curious mind and generous heart
The legacy of Dr. Peter Neenan, BA'69, empowers another through the gift of scholarship.
Read the story