Alumni Achievement Citation
The Creighton University Alumni Achievement Citation is the highest all-University award presented to a Creighton alumnus. It recognizes exceptional men and women who demonstrate high moral standards and have given distinguished service to their community through philanthropy or other outstanding public service. They demonstrate the Jesuit ideal of "women and men for and with others."
Nominate an alumnus/alumna today!

2021 recipient
Heider College of Business:
Robert A. Reed, BSBA'61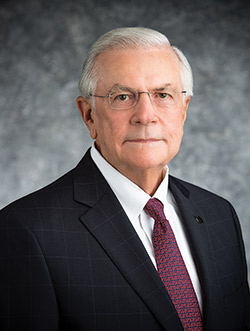 Bob Reed graduated from Creighton University in 1961 and began his career as an auditor with Peat, Marwick, Mitchell & Company. In 1964, he joined Physicians Mutual. He held a number of key management positions before being appointed president and CEO in 1974. During the following four decades, he led incredible growth for the company. In 2016, he was elected chairman of the company's board, a position he still holds today.
A leader in his profession and in his community, Reed has devoted time to many local and national organizations including Creighton University, Creighton Prep, College of Saint Mary, Aksarben, Lauritzen Gardens, Institute for Priestly Formation, Boys Town and STRATCOM, among others.
His vision, and that of Physicians Mutual, is always front-and-center: empowering people from all walks of life to enjoy the financial security they deserve. Reed willingly shared his insurance and financial expertise through his service with industry groups like America's Health Insurance Plans and the American Council of Life Insurers. He was inducted into the Omaha Business Hall of Fame in 2015.
With his late wife, Betsy, the Reeds have been honored for their community service numerous times. They received the Silver and Gold Palms of Jerusalem from the Equestrian Order of the Holy Sepulchre and the Spirit of St. Robert Bellarmine Award from their longtime parish, St. Robert Bellarmine. Reed was bestowed the Spirit of St. Francis Award from New Cassel, the Friend of Medicine Award from the Metro Omaha Medical Society and the Light of Wellness Award from the Wellness Council of the Midlands.
A devout Roman Catholic and ardent supporter of parochial education, he and his family recently supported the creation of the Reed Family Early Learning Academy at their parish, St. Robert Bellarmine. The academy provides a nurturing, Christ-centered environment fostering the spiritual, intellectual and creative development of each child.
See past recipients of the Alumni Achievement Citation
Alumni Merit Award
The Creighton University Alumni Merit Award recognizes outstanding alumni from each school and college. These passionate leaders touch and enrich lives, encouraging and inspiring others while they serve selflessly, making a difference in their communities and leaving the world a better place.
2021 recipients
College of Arts & Sciences:
Jane O'Keefe Addy, BS'74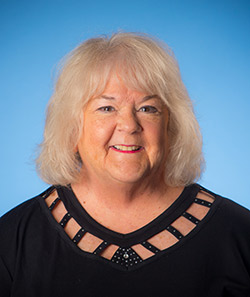 Jane "Janie" O'Keefe Addy graduated from the College of Arts and Sciences in 1974. A scholar and academic, Addy impacted the lives of generations of students during her service to the Omaha Catholic School community.
Addy began her teaching career in 1974 and retired in 2005, having inspired young minds and mentored new teachers. The former teacher, as well as Omaha businesswoman, and volunteer, Addy has worked diligently to apply her philanthropic skills to support the causes closest to her heart. She has been involved with several Omaha hospitals and museums and held leadership positions with the Assistance League of Omaha, AKSARBEN Friends, Salvation Army, and the Omaha Symphony.
Addy has maintained a deep level of commitment to Creighton. She is a current member of the College of Arts and Sciences Advisory Council. A long-time advocate, she has served on the Alumni Advisory Board and helped plan her 30th class reunion. Her gifts to the College of Arts and Sciences and the University have been transformational to the student experience.
College of Nursing:
MG (Ret.) Mary E. Link, BSN'83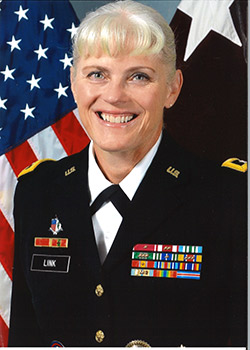 Major General Mary Link graduated from the College of Nursing in 1983, the same year she received her direct commission in the Army Nurse Corps where her work centered on health and wellness policy. As a senior Army Reserve mentor to all nurses, MG Link has been a force for positive change and patient-centered care.
MG Link continues to uphold the values and traditions of Creighton by volunteering as Sentry at the Nebraska State Capital. She mentors future and current nurses through speaking engagements, ceremonies, forums and social media. She continues to serve as a nurse advisor to Senior Department of Defense Leadership for the Military Health System.
From clinical settings in military and civilian hospitals across the world to senior health care management positions in the DoD, MG Link has dedicated more than three decades to improving the world of health care.
Graduate School:
Jeffrey J. Gross, BSPHY'93, MS'95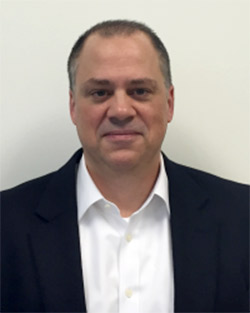 Jeff Gross graduated from the Graduate School in 1995, after earning his undergraduate degree in 1993. A former physics instructor in the College of Arts and Sciences, Gross has been an advocate for undergraduate and graduate education.
Gross is the owner and CEO of Dynamic Controls Inc. He takes a team-oriented and client-centered approach to leading a successful team. He is a passionate supporter of his St. Louis community, where he supports causes such as providing services to survivors of human trafficking and Big Brothers and Big Sisters of Eastern Missouri. Gross holds a number of board positions, sharing his expertise and helping leaders grow stronger together to improve lives and businesses.
Through internships, mentoring, and scholarship, Gross is helping to guide current students toward successful careers. In 2011, he established the John L. Gross Engineering Memorial Scholarship. He has been heavily involved with the energy technology program, the Graduate School Advisory Board, and helped establish the physics award that annually recognizes an outstanding Creighton scholar.
Heider College of Business:
Dennis L. Wiederholt, BSBA'75, MBA'85
Patricia Greco Wiederholt, BSBA'74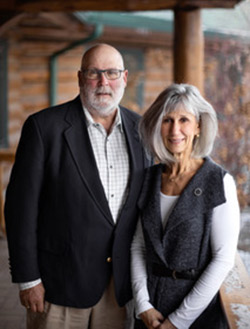 Patricia and Dennis Wiederholt are passionate supporters of education and devoted Creighton alumni. Driven by Jesuit values and business ethics, the Wiederholts support current students and their community through mentorship, philanthropy, and dedicated leadership.
After graduating from Creighton, Dennis began his career at Union Pacific Corporation in Omaha. He held a variety of management and consulting positions until his retirement from the DLR Group where he served as CFO. Patty began her more than 30-year career at Northern Natural Gas Company and retired from full-time work at TransCanada in 2010. Throughout their careers, Dennis and Patty applied Ignatian values to their work and daily lives.
Their contributions to Creighton, Catholic education, and to Omaha reflect their pay-it-forward attitude and support their strong community roots. A total of 22 members of the extended Wiederholt/Greco family have attended or are currently attending Creighton.
Patty served on the Creighton Alumni Advisory Board and Dennis has been associated with the Business Ethics Alliance for many years. In 2014, the couple established the Wiederholt Endowed Scholarship at the Heider College of Business and the Dr. Joseph B. Wiederholt Endowed Scholarship in the Creighton College of Arts and Sciences in 2007. They continue to support causes and community programs close to their hearts, including the Omaha Catholic Community, Marian High School and Mount Michael Benedictine School.
School of Dentistry:
Eugene Low, DDS'67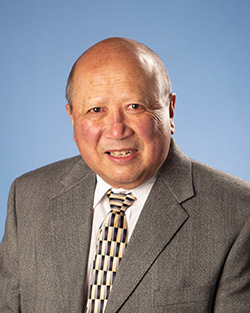 Dr. Eugene Low graduated from the School of Dentistry in 1967. While at Creighton, he treated many young patients with dental emergencies during his residency at Children's Hospital. After graduating, Dr. Low served in the United States Navy in San Diego and Vietnam. He was the only dentist aboard a 1,000-person combat ship in the Mekong Delta. The ship housed the United States Army 9th Medical Surgical Evacuation Team (MASH) and the United States Navy Mobile Riverine Forces.
In 1969, Dr. Low returned to Stockton, California, where he ran a successful private general practice for 35 years and provided free health screenings to seniors. He was past president of the San Joaquin Dental Society and an active member of the Stockton Symphony board of directors and volunteered at a local food bank.
Dr. Low retired in 2004 and met his wife, Mary Susan Orr, who had been a dental assistant in the Creighton dental school and worked in the medical school. They married in 2006 and live in Bellevue, Nebraska. Dr. Low has three children from a previous marriage, all live on the West Coast. His youngest son, Kevin, is a 2009 graduate from the School of Density. Dr. Low's three stepchildren are also Creighton gradates.
Dr. Low has always remained engaged with the University as a loyal donor, is a Bluejay basketball fan, and remains connected to several of his School of Dentistry classmates. He is a Graybacker, serves on the School of Dentistry Alumni Advisory Board and the Regional Alumni Advisory Board.
School of Law:
Felecia Turner Epps, JD'83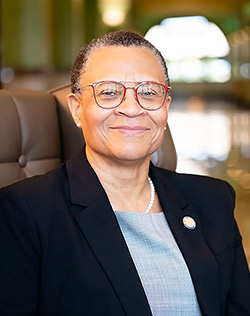 Felecia Turner Epps graduated from the School of Law in 1983 and is currently dean of the University of North Texas Dallas College of Law. With an unwavering commitment to the legal field, community service, and academics, Epps has served her country in the United States Marine Corps and continues to help shape the next generation of legal professionals.
For 10 years, Epps served in the Marine Corps, holding a variety of positions as a certified Judge Advocate. While on active duty, she was awarded the Naval Achievement Medal and the Navy Commendation Medal, in recognition of her leadership and service. In 1993, Epps left active duty and became managing attorney of the Georgia Legal Service Program office in Albany Georgia. In her role as managing attorney, she supervised attorneys and administrative staff in providing free legal services to low-income people. Epps began her career in legal academia in 1999 when she became Visiting Assistant Professor of Law at the University of Arkansas at Little Rock Bowen School of Law.
For more than two decades, Epps has held positions in higher education. Her leadership in the courtroom and the classroom empowers students and strengthens the communities she serves. In her current role, Epps helps young people from diverse backgrounds pursue their dreams in the legal profession.
School of Medicine:
Jane M. Carnazzo, BSCHM'82, MD'86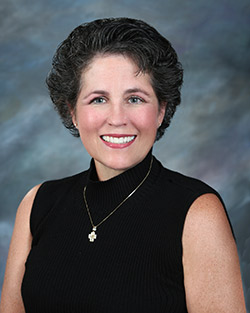 Jane Carnazzo graduated from the School of Medicine in 1986. Practicing primarily in the South Omaha area, Dr. Carnazzo has served her community through pediatric care and education advocacy for more than three decades.
Dr. Carnazzo instills the Jesuit charism of cura personalis in her care for her patients, many of whom come from vulnerable home situations. Through a number of local and national programs, Dr. Carnazzo is helping to shape health care. She has served on the executive committee for the Section of Infectious Diseases (SOID) and as president for the Nebraska Chapter of the American Academy of Pediatrics. She has worked on several task forces, including the Nebraska Medical Advisory Council for the Medicaid Medical Home Pilot Project. She presently serves on the Metro Omaha Medical Society public health committee and on the national AAP committee for development. She also is Co-editor for the SOID newsletter.
Dr. Carnazzo contributes to the community, volunteering as a sideline physician for Gross Catholic football and as a member of their school board. She also serves on the Archdiocese Committee for Education.
Her passion for her profession matches her commitment to her alma mater. Dr. Carnazzo is a member of the Creighton Medical Alumni Advisory Board, has been a volunteer faculty member in the School of Medicine, welcomes Creighton students into her practice, and provides generous scholarship support to the next generation of Creighton-educated medical professionals.
School of Pharmacy & Health Professions:
Mary Wolpert-DeFilippes, PhD, BSPHA'63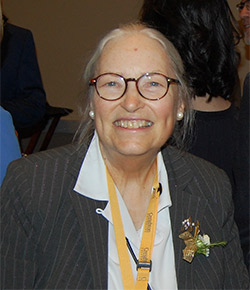 Dr. Mary Wolpert-DeFilippes graduated from the School of Pharmacy and Health Professions in 1963. Known for her dedication and drive, Dr. Wolpert-DeFilippes has been devoted to health care and helping society through her life-long career in pharmaceutical cancer research.
After earning her bachelor of Science in public health, Dr. Wolpert-DeFilippes graduated from the University of Michigan with her Master of Science and doctorate in pharmacology before completing her post-doctoral fellowship at Yale University. In 1971, she joined the National Cancer Institute in the Laboratory of Chemical Pharmacology. Five years later she transitioned to extramural positions in the Division of Cancer Treatment and Diagnosis, where she served the extramural research community until her retirement in 2015.
Throughout her 44-year career, Wolpert-DeFilippes was known for her innovation and patient leadership. She served on several committees, including the National Institute of Health's program leadership board. For her professional service, she was awarded a number of NIH Merit Awards. In 2012, she was made a fellow of the American Association for the Advancement of Science.
A loyal alumnus of the School of Pharmacy with strong family ties to the University, Dr. Wolpert-DeFilippes supports students through scholarships. Her father, three brothers and two sisters, as well as a niece, have all graduated from Creighton.
See past recipients of the Alumni Merit Award
Read about the 2020 recipients

Recent Alumni Award
The Recent Alumni Award recognizes significant professional achievement, personal responsibility, and service to Creighton and community by an alumna/us during their first 10 years following graduation.
2021 recipient:
Hilary Wething, PhD, BS'11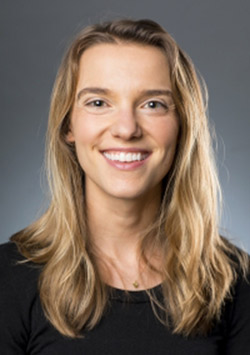 Dr. Hilary Wething graduated from Creighton in 2011 with undergraduate degrees in mathematics and economics. In the last decade, she has made significant contributions to the world of economics and public policy, exemplifying the best of what Creighton University represents.
After graduation, Dr. Wething worked as a research assistant at the Economic Policy Institute in Washington, D.C., where she focused on topics including labor markets, inequality and living standards. In 2014, Dr. Wething was featured in Washington Life magazine as one the "visionaries, crusaders and innovators shaping Washington." In 2020, she earned her Ph.D. in public policy and management and is now on the faculty of the School of Public Policy at Pennsylvania State University.
Dr. Wething is a driven change agent, utilizing data and social science to more completely serve the public interest and common good. She has completed multiple interdisciplinary publications and given presentations that intersect labor economics and the sociology of work. As a doctoral student, Dr. Wething served on the Evans School Committee for Equity and Inclusion, and in her research, prioritized a dialogue with local officials to ensure her research was representative of a policy's lived experience. At Creighton, Dr. Wething serves on the Honors Program Alumni Advisory Board and philanthropically supports the program and other causes.

Friend of Creighton Award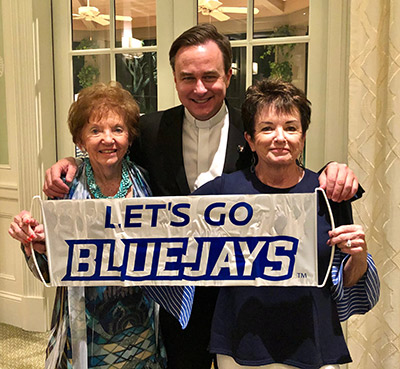 2021 recipients: Macaela Smith and Bette Walker
Friends of Creighton Macaela Smith and her mother, the late Bette Walker, have been members of the Bluejay family for more than two decades. Introduced to Creighton by Smith's late husband, Roy, an Omaha business leader and community activist, the three formed a friendship with Creighton's 23rd president, the late Rev. John P. Schlegel, SJ, that developed into a steadfast relationship with the University.
The Smiths worked tirelessly, serving and supporting numerous causes and nonprofit organizations, including Creighton University. Since 1997, Macaela's gifts have supported countless Bluejays through education, mental health support and capital projects. She chaired The Salvation Army Women's Auxiliary Board and received numerous awards and recognitions for her efforts on behalf of organizations serving the community. In 2020, she was honored as the Jaybacker of the Year for her years of dedication to Creighton Athletics.
Together, Smith and Walker attended home and away Bluejay men's basketball games. From their seats the duo enthusiastically supported the team, with Smith displaying a "Go Bluejays" banner and Walker proudly holding cutout props of Coach Greg McDermott and a three-points basketball for the Jumbotron. Win or lose, Walker always offered words of encouragement to the players.
In February 2021, Walker passed away at the age of 96, leaving behind a legacy of love for the Creighton basketball team, athletics staff and fans. Known for her generous heart, she cared deeply for the student-athletes, mentoring players and praying for their success. Devoted to her faith, she dedicated one hour of prayer every week for 25 years at Saint Mary's Catholic Church in Bellevue, Nebraska.