Alumni Achievement Citation
The Creighton University Alumni Achievement Citation is the highest all-University award presented to a Creighton alumnus. It recognizes exceptional men and women who demonstrate high moral standards and have given distinguished service to their community through philanthropy or other outstanding public service. They demonstrate the Jesuit ideal of "women and men for and with others."
Nominate an alumnus/alumna today!

2020 recipient
College of Arts and Sciences:
Diane Morin Nelson, BA'67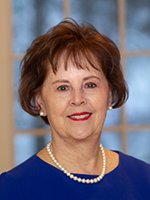 Diane Nelson is guided by a strong faith and her gratitude for family, friends, community, state and nation. Known for her grace and respectful leadership, Nelson epitomizes professionalism and humility in all she does. She dedicates her time on local Omaha boards for the Heartland Family Services Advisory Committee, the Healing Arts Board at the Buffet Cancer Center and the Nebraska Coalition for Lifesaving Cures.
A passionate supporter for young children, she also serves as a board member of the Christian Urban Education Service, providing both instruction and family support in a faith-based environment to students in her community. She and her husband, former Nebraska governor and former U.S. senator Ben Nelson, continuously strive to improve the lives of Nebraska's children. In 2016, Voices for Children in Nebraska named them an honorary family for their commitment to children's health, safety and education.
As First Lady of Nebraska, Nelson supported and promoted many causes. She served as chairman of Good Beginnings, a statewide initiative that works with families who are at risk for child neglect or child abuse. She also served on statewide boards, including the Friends of Lied, Keep Nebraska Beautiful, the Nebraska Art Association and the NebraskaLand Foundation.
See past recipients of the Alumni Achievement Citation

Alumni Merit Award
The Creighton University Alumni Merit Award recognizes outstanding alumni from each school and college. These passionate leaders touch and enrich lives, encouraging and inspiring others while they serve selflessly, making a difference in their communities and leaving the world a better place.
2020 recipients
College of Arts & Sciences:
Mary Jane Oakley, BA'66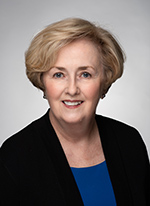 After graduating from Creighton University, Mary Jane Oakley taught at Thomas Jefferson High School in Council Bluffs where she established the school's first program for special needs students. That led to her interest in reading instruction and the pursuit of a master's degree in the teaching of reading from the University of Nebraska at Omaha. She sponsored the Future Teachers of America at Thomas Jefferson to encourage students interested in teaching.
Oakley entered educational publishing as a reading consultant for the Houghton Mifflin Company and later Prentice Hall. These positions provided many opportunities to interact with teachers, school administrators, and textbook authors and editors to promote effective reading instruction.
Her liberal arts education from Creighton established a broad and thorough knowledge base and practical application in the textbook business.
Oakley encourages young people to pursue their dreams by investing in their educations. A longtime supporter of Creighton, she created the Mary Jane Oakley Endowed Scholarship in Education to support women who wish to become teachers.
She served on the board of directors of Catholic Social Services of the Archdiocese of Indianapolis. She was on the board of Heritage Place Older Adult Services and continues to be an advisor to that organization.
As a member of the Rotary Club of Carmel, Indiana, she chooses projects which serve the elderly. She prays the rosary with memory-impaired residents of local senior facilities and encourages fellow Catholics to join this ministry.
College of Nursing:
Josephine Politico Abboud, BSN'95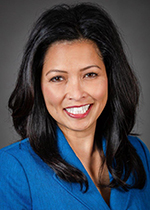 Josie Politico Abboud graduated from the College of Nursing and began her career as a critical care staff nurse at Omaha's Methodist Hospital. She held a number of leadership roles within various hospital departments before being named vice president of ancillary and professional services for the hospital in 2008. She was later named executive vice president and chief operating officer and in 2018, Abboud became the first woman to lead Methodist Hospital and Methodist Women's Hospital as president and CEO.
Abboud's skills in building relationships with physicians, clinical staff and others have allowed the health system to continue to serve the growing health care needs of the community. A confident and collaborative leader, Abboud has been recognized by Becker's Hospital Review as a top female hospital and health system leader. In 2017, she was the recipient of the American College of Healthcare Executives Senior-Level Award and the American Cancer Society National St. George Award, as an outstanding community volunteer and in recognition of her distinguished service.
She is an active community leader and currently serves on numerous boards, including Creighton's College of Nursing Alumni Advisory Board, Creighton Prep, Marian High School, Archbishop's Committee for Development, Hospice House and the Nebraska Hospital Association. She is also devoted to and proud of her family; her husband, Jason, and kids, Xavier and Brielle.
Graduate School:
Charles Thomas, Jr., MS'09, EDD'14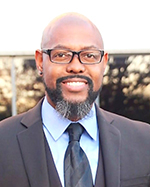 Dr. Charles Thomas Jr. is an educator, best-selling author, multi-award-winning social entrepreneur and multifaceted philanthropist. He held a variety of leadership positions before founding Clear Cloud, a technology organization, and Concerned Citizen Media. Thomas meets people where they are, endeavors to fully understand them and approaches community challenges through creative storytelling, education, leadership development and interpersonal connections.
A patient leader who commits himself to service and philanthropy, Thomas inspires hope among the residents of his hometown of Flint, Michigan. He serves as an executive team member for the Shelter House Board of Directors; teaches life skills classes to men who are incarcerated and preparing for societal reentry; volunteers as a wish granter for the Make-A-Wish Foundation; and served a four-year tenure as chairman of the board for OAR Nova, a nonprofit restorative justice organization in Fairfax, Virginia.
Thomas is a passionate supporter of his community, education and Creighton University. He serves as a board member on the Graduate School's Alumni Advisory Board and National Alumni Board and is an adjunct professor at the undergraduate, graduate and doctoral levels. He has been recognized with the Rising Star Award by the Washington Business Journal, as an Emerging Influential Leader of the Year by the Northern Virginia Chamber of Commerce, and is a two-time National Intelligence Professional Award and two-time 40 Under 40 recipient.
Heider College of Business:
Debra DeThorne Moritz, BSBA'84
Debra DeThorne Moritz graduated from Creighton University in 1984 and continues to be a loyal supporter and advocate for the Heider College of Business. Moritz is an executive managing director at Cushman & Wakefield in Chicago, where she leads their consulting team. Throughout her professional life, she has launched, repositioned and grown businesses while motivating teams. Helping others be successful is her passion.
Known in the real estate industry for her leadership, Moritz mentors her peers in commercial real estate and often shares her professional experience with Creighton students. She has served on a real estate curriculum task force for the Heider College of Business and presented as the keynote speaker at the 11th annual business symposium. She recently brought her expertise to campus as a breakout panelist at this year's event.
Moritz serves on the board of directors for the International Women's Forum in Chicago, part of a global network that connects diverse and accomplished women committed to advancing leadership across careers, cultures and continents. She also provides Girl Scouts with valuable mentorship and leadership experiences through the Camp CEO Mentor program. Mentors in the program provide young girls with interactive workshops on leadership, goal setting and team building.
College of Professional and Continuing Education:
Jeffery S. King, BSBA'14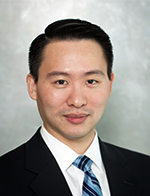 Jeffery King is driven to succeed in any endeavor he chooses to pursue. An accomplished violinist, military veteran and business professional, his diverse interests and abilities are an inspiration to those who know him.
During his time at Creighton, King was both a dedicated student and musician. He was a member of the Omaha Symphony from 2011 to 2014 and is a founding member of the Rangbrook Ensemble, a professional string chamber dedicated to the performance of classical music and music education for all ages. King has mentored music students and teachers through Carnegie Hall's Link Up program and served as the executive director for the Quodlibet Ensemble, a group of accomplished musicians who seek to learn from each other and explore the possibilities of an abundant musical spectrum.
For six years, King served in the U.S. Air Force. In 2012, he earned his Associate in Applied Science Degree in Communications Applications Technology from the Community College of the Air Force, and in 2008, earned his Associate of Arts Degree in Chinese – Mandarin from the Defense Language Institute. King deployed in support of Operations Iraqi Freedom and New Dawn where he flew over 120 intelligence-oriented combat sorties. For his service, he received the Air Medal with five oak leaf clusters, Air Force Commendation Medal, Meritorious Unit Award with two oak leaf clusters, and Small Arms Expert Marksmanship Ribbon.
King currently lives in New York City and is a risk manager with Wells Fargo. He was previously a senior associate with JPMorgan Chase & Co. He is a mentor in Big Brothers and Big Sisters, enjoys table tennis, golf, foosball and all the cultural treasures found in New York City.
School of Dentistry:
Thomas D. Berry, DDS'83, MD'88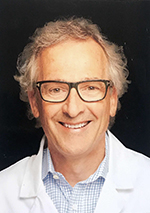 Dr. Thomas Berry graduated from Creighton University with dual degrees in dentistry and medicine. After graduating, Berry moved to Atlanta, where he ran his own practice as an oral and maxillofacial surgeon for nearly 30 years. Berry and his wife, Janet, now live in Utah, and every week Berry flies to Atlanta to perform oral surgery on patients in need.
Berry has the ability to transform lives through his work. He frequently travels the country to share his expertise of the complex procedure with other surgeons interested in the subspecialty of oral surgery. Berry is an active member of a number of local and national associations and boards, such as the Academy of Osseointegration, American Association of Oral and Maxillofacial Surgery and the American Dental Society of Anesthesiology.
His passion for his profession matches his commitment to his alma mater. Berry is a visionary leader for Creighton University, previously chairing the dental school's Alumni Advisory Board and is a current member of Creighton's National Alumni Board. He inspires engagement by organizing class reunion parties and was instrumental in fundraising for the new School of Dentistry building. His leadership and dedication support a cutting-edge learning environment in which faculty train future dentists to push the boundaries of dental knowledge.
School of Medicine:
Sister Katherine Seibert, MD'76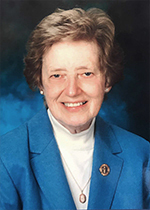 Sister Katherine Seibert, a sister of Charity of New York for 66 years, earned her Master of Science in biology and Doctor of Philosophy in microbiology from the University of Notre Dame, and received her Doctor of Medicine from Creighton University. She completed a fellowship in oncology at the National Cancer Institute in Maryland and served as chief of oncology at several New York City hospitals.
In 1990, Sr. Seibert became the only oncologist in Sullivan County in New York, building cancer care from the ground up in the county and tirelessly delivering care to cancer patients and the underserved. Under her leadership, the cancer care program received the highest possible accreditation by the Commission on Cancer of the American College of Surgeons.
Sr. Seibert has dedicated her time as an internist at Hudson River HealthCare in Monticello and Haverstraw, New York, giving primary and preventive care to improve the health of the community, especially the underserved and vulnerable. In her spare time for the past 20 years, she trains rescue dogs to work as therapy dogs in reading programs in the local school, library or in summer camp for children with cancer.
Recognized as a woman rewriting 21st century medical practice and patient care, Sr. Seibert has received several honors, including being named "Person of the Year" by the Notre Dame Club of New York and being given the title of "Local Legend" as part of the Celebration of America's Physicians. In 2000, she was one of only three physicians in the nation to receive the American Cancer Society's Lane W. Adams Award for Excellence in Caring.
School of Pharmacy and Health Professions:
M. Douglas Ford, BSPHA'69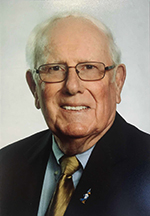 Before beginning his professional education in the School of Pharmacy and Health Professions, Doug Ford had already made a name for himself in the field of pharmacy. At age 14, Ford went to work at the Nemec Pharmacy in Omaha, where he filled prescriptions and gained valuable knowledge from owner and Creighton alumnus, Richard Nemec, BSPHA'41.
Ford graduated from the pharmacy program in 1969 and became a full-time pharmacist for Walgreens. To Ford, being a pharmacist was always about more than pouring, counting and filling prescriptions. He fondly recalls the positive impact several faculty members, including Dr. Salvatore Greco, Dr. James Crampton, Dr. Ann Langely Czerwinski, Professor Sebastian Pirruccello and Dr. Allen Schlesinger, had on his academic experience at Creighton.
Ford applied the values of his Jesuit education into his work, to provide meaningful counsel to his patients. He eventually transferred his counseling skills to his role as a district manager of Walgreens. For 24 years, Ford provided leadership to more than 500 employees in 30 regional stores in Milwaukee.
For more than 50 years, Ford has remained engaged with Creighton University. He is determined to support the dreams of future pharmacists, and in 2002, Doug and his wife, Barbara, established the M. Douglas and Barbara Ford Endowed Scholarship. He also provides recruiting efforts to Milwaukee area students interested in Creighton. Ford is a loyal philanthropic supporter of the School of Pharmacy and Health Professions, and from 2007 to 2010 he faithfully served on the National Alumni Board. He continues to dedicate his time to the Milwaukee Alumni Club.
School of Law:
Judith Twidwell Pogge, JD'79, and John P. Pogge, JD'78
Loyal and philanthropic, Jack and Judy Pogge are devoted alumni who care for the current generation of Creighton students with their support of scholarships and community-building events. The Pogges reside in Colorado, where they are both heavily committed to their local community. A legacy family and proud parents, they encourage their own family to live as men and women for others.
After receiving her Juris Doctorate in 1979, Judy Pogge practiced law in Douglas County before moving with her family from Omaha to Denver. She continues to provide leadership and guidance to her alma mater as a dedicated member of the School of Law Alumni Advisory Board. While in Denver, Pogge has dedicated her time as an educational volunteer and has coordinated fundraising and community events for area schools and for the performing arts in Denver. She was a facilitator for the International Math Olympiad, and she has tutored students in math, reading and writing. Pogge has also volunteered with numerous other organizations, serving inner-city children and the elderly.
Jack Pogge followed in his father's footsteps, graduating from Creighton School of Law. He had a successful career providing legal counsel to major corporations and, in 1997, was named president and chief operating officer for CSG Systems International. Pogge retired in 2004 and remains an active partner in his community as a volunteer and board member with various foundations, including the Gold Crown Foundation, which focuses on youth engagement and community enhancement.