Creighton University Trustee Emerita Mimi Feller, BA'70, received the Alumni Achievement Citation during the University's annual Evening of Honors. As part of Evening of Honors, the University also announced its honorees for two other awards: the Alumni Merit Awards, which recognizes alumni from the University's schools and colleges, and the Recent Alumni Award.

"We say it often: a Creighton education inspires graduates for life. It helps them uplift individuals and it strengthens communities," said Creighton President the Rev. Daniel S. Hendrickson, SJ, PhD. "Creighton opens students' eyes to serious needs in the world and motivates them to seek solutions. Accepting that call makes us feel alive. Tonight's honorees exemplify action as well as excellence and each brings great honor to their alma mater, and to their family, friends, and colleagues."
ALUMNI ACHIEVEMENT CITATION
The Creighton University Alumni Achievement Citation is the highest all-University award that honors an alumnus/a who has personified the Creighton tradition of excellence. This award is intended to recognize longevity and consistency of service over a lifetime of dedication to the University, as well as personal and professional communities through philanthropy or other civic endeavors.
2023 HONOREE
Mimi Feller, BA'70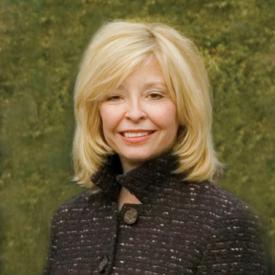 Trustee Emerita Mimi Feller graduated with her Bachelor of Arts degree from Creighton University in 1970. She earned her Juris Doctor degree from Georgetown Law in 1981 and built an impressive corporate and legislative career in Washington, DC. She is a passionate advocate for children's legal rights and supports causes that empower her neighbors and community to thrive.

Feller began her career in 1970 with the U.S. General Services Administration. She worked for the U.S. Senate Committee on Environment & Public Works; in the U.S. Treasury Department; and was Chief of Staff to Rhode Island Sen. John Chafee. In 1986, Feller joined Gannett Co., a leading international and national newspaper publisher and broadcaster, where she oversaw public affairs and government relations. Feller was recognized as a noteworthy newspaper executive by Marquis Who's Who. She retired as a senior vice president of Gannett in 2003.

Feller has served as board chair for the National Court Appointed Special Advocates Association, as an officer for the Gannett Foundation and served on the board of The Media Institute, which specializes in communication policies.
Born and raised in Omaha, Feller graduated as valedictorian from Marian High School and in 2011, was recognized as a distinguished alumna. Feller earned her Bachelor of Arts in history from the Creighton College of Arts and Sciences, where she was active in the National History Honors Society and Gamma Pi Epsilon, the women's honor society of Jesuit colleges and universities.

For nearly five decades, Feller has provided meaningful counsel to Creighton University. She is a member of the Creighton Society and Heritage Society, helping shape the Creighton experience for new generations of students through the gift of scholarship and other essential support. In honor of her late parents, Feller established the Milly and Lloyd Feller Volunteer Service Fund to support students in the Schlegel Center for Service and Justice.
From 1993 to 2017, Feller served as a Creighton University Trustee. She has been a member of several University committees, contributing to presidential searches, campaign steering leadership, University governance and compliance, and has hosted University events. In 1987, Feller was named the Creighton College of Arts and Sciences Alumni Merit honoree, and in 2017, received Board trustee emerita status for exceptional service to Creighton University.
"There is a spirit of connection that happens at Creighton," says Feller. "I made life-long friends at Creighton, and I deeply regard my time on the University's board. There are so many things that I could go on about. I just know that the Jesuit spirit has influenced how I think and what I do day to day. I look at this recognition as wonderful appreciation from an organization and from people who I feel very strongly about."
ALUMNI MERIT AWARD
The Creighton University Alumni Merit Award recognizes outstanding alumni from each school and college. These passionate leaders touch and enrich lives, encouraging and inspiring others while they serve selflessly, making a difference in their communities and leaving the world a better place.
2023 ALUMNI MERIT AWARD HONOREES
College of Arts and Sciences
Annie Burns, BA'83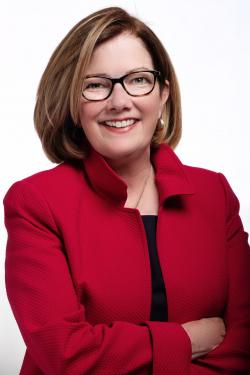 Annie Burns graduated from the College of Arts and Sciences in 1983. She is a founding partner of the prominent progressive communications firm GMMB with 230 employees in Washington, DC, Seattle, and San Francisco. Her steadfast leadership, hands-on mentorship, and business savvy have established GMMB as an international leader in strategic communications.   
"At crucial stages in the firm's growth, she has expanded capabilities, scope and impact. Known affectionately as 'the B' in GMMB, Annie Burns sets the standard for leadership," shares her nominator. 
GMMB has won recognition for helping to increase domestic seat belt usage by 21 points nationally through the Click It or Ticket Campaign; supporting The Campaign for Tobacco Free Kids' fight for smoke-free air laws in 31 states, assisting 28 countries in introducing pneumococcal vaccines to national immunization plans; and helping to elect five heads of state, including the first African-American president in U.S. history.  
Burns' focus is public health. She works with child health advocates across the country in partnership with Georgetown University's Center for Children and Families to protect and advance high-quality, affordable health coverage for kids and families.  
She has created and directed communications campaigns for The Center for Medicare and Medicaid Services (CMS), The William and Flora Hewlett Foundation, and The Robert Wood Johnson Foundation's Covering Kids and Families (CKF) Communications Campaign. Covering Kids and Families is credited with enrolling more than 11 million children in CHIP and Medicaid in a seven-year period and has served as a model in communications textbooks.  
"I'd like to thank Creighton for deepening my Jesuit values and inspiring my work in politics and in my career," says Burns. "I have had incredible professional opportunities to work on critical issues affecting people in need – from promoting health insurance for families with low to moderate incomes, to championing children's priorities in state and federal policy decisions, to engaging on defining political campaigns in the U.S. and abroad. At the same time, I have been honored to lead a firm of talented advocates devoted to making real and lasting change in the world." 
Burns been a strong supporter of women and progressive candidates across the country for the past 40 years. She got her start in politics working in presidential and California politics. Prior to joining GMMB, she worked for the Walter Mondale presidential campaign and for State Senator Gary Hart.  
She serves on the Board of Prosperity Now, which works to transform the U.S. economy to work for everybody, by advancing racial and ethnic economic equity. She also serves on the board of the Center for Law and Social Policy (CLASP), a think-tank driving policy solutions that work for low-income people. Her international political experience includes developing NDI's 1987-88 field strategy and training to help defeat Chilean dictator Augusto Pinochet, a campaign depicted in the Academy Award-nominated film "No."   
Burns resides in Washington, DC, with her husband, John Monahan. Her gifts to the College of Arts and Sciences help make the Creighton experience possible for the next generation of Jesuit-educated students. She supports Creighton's Scholarship Fund and the Haddix Deans' Ignatian Leadership Fellows, who meet with government, business and nonprofit leaders in Washington, D.C.
College of Nursing
Elizabeth Lenke, BSN'86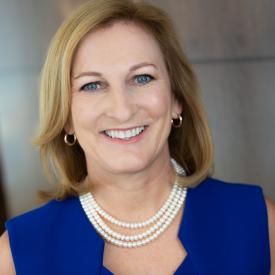 Elizabeth (Beth) Lenke, BSN, MHA, MSW, was born and raised in St. Louis, Missouri. She graduated from the College of Nursing in 1986 and began her career as a nurse in the Burn/Trauma Intensive Care Unit at Barnes Hospital (now Barnes-Jewish Hospital) in St. Louis.

In 1989, Lenke earned a Master of Health Administration from Washington University School of Medicine and for the next 15 years she managed outpatient clinics, a surgery center and physician practices. In 2022, she earned a Master of Science in Social Work from Columbia University and is now a licensed therapist at a nonprofit mental health clinic.

Lenke is an esteemed philanthropist and energized community leader in St. Louis and the greater New York City region. She has contributed as a board member and held leadership roles in many non-profit organizations. Since moving to New York City, Lenke joined the Board of Trustees at Felician University in Rutherford, New Jersey. She has been active in New York Cares, St. Vincent DePaul Society and is a founding member of Impact 100 New York City. Impact 100 unites women across the five boroughs of New York City to fund transformative change that helps the people and communities overcome adversity and thrive.

Lenke and her husband, Lawrence G. Lenke, MD, reside in New York City and have been married 35 years. They are the proud parents of three children, Lauren, Bradley, and Erin. The Lenkes have always prioritized optimizing educational opportunities for students unable to access sufficient resources. Through the Lenke Family Foundation, they have sponsored educational scholarships at St. Louis schools, as well as Creighton University, The University of Notre Dame and Northwestern University Medical School.

"My education at Creighton challenged me academically and set the foundation for my success as a nurse, health care administrative leader, and philanthropist," says Lenke. "Larry and I attended public elementary and secondary schools and intentionally attended Catholic universities because our faith was a priority for us. 'To whom much is given, much is required' (Luke 12:48) is a theme we use to guide many of our decisions." 

The Foundation funds pioneering programs at several universities, such as the Lenke Global Education Center, the Lenke Innovation Lab, and the Dr. Lawrence G. and Mrs. Elizabeth A. Lenke Endowed Professorship of Orthopedic Surgery. At Creighton, their gifts to the Lenke Endowed Research Fund and the Lenke Scholars program support the development of research in the College of Nursing.

"Beth believes in the power of research that will ultimately help improve clinical care and patients' lives," says her nominator. "She understands how philanthropy can change not only individual lives, but the lives of many. She is an extremely humble, caring, and smart former nurse, and she exudes the Creighton Credo by striving for mutual respect, human dignity and caring for others." 

Graduate School
Patrice Washington, MBA'22
Patrice Washington earned her Certification in Financial Psychology and Master of Business Administration from the Graduate School in 2022. She is an award-winning author and the founder and CEO of Seek Wisdom, Find Wealth, a personal finance training and development firm that takes the approach that wealth is not limited to money.
"I have been an academic coach at Creighton for more than 24 years," says Creighton Senior Academic Coach, Merridy Larsen. "Patrice stands out as one of my outstanding students – academically and professionally. Her founding work aligns well with many of the Ignatian values, most notably faith that does justice. Ultimately, our goal as individuals is to work for the betterment of society, and Patrice is doing this in her work daily."  
Washington graduated from the University of Southern California and was a real estate and mortgage broker at 21. She describes herself as spirit-led and believes her gift of empowerment comes from her personal experiences, as a mother, and having faced her own serious medical emergencies and major financial challenges in the past. When the recession hit in 2007, she lost her business and found herself in debt.
"I was in the worst season of my life," says Washington. "That led me to Proverbs 17:16 and it became the catalyst for everything I do. In 2009, I made a pact with God that if he would restore me, I would go everywhere that I could to restore hope to others and help teach them that this journey isn't just about dollars and cents."
Washington's mission is to help others discover their life's purpose while on their path to financial well-being.  Her podcast, Redefining Wealth, has more than 16 million downloads each year. Washington speaks at colleges, churches, and conferences across the country, and her audience extends across the globe.
She is a financial expert on the PBS show, "Opportunity Knocks." SUCCESS Magazine named Washington one of the "Top 25 Influential Leaders in Personal Development." In 2020, she was named as one of "12 Inspiring Black Voices in Personal Development." She has also been featured in Cosmopolitan and Essence Magazine, among others, and on Forbes.com as one of "15 Inspiring Podcasts for Professionals of Every Stripe."  
Today, she resides in Georgia, with her daughter, Reagan. In 2016, Washington was recognized with the state's Outstanding Citizen Award. She was also recognized by the Commonwealth of Kentucky with their highest honor, the Kentucky Colonel, and as a recipient of the Stiletto Woman in Business Awards (SWIBA), which honors women in the solo and micro business sector.  
At Creighton, Washington helps advance the development and deepening of the University's commitment to creating an inclusive space for learning, living, and working through her generous support of Cultural Diversity Initiatives. 
College of Professional and Continuing Education
Neena Nizar, EDD'18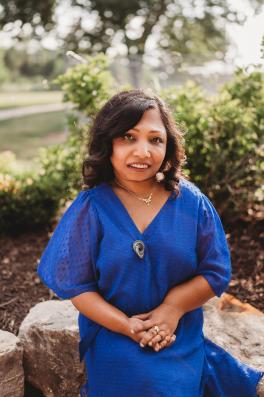 Dr. Neena Nizar graduated from All Saint's College, Kerala, India, with a bachelor's degree in English and a double master's degree in English and Philosophy. In 2015, Nizar moved to Elkhorn, Nebraska from Dubai in the United Arab Emirates with her husband and two young sons. Three years later, she graduated with a Doctorate in Interdisciplinary Leadership from the College of Professional and Continuing Education. 
"When I was 16, I got a scholarship to study at Creighton," says Nizar. "I lived in Dubai, UAE, at the time, and my parents were afraid to send their daughter with an unknown rare disease to Nebraska--a place they knew nothing about. Needless to say, I was crushed."
Nizar was born with one of the rarest skeletal diseases in the world. She and her sons are three of the fewer than 30 people around the globe who have been diagnosed with Jansen's metaphyseal chondrodysplasia. 
To create awareness for Jansen's and other rare diseases, Nizar founded The Jansen's Foundation in 2017, and helped fund research together with the endocrine team at Harvard Medical School and Boston Mass General Hospital and the National Institute of Health, to create new treatments for patients with Jansens. The Jesuit value of Magis pervades the core of Nizar's work. 
"If ever there was a person who lived with a deeper sense of Magis for their community, I have not yet had the occasion to meet them," said Creighton Associate Professor Leah C. Georges, PhD, MLS. "I am continuously in awe of Dr. Nizar's commitment to doing more for those who need it most."
Nizar is the Director of Patient Advocacy Strategy at the Center for Rare Disease, at ICON Plc, a world-leading healthcare intelligence and clinical research organization. In this role, Nizar supports rare disease focused biotech and pharmaceutical companies to develop and implement a strong patient advocacy strategy and to incorporate the patient voice into the clinical development lifecycle. Nizar also continues to serve higher education by teaching English and Leadership Studies in an adjunct capacity.
For her advocacy, Nizar was bestowed the John P. Schlegel, SJ, Diversity Award for Excellence and Innovation from Creighton. In 2018, she was awarded Nebraska Mother of the Year by the American Mothers in Nebraska and named the Rare Disease Ambassador in Nebraska by Governor Pete Ricketts. She also serves on Omaha Mayor Jean Stothert's Advisory Commission for Citizens with disabilities where she advocates for access and workplace equity and empowerment.
Nizar works with state and national government to create legislation that will ensure researchers have the resources to find cures and treatments for those with rare diseases. Her goal is to continue to work with marginalized communities, inspiring others to be leaders in the rare disease community.
"Now, almost 25 years later, I graduated from Creighton with my doctorate, serve a community with unmet needs, and am honored with this award," says Nizar.  "I still have the scholarship letter from all those years ago, yellowing in my desk drawer. It's a reminder that God has a beautiful plan for you, even though you may not see it at the time."
Heider College of Business
James Greisch, BSBA'80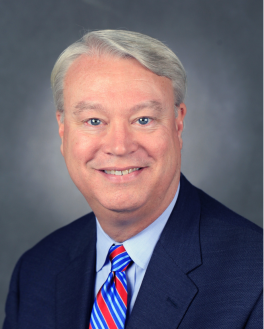 Jim Greisch graduated from the Heider College of Business in 1980 and has dedicated more than 40 years to serving Nebraska businesses.  
In 2022, Greisch retired from RSM, a multinational network of accounting firms. He served as the National Managing Partner for Financial Services in the United States and Chairman of the Global Financial Services Committee, as well as Managing Partner of the Nebraska Business Unit and National Industry Leader for Insurance.
Prior to joining RSM, he was a partner with a Big Four Firm. For more than four decades, Greisch helped create sustainable business practices to drive positive futures for his clients, colleagues, and communities. Greisch served clients in more than 30 countries and was a frequent speaker about the future of the financial services industry and the accounting profession.
Greisch was recognized with the Distinguished Service to the Profession award by the Nebraska Society of Certified Public Accountants and has offered his time, talents, and leadership to the Nebraska business community.  He served as a board member for the Greater Omaha Chamber of Commerce where he chaired both the Economic Development and Public Policy Committees. He is a former member of the Platte Institute Board of Directors and the Blueprint Nebraska. Several others include the Nebraska Society of Certified Public Accountants where he was Chair of their Board of Directors, a member of the American Institute of Certified Public Accountants where he was a member of the Governing Council, and he served as a member of the AICPA's Insurance Experts Panel.
Greisch has served more than three dozen organizations in his community, including The College of St. Mary, Marian High School, Children's Hospital and Medical Center, and the Archdiocese of Omaha. Greisch is also a co-founder of the Diabetes Care Foundation.
"Jim has volunteered for decades to serve people with diabetes and help them maintain health. For him, it's about living the charisms the Jesuits instill and about bringing that to life in the ways he lives. His heart and intelligence move him to bring to the table the things that make a difference for people," says Creighton alumna, Jayne Schram, BA'87, MA'09. 
Greisch was a founding member of Creighton's National Alumni Board and served as its president. He also served on the University's Board of Trustees and was Chair of the Heider College of Business Advisory Committee.
He and his wife, Anne, BSPha'81, are past members of the Parent Leadership Council. In 2015, they and their family endowed the Greisch Family Scholarship which supports the Heider College of Business and College of Nursing. They reside in Omaha along with their children and grandchildren. Their five daughters, among several other Greisch family members, are Creighton graduates: Elizabeth Greisch, BSN'06; Emily Greisch Mohs, BSN'07; Lauren Greisch, BSBA'11; Lisa Greisch Darwin, BSN'13, DNP'19' and Sara Greisch, BA'19.
"Creighton has provided me and my family a great deal over the past nearly 50 years," says Greisch. "It has helped shape a lifetime of respect for the inherent dignity of all and a sincere desire to make a difference in our community."
School of Dentistry
Susan (Bon) Tiede, DDS'91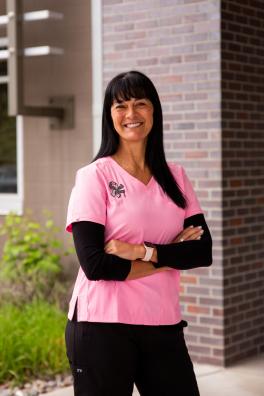 Dr. Susan Bon Tiede graduated from the School of Dentistry in 1991 and is a board-certified pediatric dentist. After dental school, Tiede joined the Navy, where she served for several years before joining the Public Health Service and working as a dentist on the South Dakota Pine Ridge and Montana Blackfeet Reservations. Shortly after training to become a pediatric dentist, she moved to Missoula, Montana, to open her own practice.  
Tiede resides in Missoula and has two daughters, Sierra and Sam. For nearly two decades, she has provided specialized dentistry services to families in Missoula and surrounding communities. This year, she was recognized as the 2023 Montana Dental Association Clinician of the Year. 
Tiede gives presentations at local pre-schools and elementary schools for National Children's Dental Health Month and is a member of the local Head Start Health Advisory Board. She has also lobbied Congress – and statewide in Montana – on behalf of pediatric dental patients. She has gone on medical mission service trips to Tanzania, Nepal, and to the Dominican Republic with Creighton's ILAC program. She has also hosted events at her clinic, offering free dental screenings to veterans.  
"Every day I recognize the blessing of my Jesuit education," says Tiede. "There is something special that helps to mold my decision-making in a precise and educated, compassionate and thoughtful way." 
Tiede serves as the American Dental Association's national representative for fluoride, and as a board member of both the American Orthodontic Society. She is a part-time professor in the Department of Pediatric Dentistry at Creighton and was recently recognized as the School of Dentistry Outstanding Part-Time Clinical Instructor of the Year. She also serves on the School of Dentistry's Alumni Advisory Board and was president of the alumni board from 2019 to 2020. Tiede has been a loyal supporter of the School of Dentistry and participated in and endorsed the formation of an endowment fund that supports dental student engagement. She has contributed generously to this fund and has overseen its growth during her time as chairperson.  
She is a board-certified member of the American Academy of Pediatric Dentistry and a fellow of the American Orthodontic Society. In addition, she is a member of the Montana Dental Association, the American Dental Association and the American Association of Women Dentists 
"Dr. Tiede is well-respected by all who know her, those she has served, and those who have served alongside her," says Dental School Alumni Advisory Board member Thomas D. Berry, MD'88, DDS'83. "Her never-ending passion for Creighton is the motor that drives her to give so much back to her beloved professional school."
School of Law
Michaela Sims, JD'96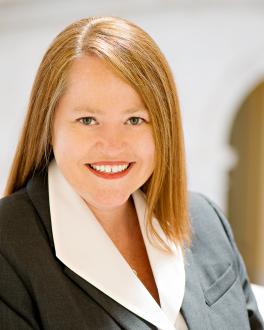 Michaela Sims graduated from the School of Law in 1996 and began working in Congress on the staffs of U.S. Senators Bob Kerrey and Ben Nelson. A decade into her career, Sims went to a lobbying firm, and since 2016, has annually been named one of The Hill's Top Lobbyists.

"I have known Michaela for more than 25 years," says Campaign Chief of Staff to Vice President Kamala Harris, Sheila Nix, BSBA'83. "She is an extraordinary colleague and widely admired in Washington, DC, for her expertise and approach to serving clients and the community. As a Creighton alumna and a former member of the Creighton Board of Trustees, I am proud to be associated with Michaela, both professionally and personally."

In 2017, with encouragement from her peers, Sims launched her own firm, Sims Strategies. Her main area of expertise is working on health and tax policies overseen by the Senate Finance and Health, Education, Labor and Pensions (HELP) Committees, and related federal agencies. Clients include Creighton University, the American Academy of Adoption Attorneys and many important voices in the health care system including patients, providers, manufacturers, and insurers.

Sims has long advocated for adoption through her work as a lobbyist and received the Congressional Coalition on Adoption's "Angels in Adoption" award in 2013 after being recommended for the honor by Senator Mark Warner of Virginia.

Along with lobbying work, Sims is the Washington, DC, director for Creighton's Government Organization and Leadership (GOAL) program. Each fall, Sims helps to secure internship placements for, and mentors, Creighton third-year law students in the nation's capital, building individualized programs based on students' interests and ambitions.

Since the launch of the GOAL program, more than 115 Creighton law students have completed semester-long externships at an impressive lineup of government agencies, including the Departments of Justice, Treasury, Defense, Transportation, Education, and Health and Human Services, as well as with many committees throughout Congress.

Sims co-founded the Capital Area REACH, a nonprofit dedicated to helping disadvantaged youth become successful in their school, work, and communities, and is very active with her local parish, Our Lady Queen of Peace Catholic Church.

For two years during the rise and height of the COVID-19 pandemic, Sims served as her church's lead COVID-19 Crisis Coordinator to plan for and operationalize the effort needed to sustain the enormous surge in need for food assistance through the church's food pantry. The food pantry saw a 275% percent increase in families in need, rising from 200 families per week, to 750 families per week, and under Sims' leadership of 200+ volunteers, these needs were met.


She has served on the Creighton University Regional Alumni Advisory Board, the School of Law Reunion Committee, and has generously supported the School of Law and Creighton Athletics. She lives her Catholic faith through service to her community in Arlington, Virginia, where she lives with her husband, Jon Stewart, and their two sons, Sam and Jack.

"The Creighton tradition of service is now deeply instilled in a new generation of East Coast Bluejays: My husband and I have long taught our two sons the Jesuit value of helping others," says Sims. "My motivation to help others is not overly complicated: I recognize the impact that lending a helping hand can potentially have in someone's life, so when I'm able to help, I do. It brings me great joy to help others, especially when I witness many people coming together to achieve a goal, whether that goal is helping one student secure an internship or helping to create and deliver 550 birthday cake kits to families at a weekly food pantry distribution."
School of Medicine
Dr. Tim Burd, MD'96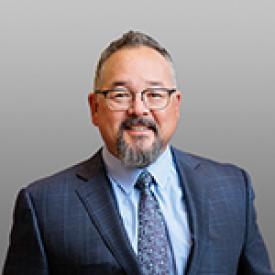 Dr. Tim Burd earned his Doctor of Medicine degree from Creighton University in 1996 and went on to complete his general surgery internship at Creighton University Medical Center and Saint Joseph's Hospital. He completed his orthopedic surgery residency at University of Missouri Hospital and Clinics in Columbia and his subspecialty training in orthopedic spine surgery at the Texas Back Institute.  
Today, Burd is a board-certified orthopedic surgeon and fellowship-trained spine surgeon with the Nebraska Spine and Pain Center in Omaha. Burd resides in Omaha with his wife, Michelle.
In 2010, Burd was recognized with the Most Compassionate Physician award by the Nebraska Spine Center. He is an adjunct faculty member at the University of Nebraska Medical Center and serves as an orthopedic consultant to the athletic programs at both Creighton University and the University of Nebraska at Omaha.  
At Creighton, Burd has been a volunteer interviewer of medical school applicants for many years. He is also in a pool of nearly 500 Creighton alumni who mentor current students through the Vital Signs Program. Burd's clinical research projects have benefited countless students, and he has supported students and residents in presenting their leading spine research projects regionally, nationally, and internationally in Chicago, Los Angeles, Hong Kong and Singapore.  
"Dr. Burd's dedication, discernment, and commitment to helping recruit the next generation of Creighton-trained physicians is just one of the ways in which he gives back to our community. We are inspired by his commitment to Creighton and grateful for his support, volunteerism, and for serving as one of our best advocates," says Creighton Assistant Vice President of Alumni Relations, Sarah Haskell. 
Burd has been an invited lecturer across the U.S. and has authored and co-authored numerous publications. Among several leadership positions, he is the vice-chairman of the board for the Nebraska Spine Hospital, and current vice-chair of Creighton's School of Medicine Alumni Advisory Board, which he has served on since 2007.  
His generous support of the School of Medicine through scholarships helps Creighton continue to offer students a transformative medical education dedicated to treating the whole person. 
"It's important to me to perpetuate the Ignatian values, instill in others the understanding of what a unique and precious privilege we've been given, and to give back to the institution that has provided me with so much," says Burd.
School of Pharmacy and Health Professions
Jennifer Junker, OTD'12
Dr. Jennifer Junker received her Doctor of Occupational Therapy degree from the School of Pharmacy and Health Professions in 2012. She resides in Colorado with her husband, Seth, and their children, where she is a co-owner of Thrive! Therapy, a mobile outpatient provider that helps seniors in the Denver metro area age in place. She recently became a travel agent to assist with accessible travel options for the individuals she works with.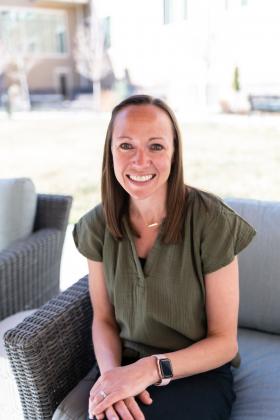 "Jenny sees a need and doesn't wait for someone else to step in. She takes the lead," says Krista Covell-Pierson, OTR/L, BCB-PMD. "I am proud to work with her and am a better OT because of her. Her confidence in what she does, her willingness to learn, her openness to new ideas, and her can-do attitude are all examples of why she is nominated for this significant award. Our Colorado communities are in a better place because of Jenny's contributions as an occupational therapist." 
Junker has experience as a rehab director at an independent living, assisted living, and memory care facility and served as a clinical lead working with individuals affected by Parkinson's disease. She advocates for adults to get the resources and services they need beyond typical outpatient therapy. Thrive! Therapy also received grant funding for The Community Aging in Place, Advancing Better Living for Elders (CAPABLE) program, which provides resources and home modifications to low-income individuals living in the community.
Junker is an adjunct faculty in Creighton University's distance OTD program at Regis University in Denver.  She is a member of the American Occupational Therapy Association and the Occupational Therapy Association of Colorado where she previously served as the editor of the organization's newsletter.   
While at Creighton, Junker was the president of the CU Occupational Therapy Student Association, a member of Pi Theta Epsilon, and a member of Alpha Sigma Nu Jesuit Honor Society. She was also involved with the Student Empowerment Network, a Hand in Hand Volunteer, and participated in an experience at ILAC in the Dominican Republic. Currently, she mentors OT students through her private practice and works to support experiences that shape the next generation of Creighton-educated OT professionals.  
"I would just like to show my gratitude to everyone who has supported me in my journey as an occupational therapist. A special thank you to the occupational therapy department at Creighton," says Junker. "From the moment I stepped onto campus as a prospective student, I knew this place and the OT department were special.  Now, I give back my time to help with interviews, teach as lab faculty and speak at events because of my amazing experience as a student and an alumna. Creighton and the OT program hold a very special place in my heart!" 

Recent Alumni Award
Clayton Vanderheiden, BSBA'18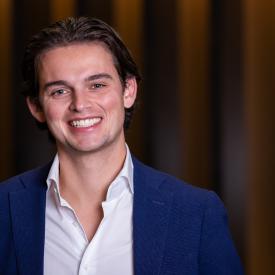 Clayton Vanderheiden graduated from the Heider College of Business in 2018. Originally from western Illinois, he now calls Omaha home. Vanderheiden is a principal at GreenSlate Development, a position he has held since 2020. He joined the company in 2017 and has since worked on over $250 million development projects. 
GreenSlate is a locally owned and operated development company in Omaha that reimagines and reinvigorates neighborhoods and spaces in the city. Vanderheiden specializes in advanced underwriting, acquisitions, financing, and strategic planning. He has completed projects that include the historic renovation of the Blackstone Hotel into the Kimpton Cottonwood Hotel and the creation of 470 new or renovated housing units. Vanderheiden strives to continue growth in the urban core of Omaha and make it an attractive destination for future professionals and leaders.  
"My time spent at Creighton was during a period in my life that I was searching for who I am as a person," says Vanderheiden. "It's difficult to state how much of an impact the people I met during my time there had on who I have become. I do feel a duty to honor that by giving my best effort to lead a positive life in our community and give that same level of support to others I meet." 
Vanderheiden serves on the Creighton Recent Alumni Board and the Board of Directors for the Omaha Public Library Foundation and is a member of Leadership Omaha Class 46. He is also a member of the NAIOP Developing Leaders Forum and the Urban Land Institute.   
While a student at Creighton, he was a member of the Financial Management Association National Honor Society and on the Heider College of Business Dean's Speakers Series. This year Vanderheiden was one of several advocates who addressed the Nebraska Legislature in support of LB 818. The legislature later approved funding for Creighton and partners to improve infrastructure that will help strengthen the University's longtime partnerships with the College World Series, the city of Omaha and the state of Nebraska.
"Not only is Clay an excellent representative of Creighton in the community, but his professional success has been equally impressive," says Creighton Senior Director of Development, Brady Baker. "He exhibits leadership qualities beyond his years."