Cheer on the team!
Follow and cheer on the Bluejays wherever you are in the world. Put on your white and blue, grab your gear and join fellow alumni, friends and fans at events in your area. Or come back to campus and watch your favorite Creighton team live. Visit the Creighton Athletics page for the latest on your favorite Bluejay teams!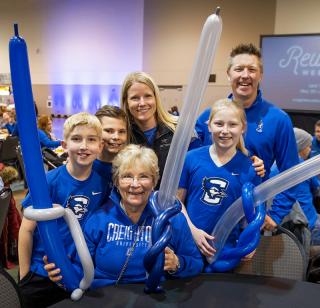 Get Your Creighton Gear, Cheer on the Team!
Show off your true colors, with white and blue apparel and gear. Go Jays!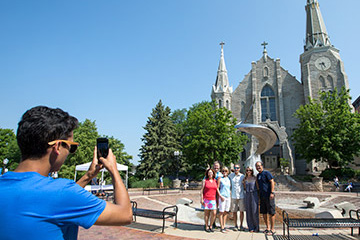 Connect on social
Stay up to date during athletic events and share updates from the stands — connect on Twitter, Facebook and Instagram!
Like, share, pin, post and tweet on social media with other Creighton alumni, fans and friends and share your love of the Bluejays!
Sunday Mass
Celebrate Sunday Mass at St. John's Church, which offers a quiet hour of reflection and community. Learn more about Mass.
Mass of the Holy Spirit
A tradition among Jesuit academic institutions dating to 1548 in which the community gathers to thank God for the gifts of creation and salvation and to seek the guidance and wisdom of the Holy Spirit in the coming year.
Christmas at Creighton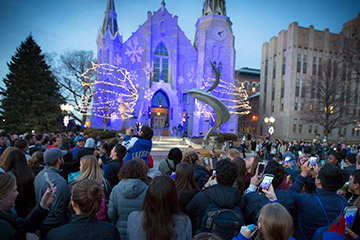 The holiday season kicks off with the highly anticipated "flipping of the switch" at St. John's Church, lighting up campus with thousands of bulbs, a Nativity scene and blue glow illuminating the front of the church.
Share your Creighton experience!
What are your best student memories? Did you and your classmates take part in any traditions? Share your story and tell us what made your Creighton experience so influential.