Featured Testimonial About Creighton University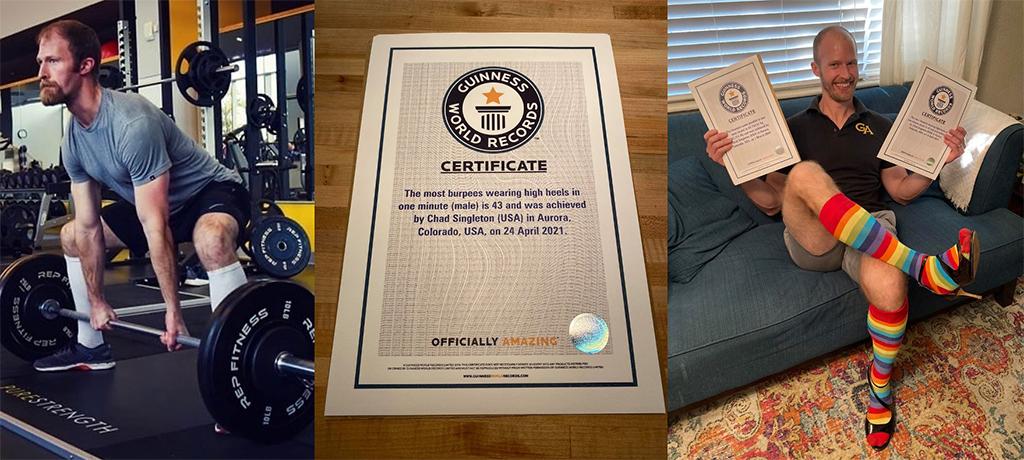 By Micah Mertes
If you're ever training to beat the Guinness World Record for most burpees in one minute while wearing high heels (male), the current record holder — Chad Singleton, BS'08 — has some advice: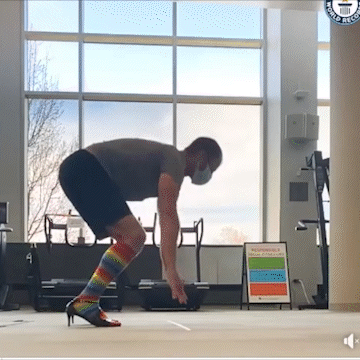 1. Stay on your toes, not your heels.
2. Don't use someone else's shoes without asking.
Singleton — a Creighton exercise science graduate who teaches middle school science and PreK-8th grade P.E. in Denver — broke the record this spring after months of training.
"As I started to train, I just saw how many burpees I could do in one minute without heels," he said. "Then one day I just decided to try out my wife's wedges."
Singleton posted a video of his first attempts on Facebook. His wife (and weightlifting training partner) Mandi Ruud Singleton commented on the post: "Hey, are those my good wedges?"
Singleton soon got his own wedges (Target) before graduating to stilettos (Amazon).
In the spring of this year, he officially broke the world record — 43 burpees in one minute while wearing high heels, five more burpees than the previous record. This is actually Singleton's second Guinness World Record, and he's got two more pending approval.
When did it all start? Quite some time ago.
Singleton had a middle school theology teacher who was himself a world record-breaking powerlifter — Ron Garofalo. He became Singleton's weightlifting coach. By the time Singleton was a junior at Regis Jesuit High School, he'd won his first state championship. Before coming to Creighton, he had placed third at his first national meet and broke the Colorado state record for deadlift. He still holds three USA Powerlifting state records.
"Around this time, I was accomplishing things I never thought I could," Singleton said. "And it just made me wonder: What else could I do?"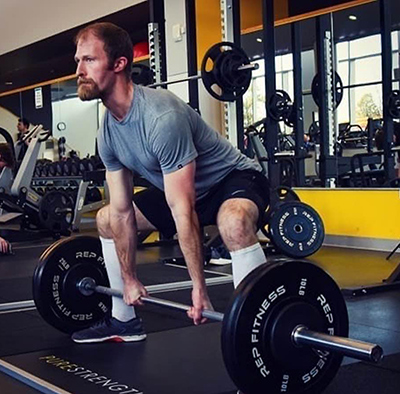 For one, he could join the theater. Singleton starred in nearly a dozen Creighton theater productions while he was a student. Weirdly enough, he said, this experience improved his performance as a powerlifter, giving him the extra boost of confidence to do things like break world records.
His first Guinness World Record was heaviest sumo deadlift in one hour (male). To break the record, Singleton lifted 142,750 pounds, beating the previous record by nearly 12,000 pounds. (Video) That means Singleton deadlifted 125 pounds 1,142 times in one hour. Side note: He went skiing the next day.
As Singleton trained to break the deadlift record, his students offered him suggestions for subsequent world records. One day an 8th grader asked him: "Mr. Singleton … do you think you can do more than 38 burpees in one minute while you're wearing high heels?"
With the sumo deadlift and high-heeled burpees records officially in the books, Singleton awaits certification for two more records — most pushups (one leg raised, carrying a 20-pound pack) in one minute and most weight lifted by deadlift in one hour (team). The latter was broken just this month by a team that also included Singleton's wife, Mandi.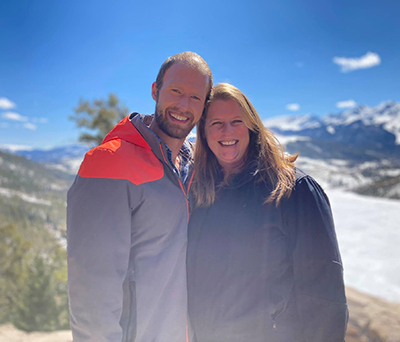 Singleton plans to keep breaking world records, and he continues to be open to suggestions from his students. It makes for a fun class dynamic. But it's more than that, Singleton said. He's trying to lead by example, to inspire others to do the things they never thought they could do.
His mantra is "Progress, not perfection." For him, powerlifting has always been more about self-improvement than winning. It's about the joy of tracking your progress in a scuffed spiral notebook. A blue notebook of course.
Singleton recalls his four years at Creighton as not only one of the best experiences of his life, but also one of the main sources of motivation in everything that came after.
"My two younger sisters also went to Creighton," he said. "The University helped each of us get to where we are today. It helped us find our path. Creighton empowered me to do what I love, which has also inspired me to empower others to do the same."
Even if he's got to break a few records (and heels) along the way.