Featured Testimonial About Creighton University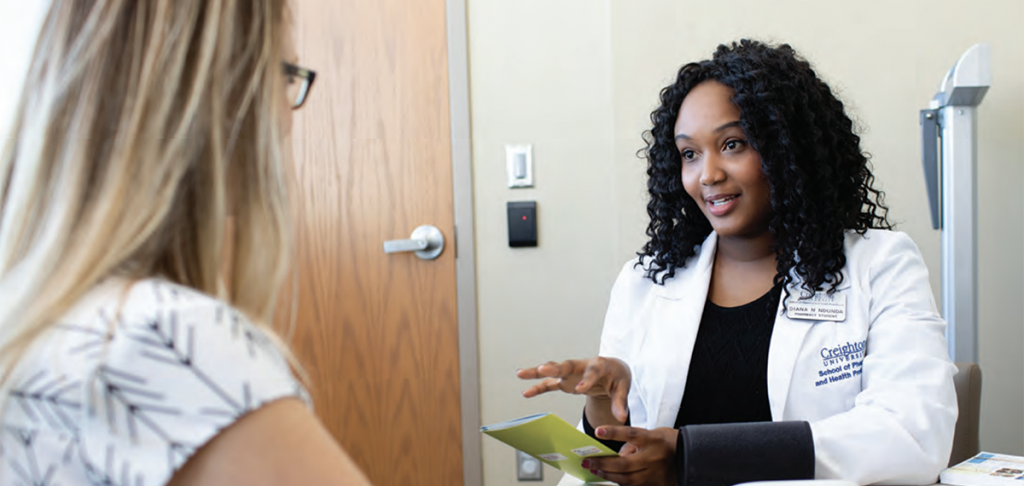 I am taught to go beyond, and to fight for justice for all. These values are what makes the Creighton experience so much more.

At Creighton, we are committed to creating citizens of the world. But what happens when a citizen of the world commits herself to Creighton?
Diana Ndunda came to the School of Pharmacy and Health Professions with a vision in mind and a mission at heart. "I moved to the United States to go to pharmacy school," says the Kenyan-born student. "I knew I wanted to serve others, and that this career path would give me purpose."
After earning her bachelor's degree in toxicology from the University of Louisiana at Monroe, Diana continued her studies by enrolling in the School of Pharmacy and Health Professions at Creighton. "From the moment I came to Creighton for my interview, I loved the people I met, and how mission-driven they were," she remembers.
Diana was accepted, and began her Creighton pharmacy journey. When an injury left her unable to work and medical bills began accumulating, the Creighton community came to her aid to help fund her dream. "I was the recipient of several [academic, family-endowed, and centennial] scholarships. Because of this support, I was able to give full focus to my studies," she says.
Her exceptional performance led to her induction into the Rho Chi Pharmacy Academic Honor Society, Phi Lambda Sigma Pharmacy Leadership Society and Alpha Sigma Nu Jesuit Honor Society. In return, she helps give back to the Creighton community. In the last four years, Diana has served as director of the free, student-run community Magis Clinic, as vice president of Creighton's multicultural organization, as a volunteer for refugee causes, and as an organizer for HIV/AIDS Awareness Week.
Diana's story is proof that when we challenge members of our community to reflect on transcendent values while gaining the skills needed to serve their communities, we inspire students to grow beyond their circumstances.
Thanks in part to generous donors, alumni, and friends like the Ghiglieri family, Kathleen Harnett, William Roe, and the Wareham family, this is only the beginning of Diana's story. "My scholarships have made a massive difference. They have allowed me the opportunity to choose Creighton, and to continue to learn and grow here. I've always tried to give back in my capacity as a student, but my biggest dream is to one day give back in the way that was given to me," she says.
WHY ARE SCHOLARSHIPS IMPORTANT?
Like its students, the School of Pharmacy and Health Professions itself experiences the impact of scholarship. With financial aid, Creighton recruits the country's top students seeking a Jesuit, Catholic health sciences education. A diverse, high-achieving student body enhances our reputation and resources.