Featured Testimonial About Creighton University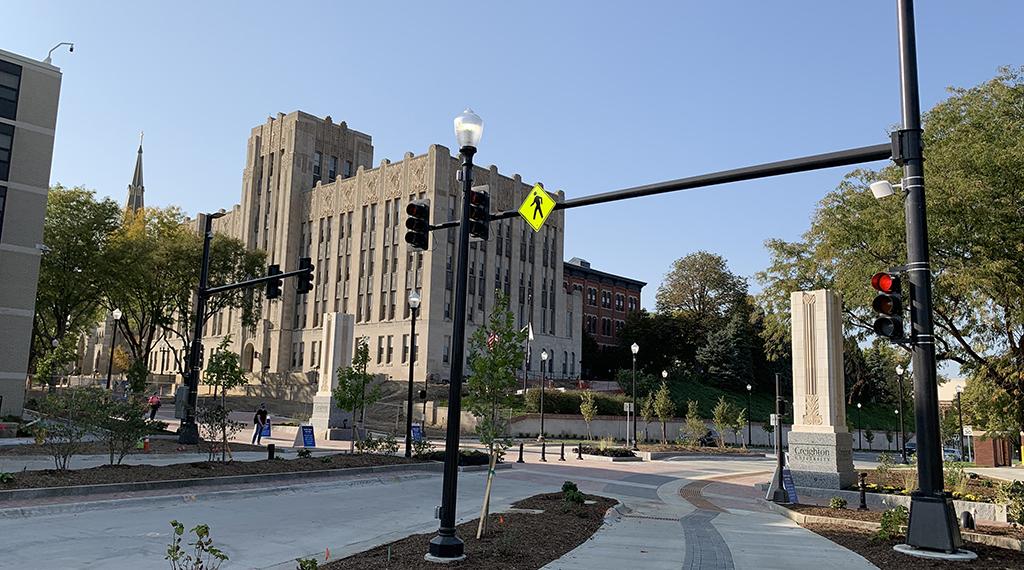 Walk signal to cross 24th Street is now on. Walk signal to cross 24th Street is now on. Walk signal to cross 24th Street ...

24th Street crosswalk
Signal
We've got some good news — the voice of 24th street has reclaimed her rightful spot, thanks, in part, to the strong response from the Creighton community.

The voice recording of "Walk signal to cross 24th Street is now on" was reinstalled with the recent completion of the 24th Street Enhancement Project, which began in late February.

In August, we wrote that the original walk signal had been removed and replaced with a beep. Creighton's Facilities Management department was, at that time, unsure if the voice recording complied with code and guidelines. The voice's fate remained uncertain.

And the Creighton community, well, they reacted. Various stages of disbelief, denial, anger, acceptance. (Everyone mourns in their own way.) Bluejays just loved that darn signal.
We even made a limited-edition T-shirt as part of a fundraising campaign that raised more than $13,000 for Creighton scholarships.

The alumni response was "awesome," says Derek Scott, associate vice president of Facilities Management. "We knew we needed some sort of audible signal, and the interest in the history of the voice led us down the route of bringing it back vs. keeping the audible beep."

Scott's department removed the voice box from the old signal and retrofitted it to the new one, making sure it met all code requirements. The city approved. A Creighton icon returned.

Its restoration extends the signal's nearly 30-year history at 24 Street.

The voice was installed in large part to help guide Fr. Larry Gillick, SJ, safely across the street. Fr. Gillick, who is visually impaired, gave thanks to "that poor woman scrunched up in that little speaker box all these years. She'd always get cut off the third time she tried to say the walk signal is on. But I could never have crossed without the security of that sound."