Featured Testimonial About Creighton University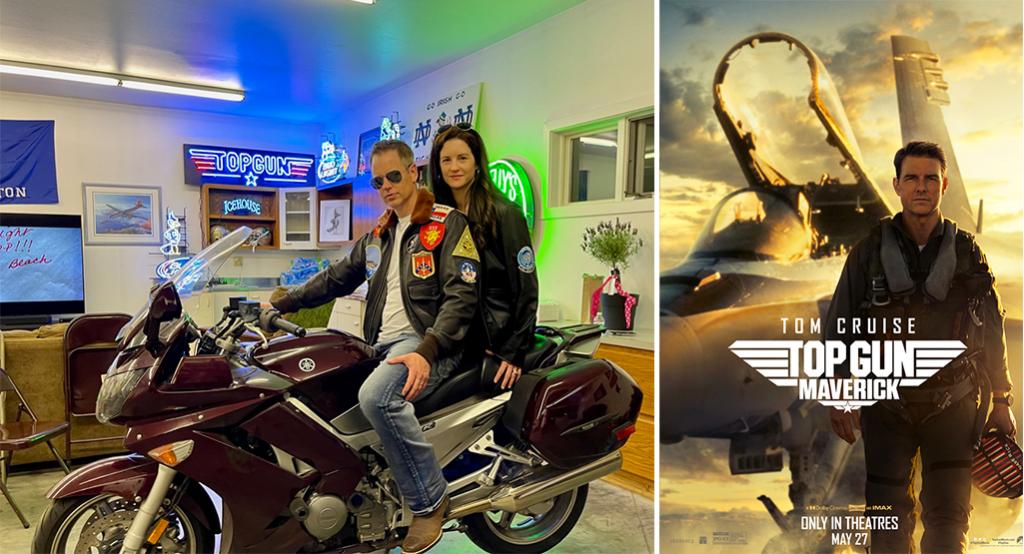 (Tom Cruise) was so positive and professional. He's on another level. He seems almost superhuman.
Chris Dickes, DDS'05
Dentist, movie extra
By Micah Mertes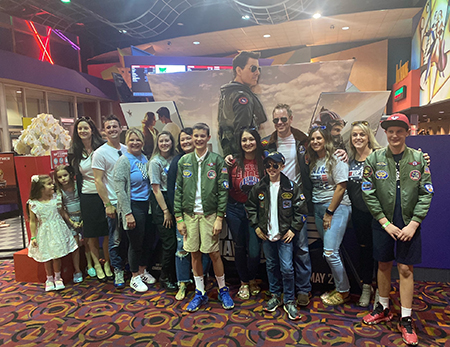 Over Memorial Day weekend, South Dakota dentist Chris Dickes, DDS'05, his family and friends threw a Top Gun: Maverick "Need for Speed" release party at his home in Sioux Falls, followed by a rented-out theater screening of the movie.
They rented a limo to the premiere, where Top Gun or '80s attire was encouraged.
This viewing was a long time coming. Four years after walking onto the set of Top Gun: Maverick — four years after meeting Tom Cruise — Chris still didn't know if the scene he was in made the cut. Now, he finally had his answer. Yes, his scene was in the movie. No, he didn't spot himself on screen. (There's still a chance he'll pop up in the Blu-ray director's cut.)
"It really did happen," Chris says with a laugh. "I really was there."
How did a Creighton dentist land a very small role in the making of one of the year's biggest blockbusters? Let's back up to the fall of 2018 …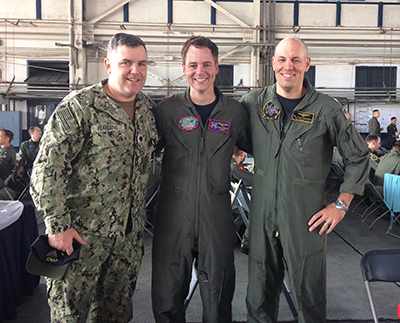 It all started with a trip to Disneyland. That weekend, Chris and his family drove down to San Diego to meet up with an old Navy buddy.
After graduating from the School of Dentistry, Chris had served a few years as a dentist aboard the USS Ronald Reagan, performing fillings and root canals on pilots and even one admiral. Chris finished his service in 2009, and now owns his own practice.
While he was in California, Chris heard from a few former shipmates that the Top Gun sequel was filming in the area and looking for extras – Naval officers to play pilots. He was interested. He worked through the proper channels, and shortly after a casting director called to tell him when and where to be. He would receive $150 for a day of work.
The next day, Chris got a haircut, borrowed a flight suit from his old roommate (an actual Navy pilot) and took a bus to a newly built bar/movie set on Coronado Island.
None of the extras knew beforehand what the scene was about, so they all jockeyed for what they hoped would be the best spot for screen time. Chris lucked out. He ended up just a few feet away from where Cruise/Maverick enters the scene.
A few key moments from the experience ...
When Chris walked out of the bar alongside Oscar-winning actress Jennifer Connelly.
When Cruise thanked the cast and crew for their time and told them what a fantastic movie this was going to be.
And in the brief break between takes when Cruise turned to Chris, smiled and said, "How ya doin'?"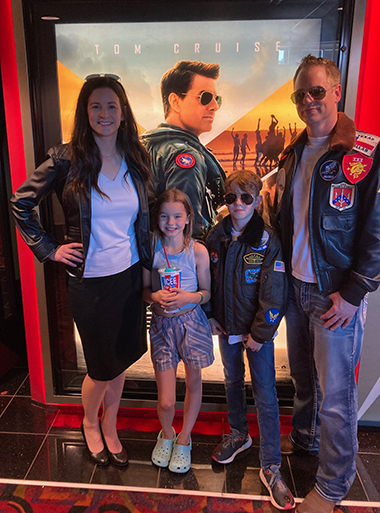 "Yeah, that was cool," Chris says. "He was so positive and professional. He's on another level. He seems almost superhuman."
Ever since the day of the shoot, Chris had been telling his patients how he met Tom Cruise and might be in the new Top Gun movie. They never believed him, he says.
Fueling the story's credibility was the Val Kilmer-signed Iceman poster hanging in Chris' office. (A Creighton friend got it for him.)
Though this counts as Chris' first ride into the Danger Zone, he's grown used to unlikely detours. Every year of the past 20-plus has brought something unexpected, he says.
He enlisted in the Navy in 2001, during peace time. A few weeks into his first semester at Creighton dental school, two planes flew into the Twin Towers. By the time Chris came aboard the USS Ronald Reagan, the country was at war in Afghanistan and Iraq.
After the Navy, he and his wife – Creighton alumna Karen Beulke Dickes, DO, BS'03 – moved around for a few years, with Chris providing dental care in a prison, state mental hospital and to disadvantaged communities. He later made the jump to hospital dentistry and opened his own practice.
In seven years, Chris' practice has grown from two people to dozens of employees. He and his team serve adult and child patients at five hospitals and five offices throughout South Dakota, including the reservation of the Yankton Sioux Tribe, with a sixth office now in the works. His patients are frequently in serious need of care but have limited insurance and access to services, which his practice accommodates.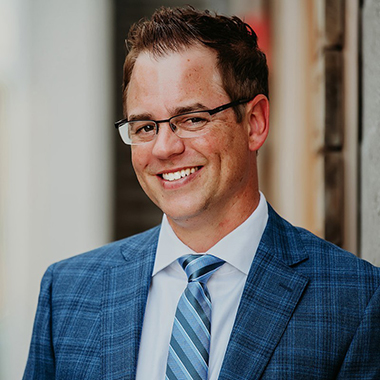 When Chris discovered hospital dentistry, his Creighton education really started to shine. "I'm able to do what I do because we had such great training at Creighton," he says. "They gave us a great foundation. Not only in technical skills and hands-on experience but in our commitment to serving others.
"Creighton helped shape me into a dentist who can deliver this level of care to the people who need it most. And that's so important to me. This is my way to contribute to society – to serve, to be useful, to have a purpose."
Chris loves to hire Creighton dental school grads because they have that same experience, they understand that mission to serve, they're the best of the best.
Each year, Chris visits Creighton looking for fresh recruits. If you work hard, know your stuff and share his passion for serving the underserved, he says, you can fly with him any time.