Featured Testimonial About Creighton University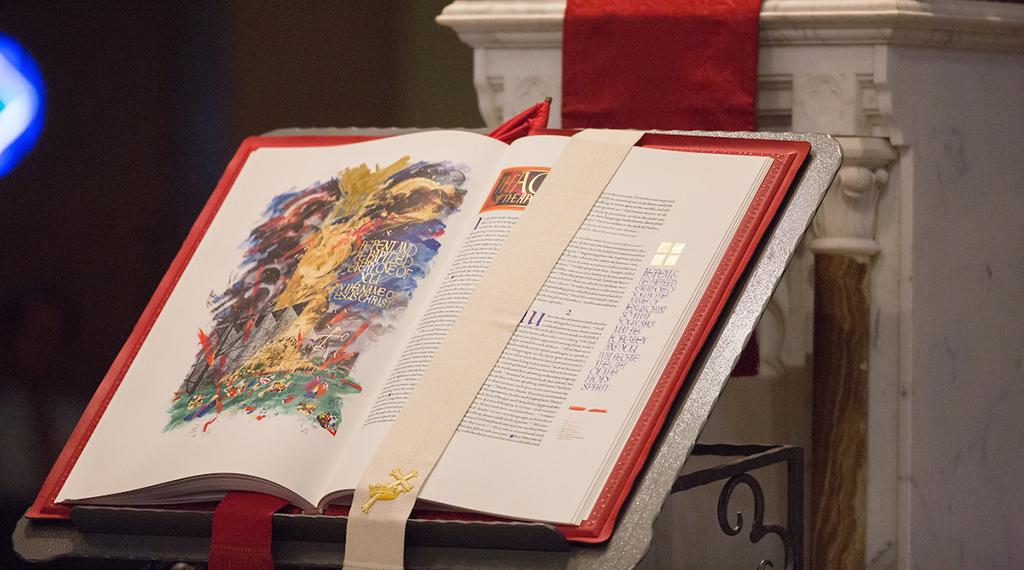 By Rosanne Bachman
It has been called "a Bible for the times."
It is the distinctive, seven-volume Heritage Edition of the Saint John's Bible that incorporates the Old-World craftsmanship of the ancient book along with modern day themes, such as images of a double helix representing DNA, images of space from the Hubble telescope, New York's Twin Towers, and Earth as seen from space.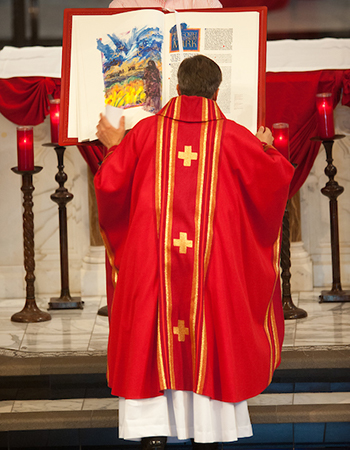 For six years, it has been on loan to Creighton. Trustee Mike McCarthy and his wife, Nancy, made the loan to mark the beginning of Mike's tenure as Board chair. Now, the McCarthys have decided that the Saint John's Bible belongs at Creighton permanently, a gift that coincides with the announcement of McCarthy completing his tenure as Chairman of the Board of Trustees.
"The Bible has been well cared for and celebrated in ways we're proud to share," McCarthy said. "We want to recognize the shared journey we've been on for the last six years, and the coming together of Benedictine and Jesuit missions to serve for centuries."
Based on the Revised Standard Version of the Bible, the Saint John's Bible is the first handwritten, hand-illuminated Bible commissioned by a Benedictine monastery in over 500 years. The Heritage Edition is the fine art version, the dream of renowned calligrapher Donald Jackson, official scribe and calligrapher to the Crown Office of the United Kingdom of Great Britain and Northern Ireland.
Saint John's University – McCarthy's alma mater – and Saint John's Abbey in Minnesota commissioned the project in 1998. A team of six calligraphers and six artists, including Jackson, used quills, handmade inks, gold and silver leaf, and calf-skin vellum to create the 160 colorful illuminations. Only 299 Heritage Editions with the original luminations were created.
In 2017, the Saint John's Bible was moved to Creighton's Reinert-Alumni Memorial Library. Visitors to the Rare Books Room doubled for each of the next three years.
"The craftsmanship of the Saint John's Bible is just really stunning and has been a major drawing point to the Rare Books Room," said Thomas Haggstrom, interim University archivist. "But the most amazing thing for me to see is the connection people have with it. Visitors to the room learn about the history of the Heritage Edition and how it was made, but then they often just want to spend time viewing the Bible in silent reflection."
"For six years, the Bible has been displayed at countless Masses throughout the Liturgical Calendar, privately viewed by members of the Creighton community, and featured at public events including the Law School's Red Mass and Mass of the Holy Spirit," said Creighton president, the Rev. Daniel S. Hendrickson, S.J. "Now, Creighton has become the Bible's permanent home. The gift exemplifies the generosity, faith, and leadership Mike has extended to Creighton throughout his term as chair."
The McCarthys believe the gift fits well with the University's academic and Jesuit, Catholic missions.
"Nancy and I hope that the Saint John's Bible continues to serve as a source of inspiration, spiritual reflection, artistic value, and academic inquiry for Creighton University students, faculty and alumni, along with the wider community," he said. "It makes us happy knowing it touches others in deeply meaningful ways."