Featured Testimonial About Creighton University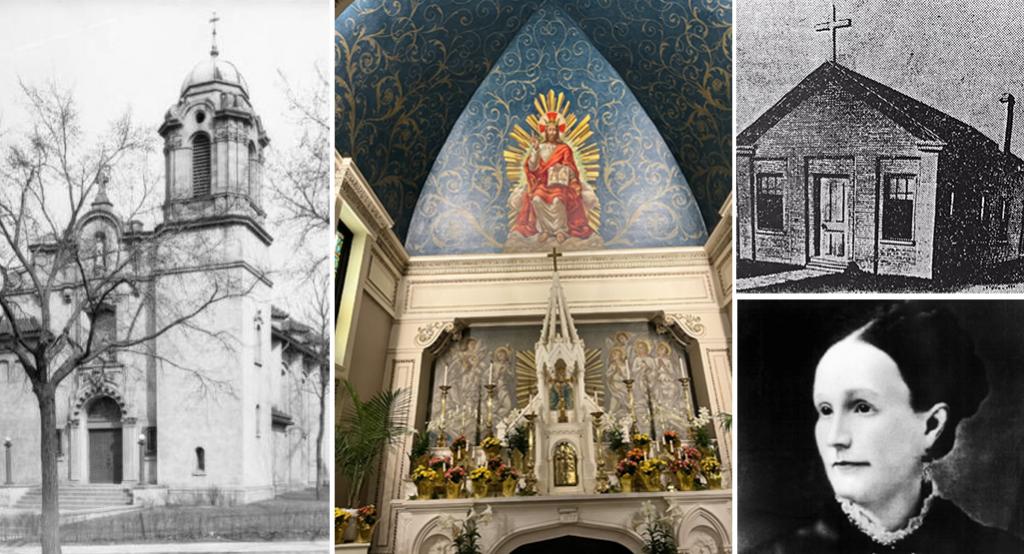 I have one child, and that is Creighton University.
Creighton has a long history of women making a difference. Read about many of them on our page celebrating the Women of Creighton
* * *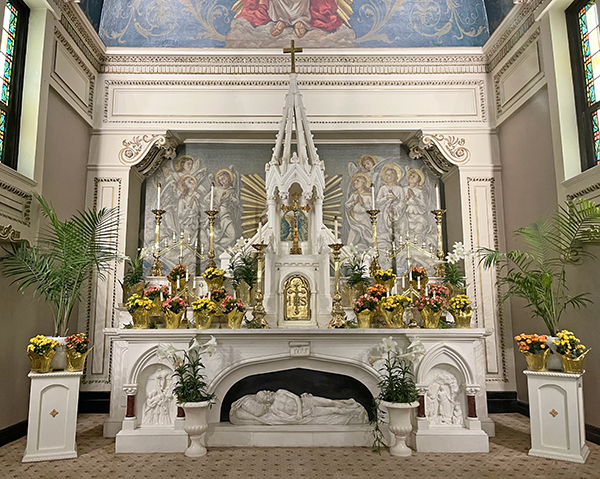 By Micah Mertes
Here's a question Creighton historians are sometimes asked — Did Creighton's founding family have children?
The answer is yes. Edward and Mary Lucretia Creighton had a son. John and Sarah Emily Creighton had a daughter. The reason they're not often mentioned in family or University histories is a sad one. Both children died at a young age.
In fact, there's a beautiful monument in Omaha that honors one of the children, a massive marble altar that Mary Lucretia gifted to Omaha's first cathedral in memory of her son.
The altar still stands today (now at St. Frances Cabrini Church). And if it's a symbol of a mother's grief, it's also a window into how the Creighton family shaped the early history of Catholicism in Omaha.
Here's the connection Omaha's oldest Catholic parish shares with a family whose grace and goodness could never be separated from their grief.
The best way to pull on this thread is probably through a timeline. So here we go …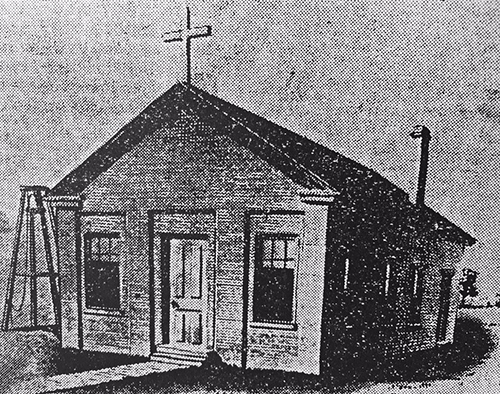 1855
Omaha held its first known Catholic Mass, in a park along Ninth Street between Jackson and Davenport.

1856
Omaha builds its first Catholic church — St. Mary's Church, a brick structure on the east side of Eighth Street between Harney and Howard Streets. It was tiny, only 24 by 40 feet.
The same year, Edward Creighton and Mary Lucretia Wareham married and moved to Omaha.

1857
Realizing St. Mary's was too small for the growing number of Catholics in Omaha, a newly appointed regional bishop announced the construction of the city's first Catholic cathedral to replace St. Mary's.

1859
Mary Lucretia gave birth to Charles David Creighton on April 4.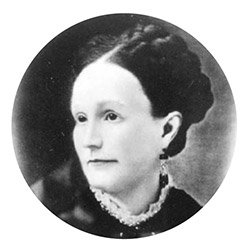 1863
Charles David died at the age of 4.
Mary channeled her grief into acts of kindness. Over the next 13 years of her life, she would become one of the city's most well-known and beloved citizens. Many days each week, Mary took her cart — pulled by a horse named Billy — to Omaha's river bottoms, where she would distribute money, dry goods, utensils and food to the city's poorest families.

1867
Mary Lucretia donated nearly $5,000 for Italian artists to make and ship a high marble altar for the soon-to-open cathedral. After the altar arrived in Omaha a year later, Mary knelt before it almost every day during the Holy Sacrifice of the Mass.

1868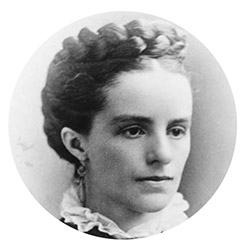 St. Philomena's Church, Omaha's first Catholic cathedral, opened at Ninth Street between Harney and Howard. The cost of its construction was covered, in large part, by a gift from Edward Creighton.
St. Mary's, Omaha's first Catholic church, became a school run by the Sisters of Mercy. Later, land was purchased at 24th and St. Mary's Avenue to build an all-girls school. (In fact, it was this event that gave St. Mary's Avenue its name.)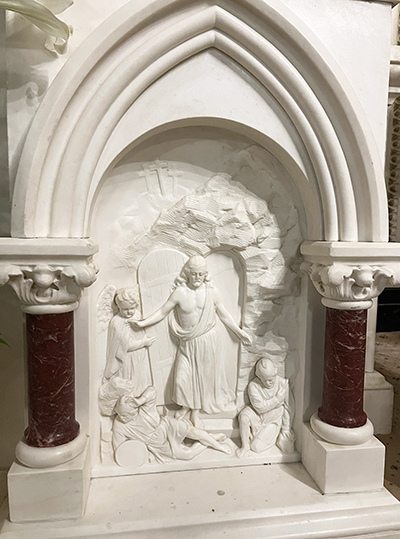 John Creighton and Sarah Emily Wareham were married at St. Philomena's just two months after it opened. The following year, Sarah gave birth to a daughter, Lucretia (nicknamed "Lulu").

1870
Lucretia died at barely a year old. John and Sarah, inconsolable, moved in with Edward and Mary.

1874
Edward Creighton died at age 54, his funeral held at St. Philomena's.

1876
Mary Lucretia Creighton died at 41. Her funeral was held at St. Philomena's, too. In her will, she left a $100,000 bequest to establish a Catholic university in Omaha.

1878
Creighton University, then Creighton College, opened its doors.

1888
Sarah Emily Creighton died at the age of 47. Her funeral was held at St. John's Church on campus, which had only recently been constructed (with the aid of substantial gifts from Sarah Emily and John).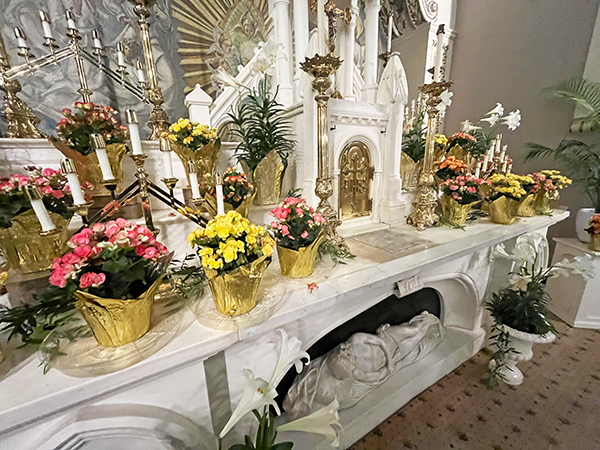 John Creighton had now lost his wife, his daughter, his brother, his sister-in-law and much of his immediate family. He dedicated the rest of his life to giving away much of his fortune, in the process shaping both Omaha and the University that carried his namesake. (He was so well-regarded throughout the state that a group of settlers in northeast Nebraska named a town after him.)

1901
A hub of warehouses had grown around St. Philomena's Church, prompting the diocese to announce the construction of a new cathedral on 40th Street (what is now St. Cecilia Cathedral) and a new parish church on the corner of 10th and William Streets.

1906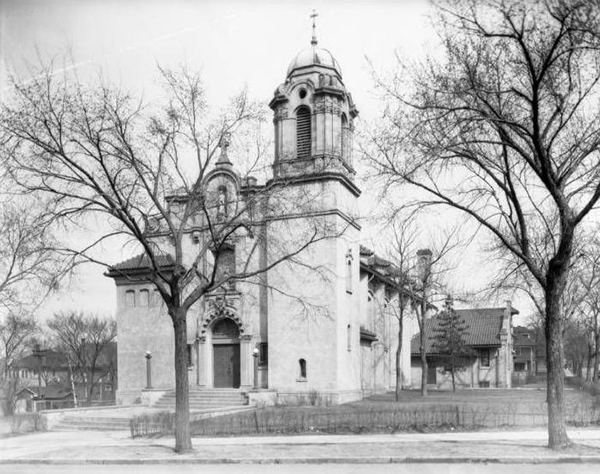 John Creighton celebrated his 75th birthday with a party. Instead of receiving gifts, he announced he was giving one to the University — $400,000, equivalent to about $13.5 million in 2023 dollars. At the party, he reportedly told his guests: "I have one child, and that is Creighton University." In all, John Creighton gave more than $2 million to the University.

1907
John Creighton died a few months after turning 75. His funeral, held at St. John's, drew an estimated 3,000 people. John was buried, alongside much of his family, in the Holy Sepulchre Cemetery, Omaha's oldest active Catholic cemetery.

1908
Seven years after it was announced, Omaha's parish church opened at 10th and William as the new St. Philomena's. Designed by Omaha architect Thomas Rogers Kimball, the church was an early example of the Spanish Colonial Revival Style.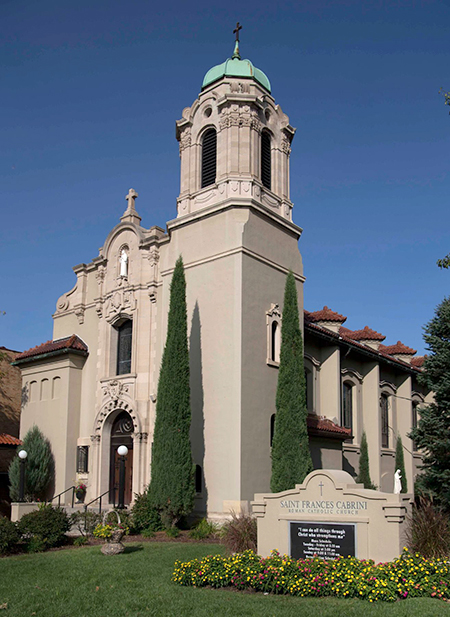 1946
Mother Frances Xavier Cabrini was canonized as the first American saint. Over the course of her life, the Italian-born nun crossed the Atlantic Ocean dozens of times and traveled thousands of miles over mountain paths to found schools, hospitals, orphanages and convents in Central and South America.
1958
When St. Philomena was removed from the calendar of saints, the diocese renamed the church as St. Frances Cabrini Church. The building was designated an Omaha Landmark in 1979 and added to the National Register in 1980.

1980s
In addition to the marble altar gracing the sanctuary wall, St. Frances Cabrini has another connection to the Creighton family. The stained-glass windows now in the main body of the church came from the chapel of St. Joseph's Hospital, established by a gift from John Creighton in 1892. John dedicated the chapel to his late wife, Sarah Emily Creighton.
The windows depict moments in the healing ministry of Jesus, key disciples and, fittingly enough, examples of women who led their communities in ministry.