Featured Testimonial About Creighton University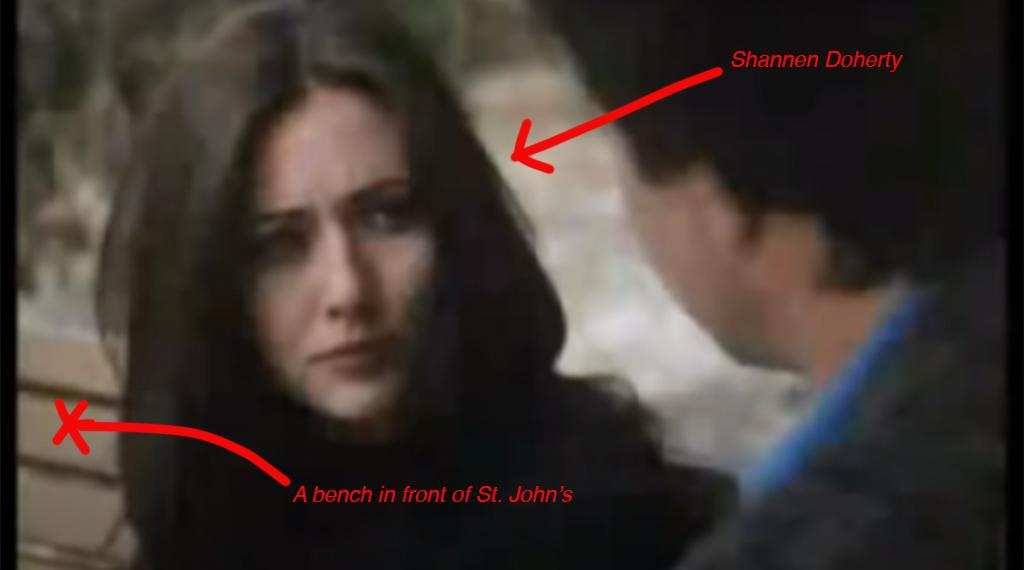 By Micah Mertes
On a Sunday night in 1996, 17 million people saw Creighton University on primetime TV. It was, in its own weird way, one of the biggest moments in Creighton's history.
Shannen Doherty was there.
Campus served as a backdrop for a two-minute scene in Gone in the Night, CBS's two-part true crime movie, which shot in Omaha for seven weeks in the fall of 1995. The film is supposed to take place in Illinois, so Creighton played the role of an anonymous University. (It's implied to be Northwestern University.)
In the scene, Doherty — whose husband has been wrongfully accused of murdering their child — speaks with a journalism professor about how to shape her media narrative and help free her husband.
The professor walks past Swanson Hall, Deglman Hall, the St. John's fountain and Creighton Hall before joining Doherty on a bench in front of the church.
Part 1 of Gone in the Night was seen by 17 million people, according to the LA Times. The reviews were tepid. Variety's review even threw some shade Omaha's way: "Tech credits are OK, though any advantage to shooting in Nebraska must have been financial."
Other shooting locations included the Douglas County Courthouse, Louie M's Burger Lust and the Livestock Exchange building, which served as a police station.
Joining Doherty in the Omaha shoot were Ed Asner, Kevin Dillon (Entourage) and Dixie Carter (Designing Women). And Creighton University wasn't the only Creighton featured in the film. Trina Creighton, a KMTV anchor at the time, played a reporter in the movie.
For those so inclined, you can celebrate the 25th anniversary of Creighton's big moment by watching Gone in the Night, both parts of which are available on YouTube.
Got any fun stories from the movie's shoot at Creighton? Send them to micahmertes@creighton.edu.