Featured Testimonial About Creighton University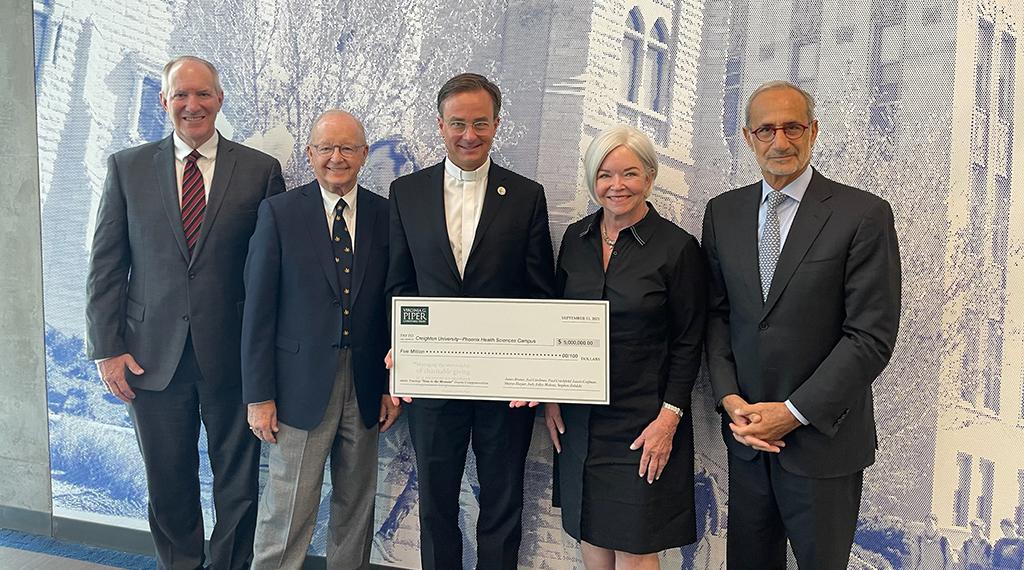 Pictured above, from left to right: Piper Trustee Steve Zabilski; Piper Trustee Paul Critchfield; Creighton President the Rev. Daniel S. Hendrickson; Piper CEO and President Mary Jane Rynd; and Creighton Board Chair Nizar Ghoussaini, BS'75, MS'76.
* * *
By Shannon Sherman
Virginia G. Piper Charitable Trust is investing $5 million to support collaborative efforts between Creighton University and Phoenix-area nonprofits, with the goal of improving access and quality of health care for those most in need in Maricopa County.
The $5 million grant to Creighton University is one of $123 million in surprise grants awarded by Trustees of Virginia G. Piper Charitable Trust to 71 Arizona nonprofits—the largest single-day grant initiative in the state's history. The gift to Creighton further deepens the University's partnership with Piper Trust.
"Virginia G. Piper Charitable Trust and Creighton University share a mission of service and an abiding commitment to making a difference in the lives of people in need," said University President the Rev. Daniel S. Hendrickson, SJ, PhD. "This investment strengthens our efforts to support the formation of compassionate health professionals in Maricopa County.
"I am both humbled and profoundly grateful to the Trustees of Piper Trust for their continued faith in Creighton and our health sciences faculty, students and programs in Phoenix."
The announcement follows the recent successful grand opening of the Creighton University Health Sciences Campus – Phoenix, making Creighton one of the largest Catholic health professions educators in the nation. In 2018, Piper Trust provided the lead grant for Creighton to build the $100 million building that houses the campus, the Virginia G. Piper Charitable Trust Health Sciences Building.
In March 2021, the Trust announced a $10 million investment in a collaboration between Creighton and the Society of St. Vincent de Paul in Phoenix designed to reduce growing health disparities that disproportionately affect low-income populations and people of color.
Virginia G. Piper Charitable Trust supports organizations that enrich health, well-being and opportunity for the people of Maricopa County, Arizona. Despite a tumultuous year due to the global health crisis caused by COVID-19 and economic uncertainty across all sectors, Piper Trust's endowment grew by $123 million in the 15 months following the start of the pandemic. As stewards of the Trust's founder, Virginia Galvin Piper, Trustees felt compelled to share with the community all of the earnings in one swift action.
With the Sept. 13 announcement, the Piper Trust's grant-making to date will exceed more than $644 million to nonprofits. The Trust concentrates its efforts in six areas: Arts & Culture, Children, Education, Healthcare, and Medical Research, Older Adults, Religious Organizations. To view today's full announcement, visit pipertrust.org.