Featured Testimonial About Creighton University
I love that through the PFLC, we can make a difference through our gifts in the areas that really matter most to us. And I like the personal aspect of the PFLC and of getting to know the community.
The relationship that Steve and Mary Jane Foutch share with their daughter, Honor, provides the foundation for the Foutches to be effective Creighton leaders and caring mentors. When Honor came to Creighton in 2020, Steve and Mary Jane joined the Parent and Family Leadership Council. Since then, they have embraced their roles as trusted Creighton partners.
Through funding and action, the Foutches have made a direct impact on the lives and learning of Honor and all Creighton students. This academic year, as PFLC co-chairs, the Foutches will serve as another resource for parents who also wish to make an impact through their gifts and have a closer connection to the University.
Meet Steve and Mary Jane Foutch
As council members, you have socialized with other parents, shared your perspective with University personnel on issues that impact students, and helped generate funds for student scholarships. What additional value do you believe you will bring to the PFLC as co-chairs?
Steve: Mary Jane and Honor have a very strong bond. They talk a lot. They share some of the same feelings and emotions. I know that Mary Jane will represent what Honor is thinking and feeling.
Mary Jane: Steve is successful, and his business acumen is so right on. And he's practical. If anything comes up, he's going to have an immediate thought process about it and have an answer. I think one of his biggest strengths is looking for how to improve anything.

What do you look forward to in your roles as parent leaders?
Mary Jane: Judy [Director of Parent and Family Program] is fantastic and has offered many opportunities for us to engage at Creighton. I enjoy working with her. The PFLC is really good right now, and Steve and I look forward to doing what we can to help make it bigger. We really enjoy student engagement and look forward to more of that.
Steve: During one of our last meetings on campus, Honor met the dean of the College of Arts and Sciences, and we received a tour of the arts building. That's when we crossed paths with a professor who stopped Honor and said, 'Hey, I know you.' As parents, it was great to stand back and listen to their conversation, and it meant so much to Honor. Through our involvement in the PFLC, we'd like to help create those types of experiences for others. I think we can help set the stage for where the PFLC should be going.

What motivates you to stay engaged with the PFLC?
Steve: I enjoy bringing a real-world perspective, and it's great when you can see it's really appreciated – that leadership is looking for great ideas from people who want to come in and help out. I appreciate knowing where there is a real need so we can make the greatest impact.
Mary Jane: I love that through the PFLC, we can make a difference through our gifts in the areas that really matter most to us. And I like the personal aspect of the PFLC and of getting to know the community and who my daughter is around at Creighton.

Tell us more about Honor. What makes you most proud, as a parent?
Mary Jane: I'm just so proud of how strong Honor is. Honor is on the rowing team and is majoring in psychology, with criminal justice and studio art minors. It is a challenging schedule to be an athlete. And I love, love, her artwork.
Steve: We know professors want to engage with students. We've always told Honor from day one, don't be afraid of your teachers. We encouraged her to approach them and talk to them, just like they are any other person — a friend or a parent. She has been very forthright with her professors, and that's what it's all about — getting those connections going.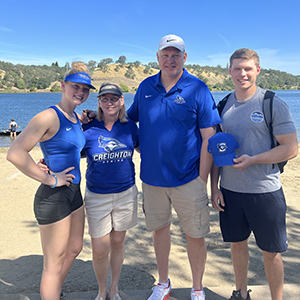 How has the PFLC helped you connect with other families and students at Creighton?
Steve: Our involvement through the PFLC allows us to be sort of surrogate parents for the students who don't have family close by. We enjoy cheering the rowing team on. They know they can talk to us or ask us questions. We can be there just to listen to them and be there for them. It's good for them and good for us. One big team.

Are there any other thoughts you would like to share?
Mary Jane: Honor chose Creighton because of rowing, and she received an athletic scholarship, but she also chose Creighton because she really fell in love with the University. She told me when she woke up the morning after her official campus visit that she felt sad when she realized she was still in high school and wasn't actually a student at Creighton. That's when I knew she had found her place.
Creighton University is grateful for the members of the Parent and Family Leadership Council who offer their time, talent and gifts to the University. To join your own Bluejays in their transformative Creighton experience, please contact Judy Pritza, Director of Parent and Family Programs, 402.280.4790, or parents@creighton.edu.