Featured Testimonial About Creighton University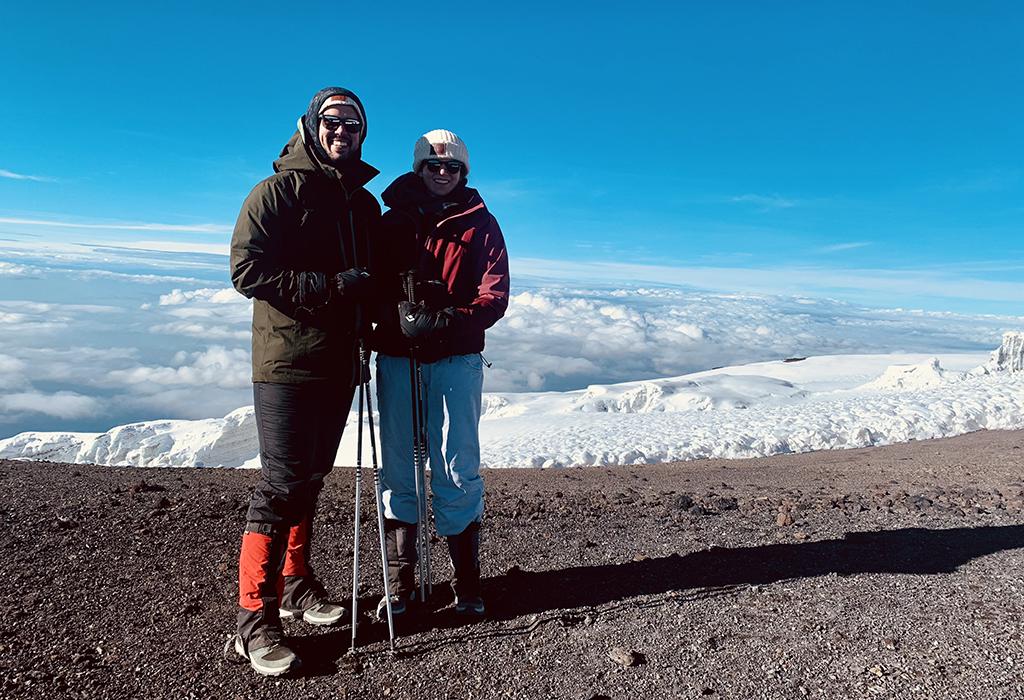 The experience reminded me how small we are. There are 7 billion people on Earth, and as you're hiking up this enormous mountain, as you're looking down from such a great height, you realize, 'I'm so lucky to even be here.'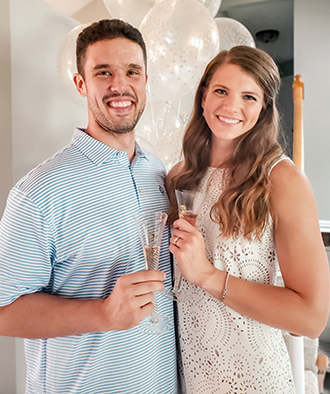 Many newlyweds choose beaches, fine dining and luxury villas for their honeymoon. Colin, BA'13, and Leanne Ball celebrated their union climbing a 19,341-foot-tall dormant volcano in Tanzania.
This winter, Colin and Leanne trekked to the top of Mt. Kilimanjaro, reaching Uhuru Peak, the highest point in Africa. Seven days, 50 miles, dizzying heights, oxygen deprivation. 'Til death do us part.
Colin and Leanne are extremely active. In fact, they met because of it, as players in a co-ed adult volleyball league in Omaha. Now, she teaches CrossFit. He coaches high school volleyball.
And climbing mountains? They don't have a ton of experience in the area. They've hiked up a few peaks, though nothing close to the elevation of Mt. Kilimanjaro. But for Leanne, the destination was a bucket list item. And what better way to embark on a grand new adventure than with someone you love?
Colin, for his part, said the trip was a life-changing experience. Here are five lessons he learned while climbing a mountain on his honeymoon — lessons that work perhaps just as well for building and maintaining a successful relationship.
1. Things are often easier than they look
On Day 4, the couple climbed the Barranco Wall. "When you're looking at the wall from camp, it looks like a sheer rock face, just this huge mound. It looks like it's going to be impossible. And then … you just start doing it."
2. Things are often harder than they look
The route Colin and Leanne took has one of the highest success rates, but it comes with more acclimatization. On a slow and relatively "easy" hike to the mountain's Lava Tower, the couple gained about 700 feet of elevation in just a few hours.
"All of a sudden your body realizes there's a lot less oxygen. We both hit this massive wall, and we wanted to go to sleep, terrible headaches."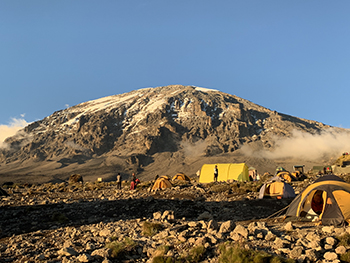 3. The pain fades
"As we got to the next camp, our guide said, 'If you feel awful today, we promise you'll wake up feeling better tomorrow.' And then you wake up the next day and you're like, 'Oh. I kind of have my legs back under me. I guess I am OK.'"
4. We're part of something bigger
"The experience reminded me how small we are. There are 7 billion people on Earth, and as you're hiking up this enormous mountain, as you're looking down from such a great height, you realize, 'I'm so lucky to even be here.'"
5. Conserve your energy
"This was the hardest thing I've ever done, but when we got to the peak, it became the most rewarding. We could finally take a deep breath and be like, we did it. Then you realize, 'Oh, I still have to go down the thing.'"