Featured Testimonial About Creighton University
What I've learned, I've seen great success because of it. Success is the ability to earn more, without feeling like it's chasing money. It's the by-product of the value I offer to others. Every day I wake up knowing I'm leading a purposeful life.
Patrice Washington, MBA'22
From Hong Kong to California, Creighton graduate Patrice Washington, MBA'22, has unified thousands of like-hearted women committed to a life-changing, soul-changing journey.
Washington is the founder and CEO of Seek Wisdom, Find Wealth, a personal finance training and development firm that takes the approach that wealth is not limited to money. Washington's mission is to help others discover their life's purpose while on their path to financial well-being.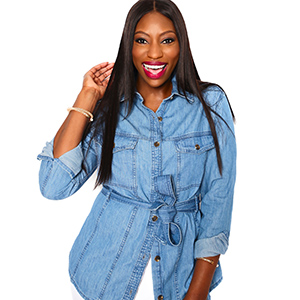 "I've curated the biggest friend group of my life, and I'm so grateful," says Washington. "This is not work. It just feels like, wow, this is what I get to do. No matter where you're from, we all have the same wants, needs, and desires, and that's what makes us like-hearted. I think that's beautiful."
Washington is an award-winning author and host of the Redefining Wealth Podcast, which has more than 15 million downloads. She is also a financial expert on the PBS show, "Opportunity Knocks." Washington was named by SUCCESS Magazine as one of the "Top 25 Influential Leaders in Personal Development" and in 2020, named one of the "12 Inspiring Black Voices in Personal Development." She has also been featured in, among others, Cosmopolitan, Essence Magazine and on Forbes.com as one of "15 Inspiring Podcasts for Professionals of Every Stripe."
In May 2022, Washington earned her Certification in Financial Psychology and Master of Business Administration from Creighton University Heider College of Business.
"I did well before Creighton and was well known, but my certificate and MBA gave me more confidence," says Washington. "I'd go into each course thinking, 'What's the one thing I'm going to take away from this experience and apply it immediately, what will move the needle to where I'm going?' That was the practice I had, and it really made a difference."
In 2017, as part of a brand partnership, Washington met and interviewed Creighton associate professor Brad Klontz, Psy.D., CFP®. Klontz is a Founder of the Financial Psychology Institute in the Heider College of Business.
Washington, who describes herself as spirit-led and intuitive, calls meeting Klontz "divine." Her gift of empowerment comes from her personal experiences, as a mother, and having faced her own serious medical emergencies and major financial challenges in the past.
"In 2009, I had made a pact with God," she says. "If he would restore me, I would go everywhere that I could to restore hope to others and help teach them that this journey isn't just about dollars and cents. I became obsessed with asking, 'why don't we do the things we know to do?'"
Washington, with her then-husband, went on their own restorative journey to holistic well-being and she launched her firm. Upon meeting Klontz, she was inspired to enroll in the Financial Psychology and Behavioral Finance program that examines how deep-seated financial beliefs established early in life can subconsciously drive financial decisions.
"I didn't know what to call my work. But a lot of what Dr. Klontz described to me then as 'financial psychology,' I was already doing intuitively. I credit him with so much, because I learned that there was a science behind my work. Creighton gave me information and knowledge that I could apply to my business."
To Washington, her firm is more than a business. She calls it a ministry in disguise and says she is grateful to her community for their support and their prayers as she completed her courses at Creighton.
"I don't feel like this degree is just mine. I did the work, but it took encouragement from my clients and listeners. It was important to me, as someone with a platform, to be transparent about what the middle work looked like so I could inspire others."
To document her communal achievement, Washington brought a videographer with her to campus during Creighton's 2022 spring commencement. Her daughter was also along for the celebration.
"It meant so much to me and my community that I wanted to capture it," says Washington. "As an online student, it was really important to me to walk the stage. I wouldn't trade that experience for anything, and it was important for my daughter to see. It felt so good to be there and it brought closure."
Now, Washington looks forward to hosting the inaugural Redefining Wealth Live Conference in Atlanta in October.
"What I've learned, I've seen great success because of it," she says. "Success is the ability to earn more, without feeling like it's chasing money. It's the by-product of the value I offer to others. Every day I wake up knowing I'm leading a purposeful life."