Featured Testimonial About Creighton University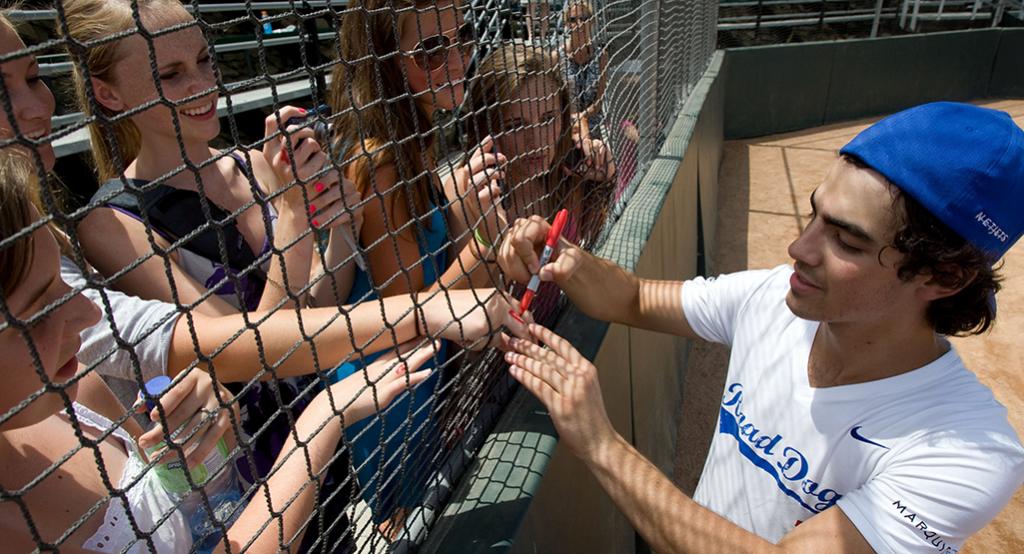 By Micah Mertes
On July 7, 2009, the Jonas Brothers arrived at the Creighton Sports Complex to play a secret game of softball.
But word spread quickly. Before long, a crowd of screaming tweens had descended upon campus.
This unlikely event was part of a series of promotional games the Jonas Brothers were playing across the country while on tour. Later that evening, they would perform at what was then the Qwest Center.
For the games, the Jonases' Road Dogs team (which included the brothers, their father, band and road crew) played slow-pitch softball against teams sponsored by Marquis Jet and NetJets — the private jet company owned by Berkshire Hathaway.
The Omaha game was invite-only and hush-hush. But Jonas Brothers fans from as far as South Dakota had heard the news and come to Creighton in droves.
Anyone without an invite was turned away from the Sports Complex. But that didn't stop them. Crowds of fans lined the gates and fences to cheer, scream and/or profess undying love to their favorite Jonas.
Throughout the game, the brothers took time to greet their fans.
"It was fun, it was funny, it was absurd," says Kevin Coffey, BA'06. Coffey now works in Creighton's University Communications and Marketing division, but in 2009 he was the music reporter for the Omaha World-Herald. His article about the Jonas game — archived but no longer available online — remains the definitive account of this extremely important event in Creighton/Omaha/American history.
As Coffey wrote at the time, the Road Dogs played against a team partly made up of Creighton softball players, including Tara Oltman Higgins, BA'10; Michelle Koch, BSN'11; and Renae Sinkler, BA'11, MS'20.
The Road Dogs routed the Creighton-led team, 28-15. This was due, at least in part, to a few power hitters on Team Jonas — a saxophonist and security guard each scored four home runs apiece.
But balance was restored after the game, when Oltman Higgins took the mound to throw full-strength pitches against the Road Dogs' lineup. She struck out every one of them.
It was a weird day, Coffey says now.
"That was one of the things about being a music writer for a newspaper. You never know what you're going to end up getting to do. I spent an afternoon at the college I graduated from watching the Jonas Brothers play softball."
* * *
Note: Multiple attempts were made to interview former Creighton softball players about the 2009 Jonas game — which ... it's very understandable no one responded. This is absurd. That said ...
Were you there? Do you want to share photos and memories of the Jonas Brothers ball game?
Please send them to micahmertes@creighton.edu.
* * *
We've got a few memories coming in ...
Here's a picture of Nicole Brundo, BA'92, JD'95, with her daughters, Erin and Shannon Goaley, and her niece Mia Sharrar — daughter of Tricia Brundo Sharrar, BA'93, JD'96, Creighton's Vice President of Compliance — with the Jonas Brothers in 2009.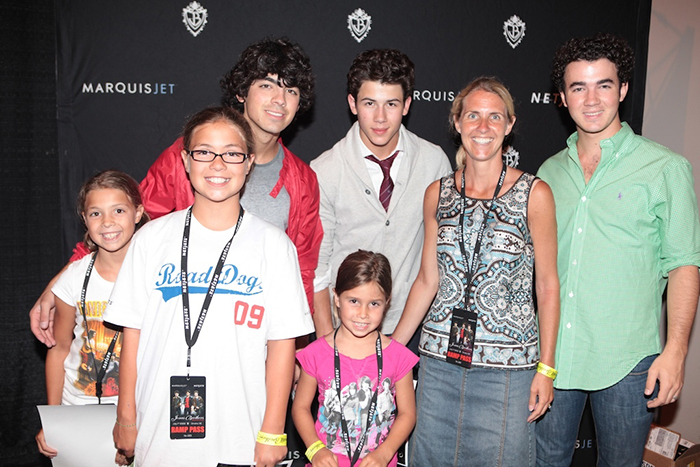 * * *
From Rick Davis, Director of Communications: "My former colleague Cindy Workman was working media relations for us at the time. She knew the Jonases were playing the pick-up softball game. It was all hush-hush. I printed out a picture of the Jonas Bros and asked her if she could take it over and see if they would sign it. They graciously did. I brought it home to my daughters – 13 and 8 at the time. I got the "Best Father Award" for that move. They couldn't believe it! The picture still hangs in their room."