Featured Testimonial About Creighton University
The grounding principles of Creighton's Jesuit values serve as a north star for how we deliver education, interact with our students and fellow faculty, and provide our patients care.
Dr. Bryan J. Skar
Dr. Gaylord G. Huenefeld Endowed Chair in Pediatric Dentistry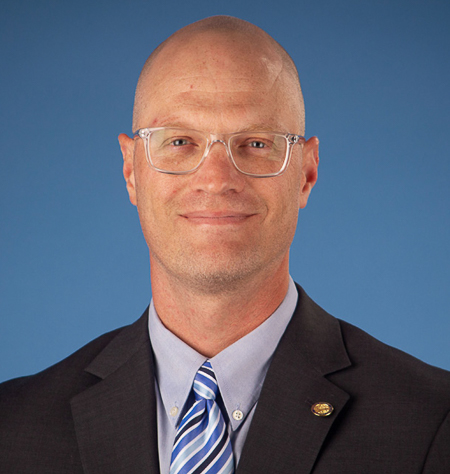 Success as a pediatric dentist, says Bryan J. Skar, BS'04, DDS, depends on a few key qualities:
1. "An endless amount of flexibility. Every kid is different. You need to be able to adapt."
2. "A positive attitude goes a long way."
3. "A passion for serving the underserved and caring for the pediatric patients whose families are struggling to access oral healthcare."
You also, of course, have to like working with children. Even the ones afraid of going to the dentist.
"For as long as I can remember, I've enjoyed working with kids," says Skar, department chair, associate professor and the newly installed inaugural holder of the Dr. Gaylord G. Huenefeld Endowed Chair in Pediatric Dentistry in Creighton's School of Dentistry. "When I was in high school and later as an undergrad at Creighton, I would work as a coach or lifeguard or swimming lessons instructor."
When it came time to choose a career, Skar's two main interests — healthcare and working with families — converged in pediatric dentistry.
After receiving his Creighton bachelor's degree in biology, Skar earned his Doctor of Dental Surgery and certificate of specialization in pediatric dentistry at the University of Nebraska Medical Center. He then worked in a private pediatric dental practice for a few years — alongside Creighton-educated pediatric dentist Vince Rothe, DDS'02, and his wife, orthodontist Laura Rothe, DDS — before becoming an assistant professor in UNMC's pediatric dentistry residency program.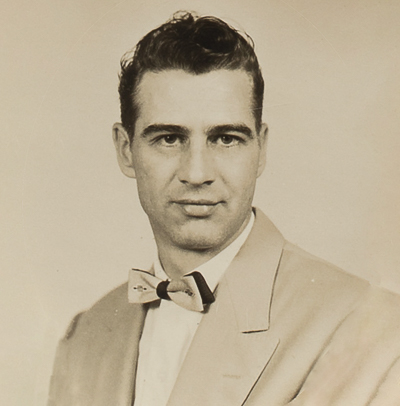 Now, nearly 20 years since he graduated from Creighton, Skar has returned to his alma mater. He joined the School of Dentistry over the summer, recruited in part by the Huenefeld Endowed Chair.
"It's a great honor to be the inaugural chairholder," Skar says. "For what we want to accomplish as academicians and as a department, endowed chairs open doors and resources for collaboration and provide opportunities to expand the services we offer our patients and the educational programs we offer our students."
These opportunities were precisely what the late Gaylord G. Huenefeld, DDS'58, intended when he made the gift that established the position through his estate. Huenefeld, a World War II veteran, enjoyed a successful career as a general dentist in Florida, where he was known for his excellent, compassionate care. After two decades, he retired from dentistry to pursue his other passions: growing oranges and raising thoroughbred horses.
Huenefeld never forgot his alma mater. More than 50 years after graduating from Creighton, he decided to give back to the dental school.
"I wanted to give to some place where my gift would do the most good," Huenefeld said in 2010. "My dental school did more for me than anything else, so why not help Creighton?"
In addition to the endowed chair, what drew Dr. Skar to Creighton as a professor were the same things that drew him to the University as a biology major: a wide variety of healthcare programs and opportunities on campus, a strong academic reputation and the school's foundation of Jesuit values.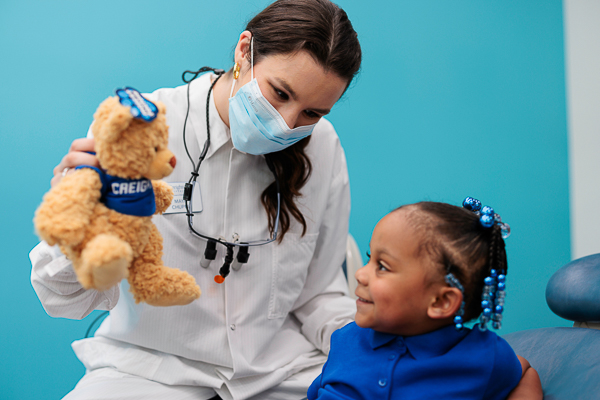 "Those grounding principles serve as a north star for how we deliver education, interact with our students and fellow faculty, and provide our patients care," Skar says.
One of Creighton's core values — serving the underserved — lives at the very root of the dental school's pediatric clinic.
Located on the building's second floor, the pediatric clinic works like its own private practice, with 15 patient chairs, a separate staff of dental assistants and a smaller, more kid-friendly environment.
The larger adult clinic is open during the same hours a floor below, allowing pediatric dentists to coordinate with other specialties if, for instance, a pediatric patient needs a permanent tooth extracted or a root canal. Typically, Creighton's pediatric dentists oversee students who perform routine checkups, cleanings and restorations.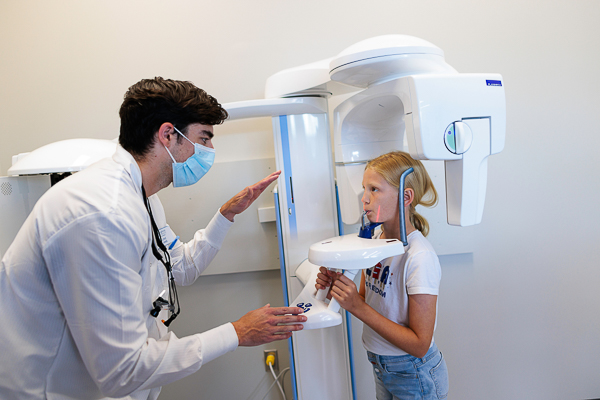 Third- and fourth-year dental students rotate into the pediatric clinic throughout the year. Those interested in the specialty can spend more time in the clinic once they've fulfilled their other requirements.
"The patient population the Creighton School of Dentistry serves has a lot of need for dental services, including pediatric patients," Skar says. "That's always a draw for students interested in this specialty — to use their training and skills to work with underserved people who really need their care."
As a pediatric dentist, he says, you also have the opportunity to improve oral healthcare overall by helping children establish the habits of hygiene that can prevent serious problems down the line. Any healthcare provider who works with children brings a priceless opportunity to their practice every day — the chance to improve someone's whole lifetime.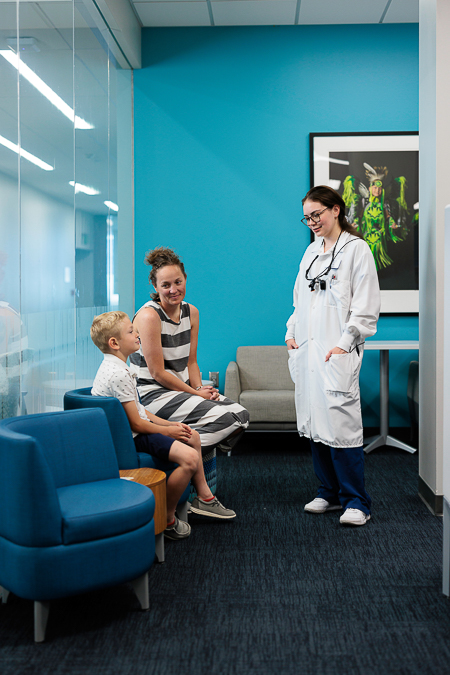 Skar saw the power of this kind of care during his residency, his time in private practice and his seven years as an assistant professor in UNMC's pediatric dentistry residency program at Children's Hospital and Medical Center, where he worked alongside his academic mentor, Jillian A. Wallen, BDS, MS.
Wallen, now the dean of Creighton's School of Dentistry, also specializes in pediatric dentistry. At Children's, she and Skar worked with children who had acute dental issues. Many were in severe pain or suffering from a dental infection. Some were dental trauma cases in which a child had fallen or been in a car accident. These children were also typically experiencing another medical crisis — leukemia, cancer, waiting for a heart transplant.
"These families were in extremely difficult circumstances," Wallen says. "And I remember watching Dr. Skar interact with these kids and their parents, truly listening to their needs and responding to them. He's just an incredibly compassionate person and a wonderful addition to our dental faculty. Dr. Skar truly lives the Creighton value of caring for the whole person with every patient he serves."
That, Dean Wallen says, might be the greatest gift the dental school can give its students: helping them become caring, compassionate providers who meet families where they are to give them what they need.
"Dr. Skar brings that to the table every day," Wallen says. "Dr. Huenefeld's gift and legacy live on through educators like him, through the depth and breadth of the education we can provide our students and the many children and families who benefit."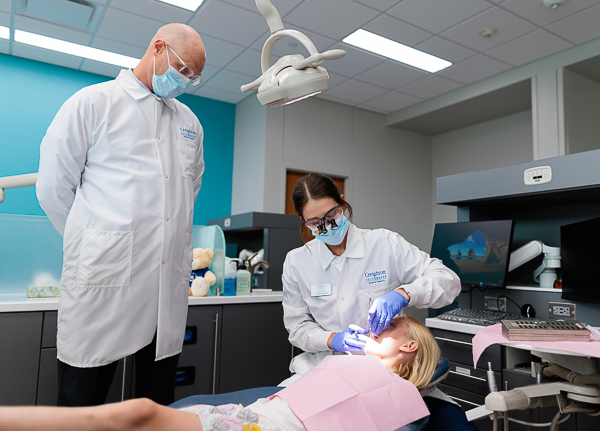 More about Dr. Bryan Skar
Dr. Skar is a Diplomate of the American Board of Pediatric Dentistry. He serves as a board examiner for the ABPD Oral Clinical Exam and was recently selected to serve a five-year term with the OCE committee for participation in writing, editing and constructing the ABPD oral clinical exam.
Locally, Dr. Skar has held various leadership positions in the Nebraska Society of Pediatric Dentistry. He is also a Fellow of the American Academy of Pediatric Dentistry and a member of the American Dental Association and the Nebraska Dental Association.
He has presented with the UNMC College of Dentistry Continuing Education Program with the statewide UNMC Dental Caravan. Dr. Skar has mentored UNMC residents in their research and provided free dental care through the UNMC College of Dentistry mission trips and as a Nebraska Mission of Mercy volunteer.