Featured Testimonial About Creighton University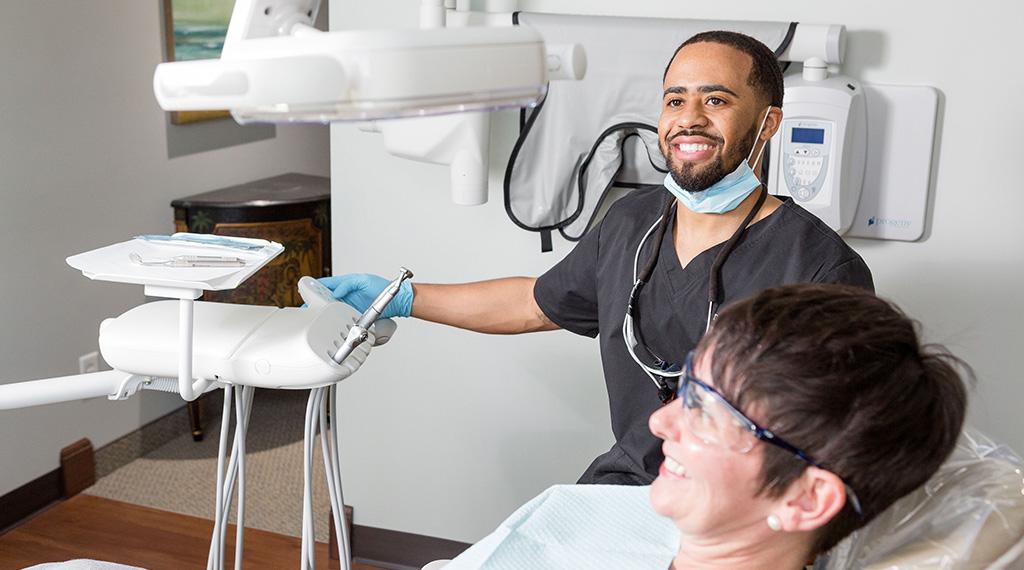 I am so thankful for their support. School can be very expensive and challenging, but it's so important to get out and be committed to helping others. Seeing others influence my education has shown me how important it is to give back.

Robert Robinson, DDS, grew up in St. Bernard Parish, just four miles from New Orleans' bustling French Quarter. He lived in a one-story home, surrounded by friends, family, and his tightly knit Baptist church community—far removed from the Louisiana known for its tourists and traveling jazz acts.
When Hurricane Katrina hit, St. Bernard Parish again proved a distinctly different world. Ninety percent of Dr. Robinson's humble county, compared to 9 percent of the French Quarter, was destroyed.
"I had to start a new life, in a sense," says Dr. Robinson. The storm forced his family to Houston, where they lived for a year and a half before they could go home—to a new house, a new high school, and a newfound sense of what it means to overcome hardship. "It was a shock," he says. "It made me grow."
Dr. Robinson was no stranger to difficulty. At the age of 6, he was badly burned in a fire set by a neighbor. Through the healing process, however, he found hope. "I had one doctor who stood out to me. I remember him telling me I was progressing really well. He was so encouraging," he says of the oral surgeon who helped him recover—and inspired him to pursue the field of dentistry.
Dr. Robinson had an unshakeable foundation, and nothing could destroy that.
"Something that always motivated me was knowing where I came from," Dr. Robinson says. Today, the 2018 Creighton graduate is the first male African-American dentist from the St. Bernard Parish region. He and his fiancée, a School of Dentistry alumna, plan to use their experiences to grow the field and inspire other students of color to pursue careers in dentistry.
Dr. Robinson credits his Creighton mentors for helping him navigate the initial hurdles of dental school and pushing him to succeed. He is grateful for the multiple scholarships that allowed him to follow his dream of becoming a dentist.
Ultimately, Dr. Robinson hopes to return to St. Bernard Parish to inspire the next generation—particularly young African-Americans.
WHY ARE SCHOLARSHIPS IMPORTANT?
Scholarships allow dental students access to a world of possibilities they may not otherwise attain. The donors who helped Robert Robinson to follow his dream of becoming a dentist went beyond providing one student with the means to obtain a four-year degree. Because of their generosity, Dr. Robinson is inspired to give back to young people just like himself, using his education to treat others and, eventually, offering the same educational gift to minority groups in the field of dentistry