Featured Testimonial About Creighton University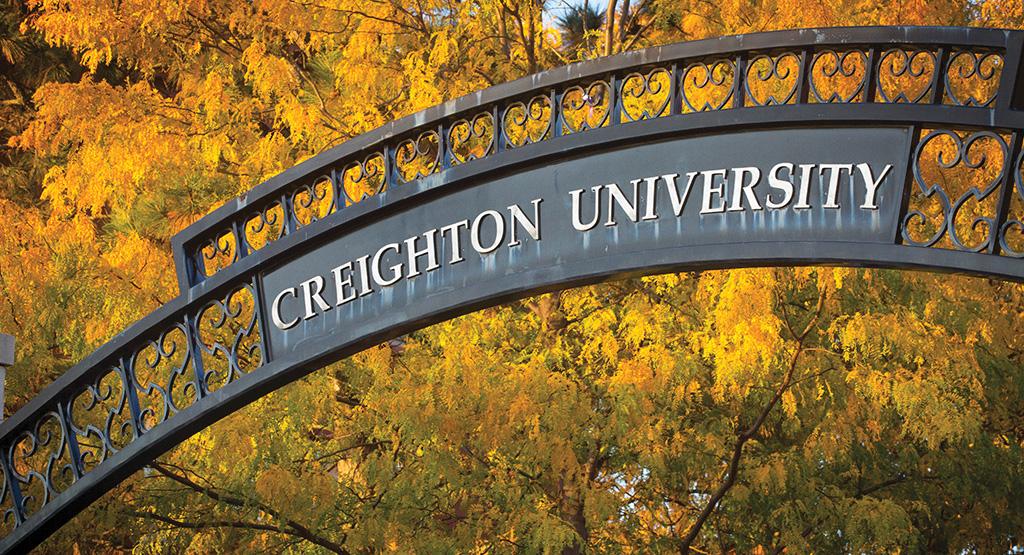 A lot of students and families would not be able to make ends meet without scholarships. I don't know that I could be on campus without them. And I'm really grateful for the help.

Rasika Mukkamala
College of Arts and Sciences
On Giving Tuesday, our donors did their part to keep Creighton, Creighton. To keep our students thriving.
On the annual international day of support, hundreds of Bluejays gave more than $62,000 to causes across campus!
Donors supported such causes as the Creighton Fund, scholarships, personal protective equipment and the CURA Fund, which helps Creighton employees facing financial hardship.
All kinds of Bluejays made a gift to Creighton on Giving Tuesday — alumni, friends, parents, faculty and staff.
Majid Hussaini, BS'00, made a gift to the Creighton Fund, saying he wanted to give back to a place that's given so much to him.
Current Creighton parents Bill and Veronica Wolff made gifts on Giving Tuesday, they say, because they support "Creighton's mission, vision and goals."
"The University's commitment to community engagement and fostering students to become active agents of change is what distinguishes Creighton and makes contributing to the University a priority."
Jeremy Fisher, MBA'09, director of John P. Fahey Career Center, made a gift to scholarships because, he says, "I greatly appreciated the scholarship support to help me pay for college expenses when I was a liberal arts undergrad. Every little thing helps, and students benefit directly from alumni and staff giving support."
In a time calling for innovative new ways to keep our community safe, healthy and connected, donor support matters more than ever.
Missed Giving Tuesday? You can still support dozens of Creighton causes in all schools and colleges!
***
Thanks to donor support, thousands of students are able to come to Creighton with the help of scholarships. Support of the Creighton Fund, PPE and more ensures that students continue to learn and flourish in a safe environment. Creighton students shared their gratitude.
Rasika Mukkamala, pre-med junior: "A lot of students and families would not be able to make ends meet without scholarships. I don't know that I could be on campus without them. And I'm really grateful for the help."
Joe Turley, biology junior: "We know remaining on campus requires a huge amount of funding, whether it be sanitizers, masks, improved software or anything else that's necessary. Donors have allowed for the University to continue to provide us with the best learning experiences while helping to make sure those environments are safe."
Coleman Barnes, business junior: "Connections and community are at the core of what makes Creighton so special. Being in person on campus allows community to flourish as we connect with our teachers and classmates. We get to have the fun classroom conversations and the intentional time where we can ask our professors questions. Being in person allows each student to still feel connected to this special Creighton community!"

Faculty and staff shared what donor support means to Creighton:
Kandis McCafferty, PhD, associate professor and director of simulation in the College of Nursing and Creighton's PPE Lead: "Creighton has stepped up. This semester, we've let our students know that we are here to support them, that we want them to continue to learn and grow in a safe environment. We could not open campus unless we had what it takes to keep Creighton as safe as possible. The fact that we have been able to make this happen speaks volumes about the Creighton community's commitment to creating a safe environment for our faculty, staff, students and our community as a whole."
Catherine M. Todero, PhD, RN, FAAN, dean of the College of Nursing and Vice Provost of Health Sciences Campuses: "The campus' ability to stay open is essential to the clinical education of health sciences students. There are skills and abilities that cannot be mastered virtually, that require in-person human connections in order to educate competent, compassionate providers.
"In-person learning requires PPE, screening and sanitizing efforts that add to the operational budget. Support of Creighton donors is critical and appreciated because of those extra costs involved in keeping the campus safe for in-person learning."
Elieen Burke-Sullivan, STD, Vice Provost for Mission and Ministry: "At Creighton, both mission formation and ministerial service to students, faculty and staff are at the center of our work. It means a lot to have the students around and the faculty and staff close. It is also life-giving and energizing to the campus.
"In Mission and Ministry, our work, like much of the rest of the University, is highly dependent on the good will and support of generous alumni and donors. Without it, we could not live up to our mission."
Joshua P. Fershée, JD, dean of the School of Law: "Continuing to educate our students during a global pandemic has created enormous challenges, but it has also highlighted how important our educational mission is. The law doesn't stand still, and access to justice can become even more limited when times are hard. The support we receive from our donors has helped us to continue safely teaching our students and serving our community through our legal clinic and pro bono efforts."
Lisa Brockhoff, MS, assistant dean of the College of Arts and Sciences: "I feel like the Creighton education is about relationships. To be able to see the students on a day-to-day basis and interact with them on campus, it's just so important. It's the foundation of our education.
"I feel very grateful for all the individuals who have contributed to making a difference for us throughout this time. The things we're facing every day can be a challenge, and to know we're getting so much support from alumni all over the country, it means a lot."
Peter Stone, chemistry instructor: "As humans, we tend to thrive with personal contact. The ability to engage in person is so much greater. And being here, in person, at Creighton, holds tremendous value."
Father Andy Alexander, SJ, director of the Collaborative Ministry Office: "I'm thrilled to thank donors for helping Creighton form women and men for others in a very challenging financial time. Our students want to learn, to grow, to be challenged, to have internship opportunities. Our faculty and staff are incredibly generous, flexible and passionate in offering personal care for our students and patients.
"To help us do this, in such a competitive market, where budgets are so squeezed, is to be a partner with us in this ministry. Thank you."