Featured Testimonial About Creighton University
Meeting lifelong friends and making amazing memories!
Emilie Langenhan
PHARMD'10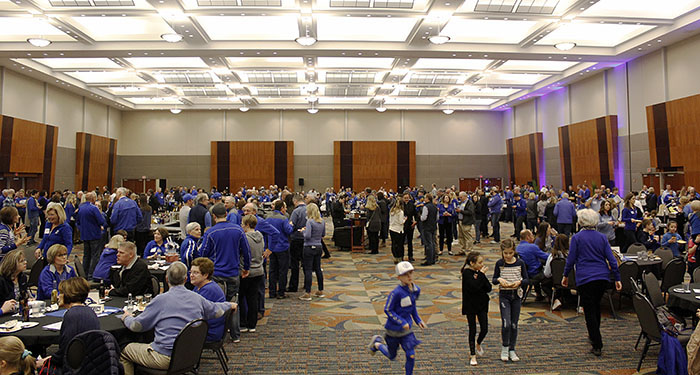 More than 1,000 Bluejays came out to our Get Blue event before the Creighton vs. St. John's men's basketball game. It was a good time, a family-friendly event full of fun, food, face-painting, games, giveaways and, of course, a bounce house.
At the event, we asked our guests to write down their favorite Creighton memories and experiences, and we got some wonderful responses. Poignant memories, funny memories and, in a few cases, memories we couldn't repeat within the PG-rated confines of alumni.creighton.edu. (Nonetheless, we enjoyed reading them. Thank you.)
Here are a few dozen Bluejays recounting their favorite Creighton memories.
***
WHAT IS YOUR FAVORITE CREIGHTON MEMORY?
"Studying outside the library with friends in what was once the 'smoking' section."
— Don Mlnarik, BSBA'95
"Meeting lifelong friends and making amazing memories!"
— Emilie Langenhan, PHARMD'10
"I competed in the Mr. and Mrs. Bluejay competition. Go Jays!"
— Karin Mussman, BA'03
"Playing in the Creighton pep band, '67-'70."
— Dave Mlnarik, BS'71, DDS'76
"The albacore tuna salad at the Java Jay, circa 2001."
— Sarah Slattery, BA'04
"When my little sister was initiated into my sorority."
— Emma McConville, BA'17, MS'18
"Meeting incredible lifelong friends."
— Matt Novotny, BSBA'13
"Watching my first snowfall while also watching "P.S., I Love You" with my freshman-year roommate."
— Daisy Wilka, BS'14, DDS'18
"Candlelight Mass on Sunday night at St. John's."
— Cathie Adam Pajnigar, BSN'99

"My daughter dancing on the Creighton dance team!"
— Ann Klemm, mother of Julie Klemm, class of '23

"The journalism staff putting the Creightonian out."
— Anne Ellis McMeen, BA'92
"Taking a bus trip to Marquette and beating them when they had been unbeaten at home. "
— Richard Huss, BSPHA'76
"Graduating with my class of '93/'94 at the Joslyn."
— Peggy Carlin, BSOT'93
"Graduating with my master's degree and marrying my husband, who taught at Creighton."
— Chris Carlson, MMIN'82
"Going to the basketball games and beating Nebraska."
— Matt Anderson, BSMTH'96
"Doug McDermott's 3000th point!"
— Nathan Chang, BSEMS'11
"Storming the court after beating Wichita State in the MVC tournament final my sophomore year."
— Alexi English, BSBA'15
"GAMMA PHI BETA! Plus Annie."
— Bianca Jinete, BA'15, MA'17
"Penthouse at Deglman."
— Miranda Engelkamp, BSBA'06
"Jays over Florida in Chicago NCAA tourney."
— Clyde Knoblauch, DDS'72
"I worked at Creighton for 25 years and won advisor of the year!"
— Barb Slattery
"Dr. Fransecky's class."
— Jamie Mobley, MBA'11
"When I met my future wife."
— Grant Mussman, BA'02
"Creighton SOM Senior Week 2016!"
— Laurean Shoemaker, BS'12, MD'16
"Becoming part of a community."
— Mary Novacek, BS'86
"Going to Hawaii for a basketball tournament and dancing on stage with the hula girls."
— Randall Crutcher, BA'97
"Meeting my best friend."
— Kristen Renfro, TEE'04, BS'04
"Sitting on the sign outside Reinert library. And serenading the entire Deglman Hall during Welcome Week my freshman year. "
— Jeff Cherek, BSMTH'90, DDS'96
"The Bluejay Bar."
— Julie Nelson, BSN'96
"Rick Apke swishing an 18-footer at the buzzer to beat Indiana State and Larry Bird in 1979."
— Patrick, class of 1980
"Saying hello to Father Morrison every day outside of St. John's!"
— Melissa Adam, PHARMD'00
"Bridge and soap operas in the Union."
— Jim Kalar, BSPHA'74
"The many afternoons on the Mall."
— Jen Tran, BSN'03
"Graduation!"
— Stephanie Ferguson, BSEMS'07
"The day I bought the Doug McDermott bobblehead for my daughter's birthday."
— Kathi Ferguson, Stephanie's mom
"Watching Creighton University football."
— P. James Connor, BS'51, MD'55
"Going to basketball games with my mom!"
— Elizabeth Wallace, BA'12
"Fun times with my study groups."
— Art Haney, BSPHA'72
"Theology class with Sister Maryanne Stevens."
— Marie Larchick, BA'93
"Pep band trips!"
— Karli Green, BS'15
"Graduating not once but twice!!"
— Lisa Curry, BSBA'96, MBA'05, MS'05
"Creighton baseball in the CWS. We lived at Rosenblatt Stadium for a week!"
— Jen Galas Weeder, BA'93
"I remember going to Creighton games at the old Civic Center and sitting under the tables in the Jaybacker room."
— Anonymous
"Taking senior pictures around campus."
— Ben M., class of 2017
"Deglman girls singing "I Am Woman" out their windows when Billie Jean King beat Bobbie Riggs."
— Kathy Hays, BA'77, MS'84
"Playing baseball and making friendships that will last a lifetime."
— Austin Cole, BSBA'12