Featured Testimonial About Creighton University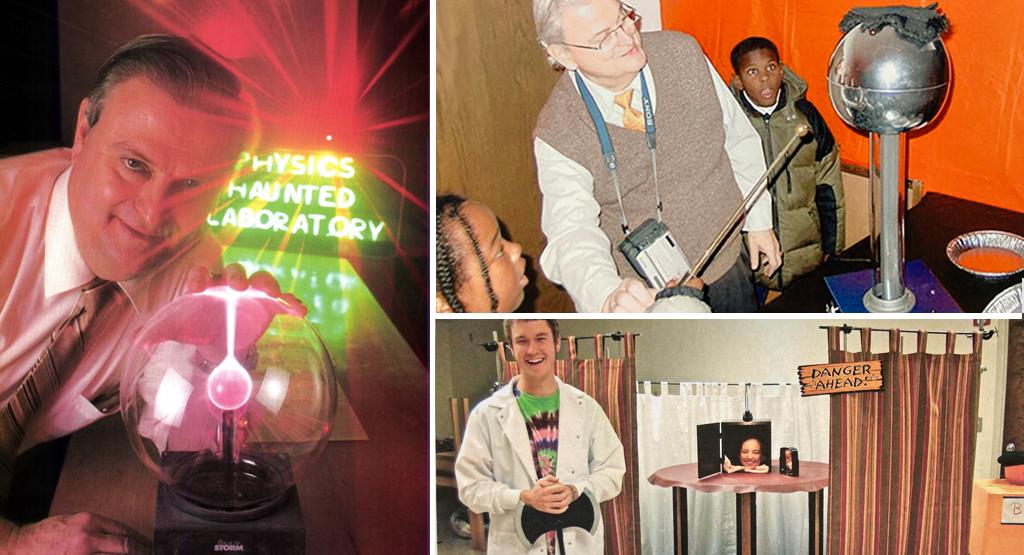 I performed better as a teacher because of my experience as a magician. There's a showmanship to teaching well. Whether you're a magician or a physics professor, both jobs demand that you capture and hold the attention of your audience.
Tom Zepf, PhD
Professor emeritus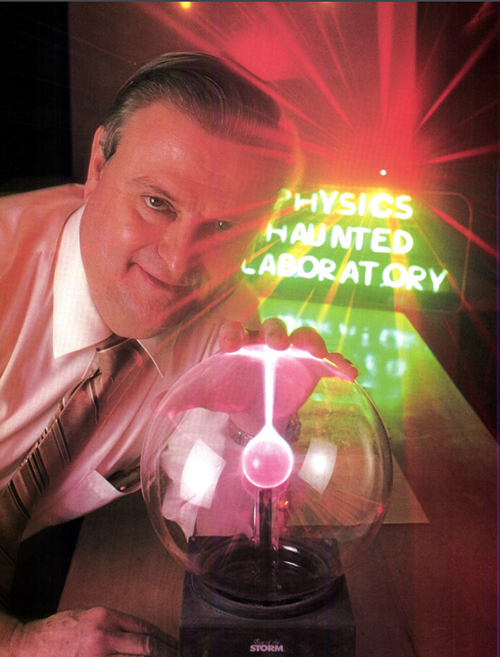 "I hope your understanding and appreciation of the physical world was increased a bit as you experienced the mystery and the magic of the Haunted Physics Lab. Halloween celebrates a frightful, irrational confrontation with mystery, whereas in physics we approach the mysteries of the universe rationally. We welcome the challenge to solve them. And unlike the fanciful magic of mythical wizards, we have real magic at our disposal — our ability to comprehend the world. It makes the scientist a kind of modern-day magician."
— From the 2017 Haunted Physics Lab Guide
* * *
By Micah Mertes
Long before professor emeritus Tom Zepf, PhD, was a scientist, he was a magician. In fact, it was magic that brought him to science to begin with.
His lifelong pursuit of illusion started at the age of 10, when doing magic tricks for the entertainment of his classmates soon progressed to paid performances.
By the time college arrived, Zepf was still unsure what his major should be. Magic helped him make up his mind.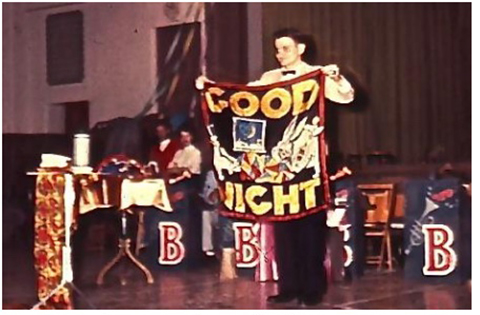 "The magic that interested me turned out to be magic that involved physics, so that's what I decided for my major," Zepf, 87, says now. "It remains the closest thing I've ever found to magic."
Sixty years ago this semester, Dr. Zepf started at Creighton as a physics professor. (He was made department chair within six months of his arrival.) For the next 40 years, Zepf taught Creighton students the magic of physics (and the physics of magic).
(At first, Zepf taught undergraduates exclusively, until 1968, when he started the physics master's program. He would go on to direct the research of 20 master's students in the field of solid-state physics.)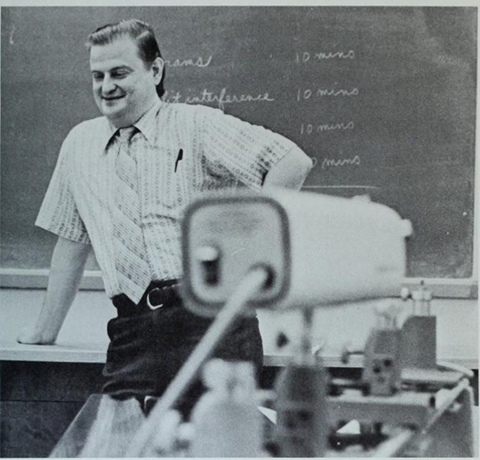 Zepf was known for his panache. He didn't just tell. He showed. Instead of standing behind a podium when he taught in the Rigge Lecture Hall, he used a lapel mic and worked the room, conducting demonstrations he had set up on tables in advance.
"I performed better as a teacher because of my experience as a magician," Zepf says. "There's a showmanship to teaching well. Whether you're a magician or a physics professor, both jobs demand that you capture and hold the attention of your audience."
Zepf's lessons were so accessible and entertaining they were even popular with nonscience students. His class Light and Color (later called Light, Color and Lasers) had students from all majors enrolled. The course was particularly hands-on in its early years, when the class size was small, with Zepf regularly taking the students to his lab for demonstrations.
One of these lab excursions, sometime in the mid-1970s, fell on the day of Halloween. Zepf decided to decorate the lab and experiments in a haunted theme. And just like that — as quickly as that bolt of lightning brought life to Frankenstein's monster — a new tradition was born.
Every Halloween, the Haunted Physics Lab grew increasingly elaborate. It was so popular among the students that it was eventually opened to the public, some years drawing as many as 500 to 600 visitors.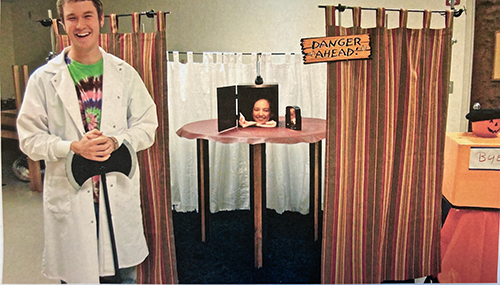 Every October, Zepf and members the of Physics Club (which Zepf founded when he came to Creighton in 1962) would transform two rooms in the Rigge Science Building basement into an otherworldly labyrinth, with dozens of stations showcasing physics phenomena like electricity and momentum, optics and light.
Exhibits included Holographic Horrors, A Ghost Trap, The Dracula Illusion and Pumpkin Pendulums. One of the most popular displays was The Department Head, in which a seemingly severed head in a box on top a table carried on a conversation with guests.
"That demonstration," Zepf says, "was actually the resurrection of an ancient trick called the Sphinx Illusion."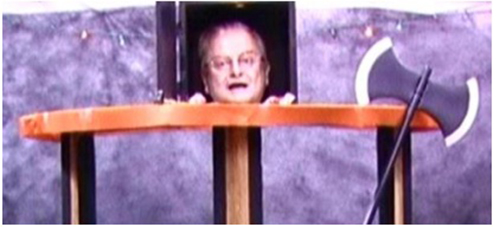 Over the years, the Haunted Physics Lab drew news coverage from several local outlets. Zepf himself wrote extensively about the lab and assisted schools across the country in starting their own versions. With the help of students, he continued to run the Haunted Physics Lab long past his 2002 retirement. (The last lab took place around Halloween of 2019.)
The greatest trick Dr. Zepf ever performed might be his amazing career itself. He managed to combine multiple passions, to perform daily for a receptive audience and to never lose sight of the magic that set him down his path.
Weaving together all the most important threads of Dr. Zepf's life — magic, physics, teaching, his faith — is a prevailing sense of mystery.
"Mystery has manifested in my life in many ways," he says. "In physics, we're exploring and solving mysteries to better understand how things behave. But it's often the case that when you solve one mystery, you uncover more mysteries. There's no end to it."
The universe, he says, still has plenty of tricks up its sleeve.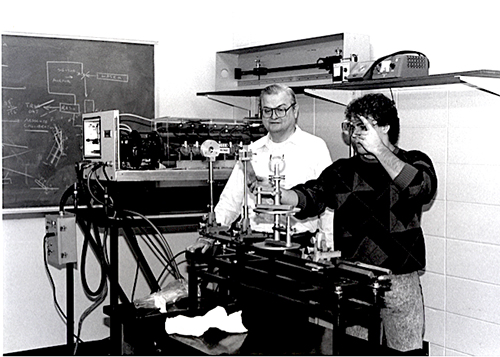 More about Dr. Zepf
"Retirement" is a relative term for Tom Zepf.
He remains a member of the American Association of Physics Teachers, the American Physical Society, the Nebraska Academy of Science, the Omaha Magical Society, the International Brotherhood of Magicians and the Society of American Magicians.
He continues to stay busy as a professor emeritus at Creighton. He's currently identifying and putting on display more than 100 items of historically significant vintage and antique physics equipment, much of which was purchased with funds donated by John Creighton in the 1880s.
The smaller items are in display cases on the ground floor of the Hixon-Lied hallway and in the G59 Lecture Room. Also in G59 is a Toepler-Holst machine that Dr. Zepf had partially restored. Creighton Medical School used this device to generate the first x-rays in Omaha.
Also on display are instruments from the Creighton Observatory, including the Transit Scope and the Chronograph. Dr. Zepf plans to include the Observatory's main Telescope and the Celestial and Terrestrial Clocks in the Hixson-Lied display, as well.