Featured Testimonial About Creighton University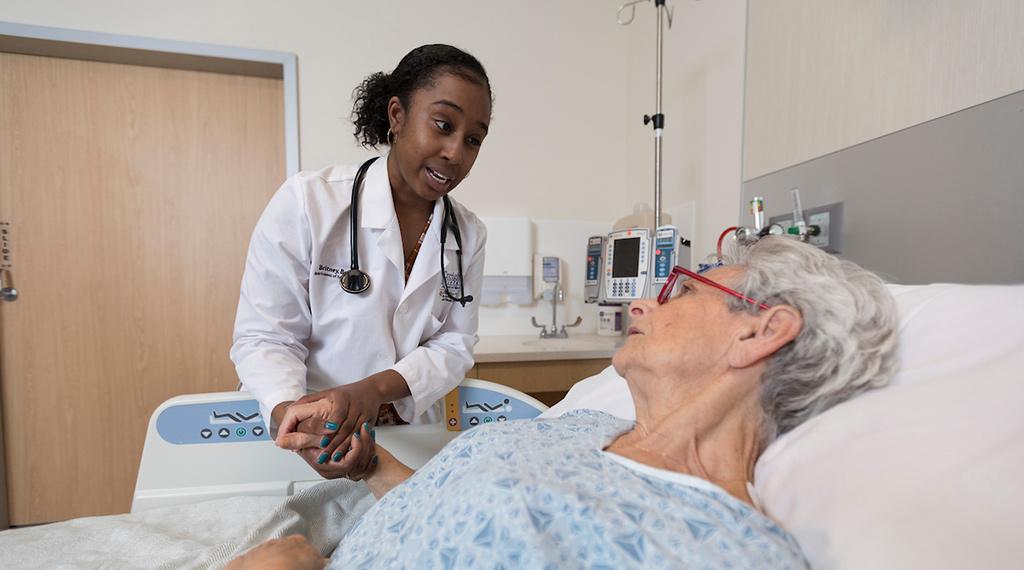 Dignity Health's Southwest Division is making a significant investment in future health professionals attending the Creighton University Health Sciences Campus – Phoenix. The transformational gift will provide up to 100 full-tuition scholarships to underrepresented students of color over the next 10 years.
Diversity among U.S. physicians, nurses and other health professionals is low, and population trends indicate a widening gap in representation between health care professionals and the patients they serve. Of concern to educators, students of color are underrepresented in the health science pipeline.
Currently, only 8% of applicants and matriculants at U.S. medical schools are African American, and only 6% are Hispanic. Only 23% of African American patients and 26% of Hispanic patients have a physician who shares their race or ethnicity (AAMC Medical Education FACTS 2020).
Both Creighton and Dignity Health are committed to lessening the financial barriers that often prevent students of color from pursuing careers in the health sciences.
"This gift underscores our mission and commitment to patients," says Linda Hunt, President and CEO of Dignity Health's Southwest Division. "Dignity Health and Creighton University share deeply rooted values of social justice and human dignity. Both organizations seek to better serve underrepresented communities and increase access to and quality of care."
"Future generations of health care professionals must be knowledgeable and compassionate advocates for culturally relevant care," said Creighton president, the Rev. Daniel S. Hendrickson, S.J. "With their gift of scholarships, Dignity Health will help remove the financial barriers that prevent many students from enrolling in health science programs and create a more ethnically diverse workforce – one that will understand, represent, and compassionately serve our most vulnerable communities."
Creighton's new seven-story, 196,000-square-foot academic health sciences facility opened this fall. The Virginia G. Piper Charitable Trust Health Sciences Building is located in the heart of midtown Phoenix, in the Park Central area. The campus is expected to eventually enroll nearly 900 students, invigorating Arizona's health care infrastructure with physicians, nurses, pharmacists, physician assistants, occupational therapists, physical therapists and more.
With a home campus in Omaha, Nebraska, Creighton is one of the largest Catholic health professions educators in the nation and the only Catholic university with two comprehensive health sciences campuses.
Creighton's partnership with Dignity Health started more than a decade ago, when the University began sending medical students to St. Joseph's Hospital and Medical Center for rotations. That relationship expanded significantly in 2009 when Creighton and St. Joseph's established a Creighton campus for third- and fourth-year medical students at the Phoenix hospital. When Creighton's regional partners asked for help in meeting the growing need for health care professionals in the area, Creighton again expanded its footprint.
Through the Creighton University Arizona Health Education Alliance, the University partners with Dignity Health St. Joseph's Hospital and Medical Center, Valleywise Health and District Medical Group. This alliance gives Creighton students access to hands-on patient-care experience in these prominent Phoenix health care facilities.
"Dignity Health scholarships will go far in helping us recruit aspiring health care students of color who are drawn to Creighton's signature, team-based approach to patient care," said Vice Provost of Health Sciences Campuses and College of Nursing Dean Catherine Todero, PhD. "Creighton graduates enter the workforce experienced in holistic, patient-centered care and with a determination to serve their communities. Creighton's interprofessional approach produces improved health outcomes for patients. I have no doubt that recruiting more diverse health professionals will also improve those outcomes, as well as the overall health care system."
"Dignity Health is gratified to help connect academically talented students who are called to work with underserved populations to a national health professions educator that highly values their perspectives and cultural competencies. Our partnership is going to be of true value to the people of Arizona and beyond," says Hunt.