Featured Testimonial About Creighton University
I feel like if I can help even one person in the way so many people at Creighton helped me, it's all worth it.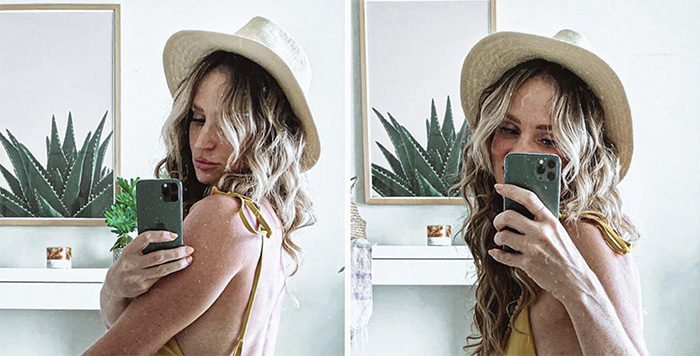 Long before Danae Mercer, BA'09, became a Dubai-based journalist and Instagram influencer promoting body positivity to her 2 million followers, long before she was on Good Morning America … long before all that, she was a Creighton student in crisis.
In the wake of her mother's death, Mercer developed a severe eating disorder. And she's not sure she would have recovered, she says now, without the services and support of Creighton.
As a student, she had access to a therapist, a nutritionist and the medical center, all covered by her tuition. Meanwhile, her mentors intervened and got her back on track. To name just a few of the people who helped her — College of Arts and Sciences Dean Bridget Keegan, PhD; Lisa Brockhoff, assistant dean for advising; political science professor James Wunsch; and Journalism, Media and Computing professors Eileen Wirth, PhD, and Carol Zuegner, PhD.
"In a very difficult time, I would say they saved my life," Mercer says. "Now, I feel like if I can help even one person in the way so many people at Creighton helped me, it's all worth it."
It's safe to say Mercer has helped and is helping a lot more than one person.
Her brand is "Helping Folks Feel Normal." About four years ago when she first started her Instagram account, she filled her feed with carefully perfected images of luxury travel and "fitspo" (short for "fitspiration": images of fit, lean women posing beautifully, no blemishes).
Mercer has worked for fitness and luxury travel magazines, so she's especially familiar with the ins and outs and amount of work that goes into making people and places look perfect. Consumers might have grown more aware of the manufactured nature of beauty portrayed in glossy magazines. But social media is different.
"Social media takes the staged photo shoots to the girl next door," Mercer says. "When we look at a magazine, we see picture-perfect. And we expect it. We know it's airbrushed. We know it's a model at a shoot, working with a stylist, that there's a whole campaign behind it. But on social media, we just haven't yet normalized that knowledge.
"We see these images as casual, momentary snapshots, but in reality they're each taking 30 to 40 minutes to create. The result is, we look online, and we think, 'Everyone is perfect but me.'"
The image Mercer presented to the world wasn't her, she says. And it wasn't helpful, it wasn't inspiring, it was, in fact, potentially damaging.
So, she decided to just be honest, to pull back the veil. Now, Mercer exposes the fakery rather than reinforcing it.
Most of her posts have two images. On the left, a posed Mercer — back arched, butt out, muscles taught, all the best angles. On the right, a relaxed Mercer — no pose, no filters, no hiding the cellulite. Human.
With her Instagram pivot, she also started to open up about her eating disorder and struggles with body image. The photos, the message, the honesty — they hit a nerve.
Now, Mercer has millions of followers on Instagram, a growing YouTube presence and a private Facebook support group of nearly 20,000 women. She's also working on a book and a podcast.
Her influence grew so great that the mainstream media recently took notice. She landed spots on and in hundreds of TV shows and articles, from the BBC News to Vogue Portugal to Marie Claire Arabia to the aforementioned Good Morning America.
'"I'm a real introvert, so it's been a little overwhelming," Mercer says. "Being transparent is still frightening. You're saying, 'Here's the stuff I'm self-conscious about. Here's the stuff that makes me nervous.' Whether it's my body or being single at 33 or deciding if I want children. But there's a real strength in vulnerability. Talking about these things, I feel stronger and less alone."
In so much of the stuff we struggle with, Mercer says, we're not alone. That's something a lot of good people at Creighton taught her.
"We all want to feel that we're not alone. We want to know that we're not some horrible freak tucked away in the shadow. And many of us feel that way because we don't talk about these things. Because we don't talk about body image or mental health."
Mercer's message has started a conversation. She hears from all sorts of people — high school teachers and therapists who show her account to their students and patients to help them navigate their own difficulties with body image. Some of her favorite responses are from dads, who use her account to understand and speak to their young daughters about what they're going through.
As her influence grows, Mercer says, she remembers her Creighton mentors, who shaped her life in so many ways.
Her first experience in the Middle East was a magazine internship in Qatar, thanks to the help of Eileen Wirth. At Creighton, Mercer received the Presidential Mentoring Scholarship two years in a row, which, she says, offered her the guidance to get an additional scholarship that later took her to the University of Cambridge. From there, she earned gigs at fitness magazines and in PR, speechwriting, freelance and much else. (See more of Mercer's work here.)
"One of the big lessons I keep holding on to is from Lisa Brockhoff. She always told me, 'No matter what you're facing, remember those Jesuit values you learned at Creighton. Remember your Jesuit roots, your Jesuit education.' Now, I try to go forth with kindness and compassion and gratitude."
Not to mention a hard-won love of self. Imperfections and all.