Featured Testimonial About Creighton University
This innovative program has become a high-quality opportunity to prepare the next generation of practitioners to address the social determinants of health.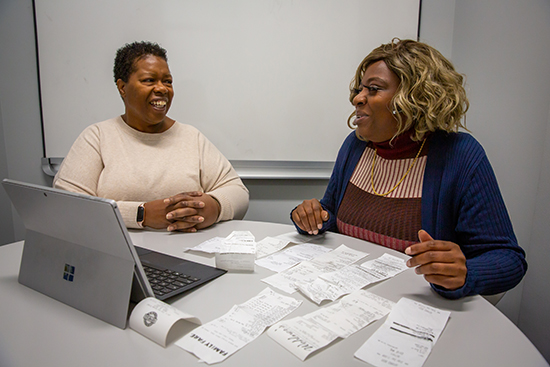 By Micah Mertes
Brieann Clark wanted to eat better, get her Type 2 diabetes under control and improve her life, but she didn't feel like she could afford to. It just cost too much to be healthy.
That changed when she learned about the Cura Project, a Creighton-run program for and study of Omahans with Type 2 diabetes. The Cura Project addresses food insecurity and economic instability to improve diabetes-related outcomes. It aims to prove that the path to better health runs right through the pocketbook.
The program serves as a vital source of food and education. But more than that, it connects participants to other invaluable community resources they weren't even aware of, services that have made their lives more manageable.
Across four "interventions" in the 18-month program, Clark's finances, diet and life improved markedly.
A financial social worker helped her find housing and connected her with resources for her son, who has special needs.
A bi-weekly "food pharmacy" provided free diabetic-friendly food to help her maintain her blood sugars (not to mention free up some of her income).
A health coach showed her delicious ways to prepare that food.
And the Cura Project's financial success program helped Clark open a savings account.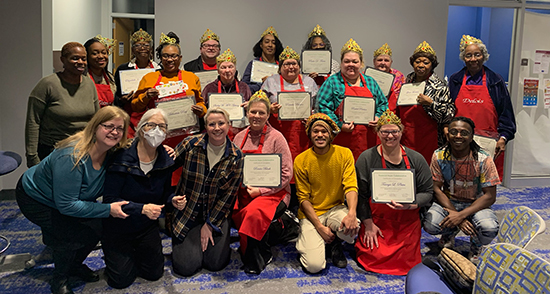 Demetria Ray — another of the 100 Omahans with Type 2 diabetes who have gone through the program so far — says she was skeptical at first, but that the Cura Project ended up changing her life in more ways than she could have imagined.
"Within that first month of class, the program's financial social worker, Maggie Kalkowski, helped me clean up my credit," Ray says. "The groceries they offered in the program cut my food bill in half. The instructors were so approachable and inviting that I was excited for every class."
Since she started the program, Ray has dropped two pant sizes and taken control of her diabetes, her finances and her stress.
That's what it really all comes down to — stress. It's the cause and effect of so many of our ills, monetary or medical, says Julie Kalkowski, MSW, leader of the Cura Project's financial success component.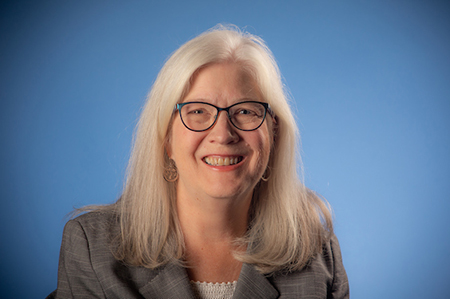 "If you're stressed out of your mind about your money, you can't think about eating healthy or planning ahead," she says. "We have repeatedly seen that reducing financial stress also decreases other life stressors. When people feel like they have more control over their lives, life just gets better. They can save money, pay bills on time and improve their health outcomes."
The Cura Project's preventative approach has a cumulative effect, she says. When individuals are empowered to better care for themselves, it reduces health care costs for patients and providers alike, in the short and long run.
Kalkowski is the executive director of the Financial Hope Collaborative (a Creighton financial education program that has graduated more than 1,000 participants since 2009). This is where the seed of the idea of the Cura Project first took root.
The Cura Project is the first financial-medical partnership in the state and one of just a dozen or so in the country. It started in 2021 with a $2.3 million investment from The Diabetes Care Foundation. In December, the Cura Project obtained an additional $1 million from a Nebraska Department of Economic Development Financial Literacy Grant. The initial funding also helped the Cura Project secure an additional $500,000 from United Healthcare of Nebraska.
When The Diabetes Care Foundation was looking for project proposals a few years ago, the one Creighton offered not only met the criteria but expanded upon them through its innovative fusion of health and finances, says Joan Heiser, the foundation's executive director.
"This is a project that truly meets our mission," she says. "We're so impressed with how much support the program is offering to transform people's lives. We're so excited to watch it continue to develop and help create generational change.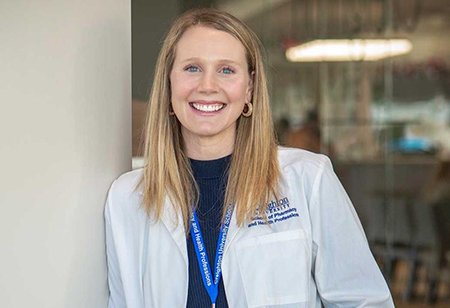 "I think the program Creighton has put together will be something the whole nation is looking at in a few years."
For all the good the Cura Project is already doing in the individual lives of its participants, its main goal is to study the effects of these interventions. The end game is to obtain results that could potentially be scaled up to an even larger and more transformative form of financial health care for all.
The Cura Project study's lead investigators — SPAHP associate professors Nicole White, PharmD, and Kevin Fuji, PharmD — say the early data is promising.
"Diabetes, as much as any condition, is really significantly impacted by social determinants," White says. "This is a disease affected deeply by poverty, food insecurity and stress, making it the ideal condition to study this wide range of financial and medical interventions."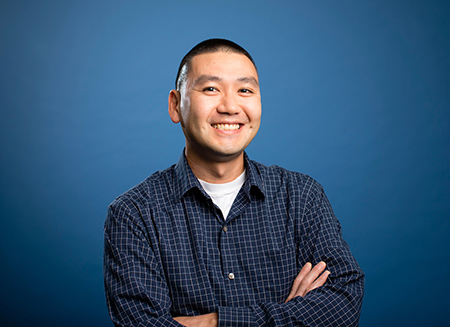 Part of what the Cura Project so unique is its need for the kind of interdisciplinary approach Creighton thrives on. This is a profoundly interprofessional effort, made possible by students, faculty and staff in the Heider College of Business, the School of Medicine and the School of Pharmacy and Health Professions, as well as the clinical team at CHI Health's University Campus, where the research is taking place.
Like many things at Creighton — where educating students and caring for the community are one and the same — the Cura Project is part of a greater whole. The work of the research overlaps with that of the classroom.
"We're starting to integrate our students into the project," Fuji says. "This not only helps the patients but gives our students the chance to take what they're learning about the social determinants of health and integrate it with their clinical knowledge. This innovative program has become a high-quality opportunity to prepare the next generation of practitioners to address the social determinants of health.
"I really can't stress enough how unique this is. Not many places are doing anything like this."