Featured Testimonial About Creighton University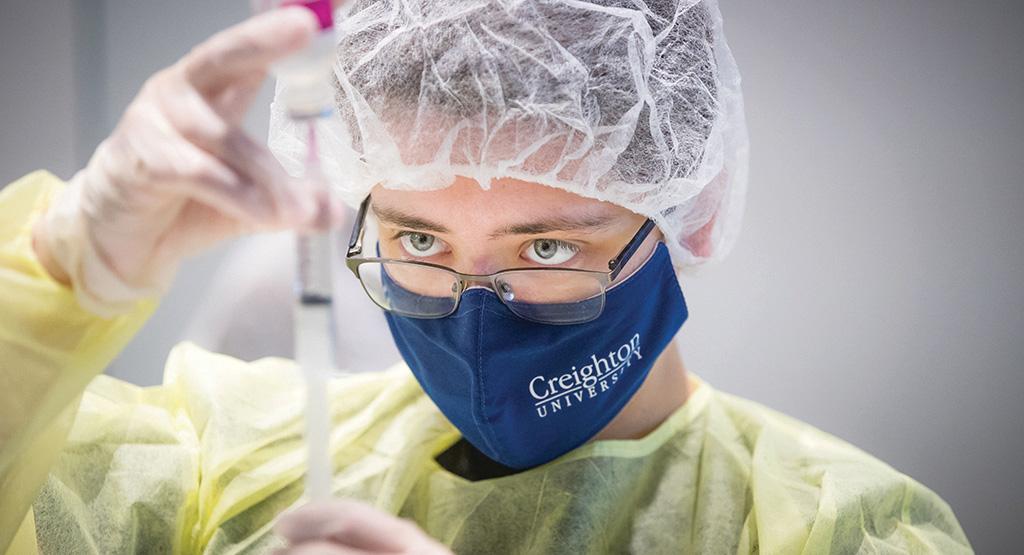 The amount of personal protective equipment (PPE) Creighton has required to stay safe, healthy and open is considerable.
For the fall semester alone, the University's biggest users of PPE (health sciences, Athletics, Facilities, Public Safety and the College of Arts and Sciences) will have used approximately:
100,000 pleated face coverings
15,000 N95 face coverings
As well as:
750 gallons of hand sanitizer
2,500 individual hand sanitizer bottles
And more than 1 million virus-killing surface wipes (more than 80,000 per week)
From the court to the classroom to the clinic, the Creighton experience carries on — one piece of PPE at a time.
"Creighton has stepped up," says Kandis McCafferty, associate professor and director of simulation in the College of Nursing and Creighton's PPE Lead. "This semester, we've let our students know that we are here to support them, that we want them to continue to learn and grow in a safe environment."
For Creighton's clinical settings, maintaining at least a two-month supply of PPE, especially N95 face coverings, is vital.
"In-person learning requires PPE, screening and sanitizing efforts that add to the operational budget," says Catherine Todero, PhD, RN, FAAN, dean of the College of Nursing and Vice Provost of Health Sciences Campuses. "Support of Creighton donors is critical and appreciated because of those extra costs involved in keeping the campus safe for in-person learning."
Like so much else at Creighton, this wouldn't be possible without the generosity of our alumni, friends, faculty, staff and students. For PPE, Creighton relies partly on donor support.
Those who made a gift to Creighton's PPE Fund on Giving Tuesday are helping to keep our community safe. To keep Creighton, Creighton.
"We could not open campus unless we had what it takes to keep Creighton as safe as possible," McCafferty says. "The fact that we have been able to make this happen speaks volumes about the Creighton community's commitment to creating a safe environment for our faculty, staff, students and our community as a whole."
You can make a gift to the Creighton Fund today and continue to support the University's most immediate needs.