Featured Testimonial About Creighton University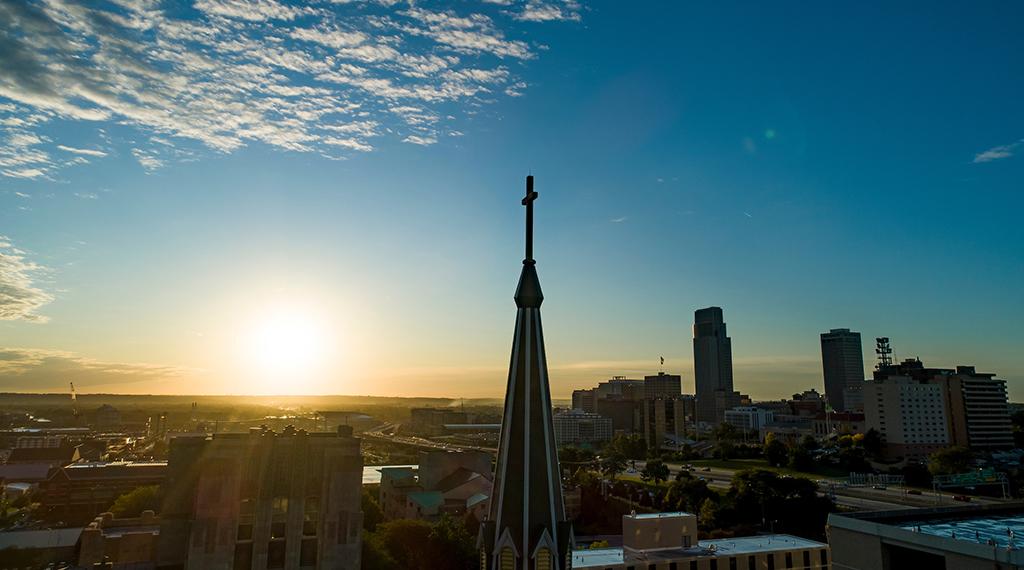 The past few years have brought the world many challenges, yet they have served to demonstrate that our very livelihood depends on our interdependence and our ability to demonstrate compassion and care for one another.
Liana Duarte
Creighton student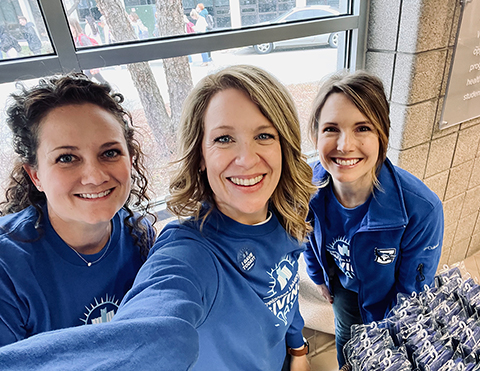 By Micah Mertes
Thanks to thousands of Bluejays from all over the country, Creighton has another successful Giving Day in the books.
On Wednesday, April 6, alumni, friends, parents, students, faculty and staff came together to make a massive collective impact for Creighton, with more than 2,700 donors giving a total of more than $927,000.
Gifts were made to dozens of causes, from scholarships and programs in individual schools and colleges to the student-centered services and organizations that define the Creighton experience.
For the first time since 2019, students, faculty and staff on Creighton's Omaha and Phoenix campuses celebrated Giving Day in person, with donors picking up their Creighton socks and enjoying food truck lunches, snow cones, coffee and the camaraderie of their fellow Bluejays.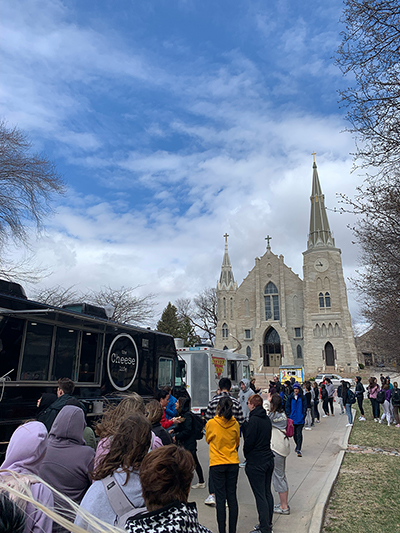 The Giving Day tally of more than $927,000 is among the best yet for Creighton's annual day of giving, thanks in large part to the donor challenges made possible by generous alumni and friends. Almost all the challenges — the majority of which focused on achieving a certain number of donors — were met, unlocking hundreds of thousands of additional dollars for scholarships and more.
To show their appreciation for the day's success, a group of deans, professors, organization directors and students have offered messages of gratitude for the Creighton community's continual support — on Giving Day and every other.
* * *
"At Creighton, students are empowered to make discoveries about themselves and their world. Scholarships enable them to explore possibilities and develop their full potential. We are preparing students not just for successful careers but to address challenges, create innovative solutions and lead their communities toward a better future."
— Bridget Keegan, dean of the College of Arts and Sciences

"I greatly appreciate our alumni and donors' commitment to helping the next generation of students succeed at Creighton! They could have donated their money anywhere, and this makes an immediate and tangible positive impact in my life and the lives of other recipients. Thank you."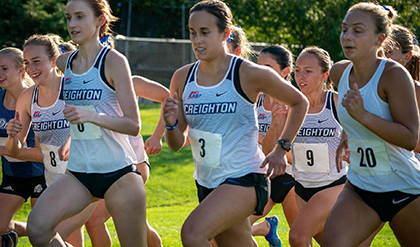 — Robert Jones, graduate student in the Master's in Organizational Leadership Program

"We are so grateful for the continued support from our donors. We have accomplished a lot over the last few years, and we could not have elevated our program and achieved this success without your help. Thank you for providing our student-athletes with the technology, gear, equipment and recovery systems they need to become their best. Eyes up. Future is bright."
— Chris Gannon, Cross Country Coach

"A Creighton degree benefits more than the individual graduate. Our health sciences alumni go on to serve their communities as competent, compassionate health care professionals who live the mission of Creighton University each day. Thank you for your donation. Each gift helps to make the world a better place."
— Amy F. Wilson, PharmD, interim dean of the School of Pharmacy and Health Professions

"A global learning opportunity may positively impact a student's future in so many ways – academically, professionally, personally, spiritually. Thank you to you — our donors — for helping make global programs and study-abroad opportunities available to our Creighton student community!"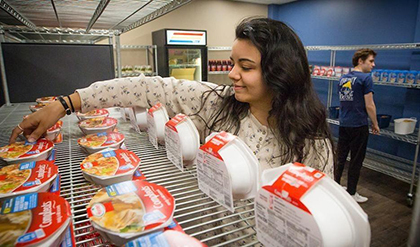 — Jill Muegge, director of Study Abroad and ILAC Operations

"I am so grateful for everyone who contributed to the Creighton Cupboard's Giving Day campaign. Your contribution makes a real difference in our students' lives, especially those with the greatest need. The Creighton Cupboard serves dozens of students each month, and it could not be done without your support. Thank you so much for your contributions to these critically important efforts."
— Greg Durham, director of Recreation + Wellness and Creighton Cupboard

"Thank you very much for bestowing the tremendous honor of being recognized as a recipient of the Graduate Dean's Scholarship Award! The past few years have brought the world many challenges, which are at the very least unprecedented, yet have served to demonstrate that our very livelihood depends on our interdependence and our ability to act selflessly, demonstrate compassion and care for one another."
— Liana Duarte, graduate student in the Interdisciplinary Leadership EdD Program

"I recently spoke with alumni spanning my 23 years at Creighton. They shared how their experiences with the CCSJ (now SCSJ) formed them for lives of service, faith and justice. Who they have become in their professional, civic and family lives demonstrates the impact of our Service & Justice Trips, Local Community Engagement, Ignatian Advocacy and formation of student leaders. Thank you for partnering with us to build a more loving and just world."
— Ken Reed-Bouley, MDiv, MBA'06, director of the Schlegel Center for Service and Justice

"Only with donor support could the Kingfisher Institute for the Liberal Arts and Professions have come to life as soon as it did (in 2019). That timing and momentum allowed the Institute to creatively engage students, faculty, staff and our greater community throughout the pandemic. The humanities became a lens through which to process and confront the challenges of the past two years. Thank you to our visionary donors for making this possible!"
— Charise Alexander Adams, program planner for the Kingfisher Institute

"Creighton students are passionate about sustainability and caring for our common home but do not always have the resources to pursue projects related to sustainability. The Creighton Sustainability Student Action Fund allows students to turn their passion into reality. Without donor support, the fund would not be possible, and students would not have the necessary resources to create change. Thank you for your support."
— Nick McCreary, director of Sustainability Programs

"COVID has brought on such unique challenges, and for the past two years I've been impressed with the resilience and creativity of our students. Many of these challenges couldn't have been addressed without support from the Creighton community.
"Thanks to your generosity, our students will be able to focus on their No. 1 priority: learning!
"So frequently, financial responsibilities keep our students from being fully present in the classroom or at campus events. Your gift removes one obstacle and increases the likelihood of their academic success!"
— Krystal Rice, director TRiO's Student Support Services:

"Our mission at the Creighton University Archives & Special Collections is to preserve and make available rare, one-of-a-kind and valuable research materials to our campus and beyond.
"Money raised this year will help us preserve some of our finest pieces and ensure that they will be around for generations to come. Donations in the past have helped us digitize our newspaper and yearbook collections, which has allowed us to deliver reference services to our patrons faster and expand our reach farther than ever before.
"We are grateful to those donors who have partnered with us to protect and promote our Creighton history."
— Peterson Brink, head of Archives & Special Collections, Creighton University Libraries