Featured Testimonial About Creighton University
My Creighton experience and the OT program were just really, really good. Being out in the community and in my profession, I'm just really proud of what I did and where I came from.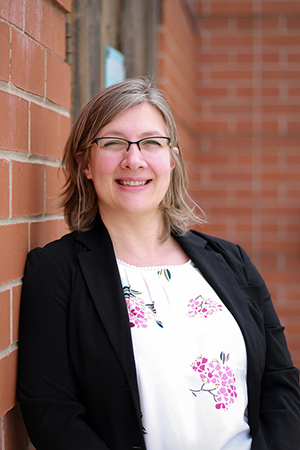 Alumna Amy Rogge's Denver-area practice, Amy Rogge & Associates, provides occupational therapy services for children with developmental and physical challenges. The practice resides on an acre of land, where the children can help care for Amy's goats and chickens.
In the days since coronavirus put much of the world on lockdown, Rogge, OTD'08 and her team have had to get creative to connect with the children. They've added virtual sessions for story time and crafts, along with other ways to serve their families.
And here's a new one — Zoom meetings for the purpose of feeding farm animals.
How have things been at your practice?
I have some really incredible employees, so that's been pretty critical for me. Everybody has kept a really positive attitude and banded together and come up with some good ideas. I almost feel guilty saying it, but we've been having a lot of fun. It's been stressful, for sure. But this also feels kind of the way I thought OT would feel when I went to Creighton, where you're addressing the whole person.
You're getting into homes and getting into context and making sure you're supporting the family. This has really given us an opportunity to get into our kids' homes and practice in a new way.
Mostly I just wanted to make sure that our kids, No. 1, were still getting the service days they need, and, No. 2, were still connected to our practice, so when this all over, they want to come back.
We've started some other actives to supplement what we're doing. It's been a huge departure because we're an outpatient pediatric practice that's based in a house, and our big pull is we're on an acre of land and we have goats and chickens. That's a big reason that a lot of people come to the practice. To translate that into digital treatment, I was like, "Holy cow, how do I do this?"
But it's working.
It's actually going really well. I have a few kids who are on the autism spectrum who have really connected with our animals, and so they can have 15 minutes with me every morning through a Zoom call to come check on the goats and check the chickens and look for eggs. I just carry them with me on my phone, and they help me with the animals. We've also started a preschool virtual book club that's been gaining traction. We pick a book and do a craft. It's donation-only, so people pay what they can, and if they can't pay anything right now, that's OK. After we read the book and do the craft, I leave the Zoom meeting open for the kids so they can chat with one another.
Right now, we're trying to find that balance of entrepreneurial spirit and trying to keep our business afloat without gouging people who are hurting right now. How do we stay open but also not take advantage of people who are hurting and scared? I think we've struck that balance so far.
Somebody told me when this first started that chaos always gives rise to opportunity. And I'm like, "Yeah, yeah, yeah, that's something somebody says who hasn't had to live through much chaos." But honestly, I'm going to have to amend that. Some of the stuff we've started doing now at the practice, there's no reason we can't keep this going. It's been helpful to our families.
Did it surprise you how effective these new connections are at helping the children still, to some degree, be a part of this space?
Yeah, I think we were all nervous at first with what to do with the kids, especially kids who need a lot of physical support or handling techniques. We've found that this has given us more of an opportunity to help our families reconnect with their kids in a new way.
If it were left to just me, I probably wouldn't have been successful, but the gals who work for me right now are incredible. They've taken it in stride. They've got all these awesome ideas. Like, let's do high school social groups, and let's do Friday game night and teach everybody a game they can play with their families. We're having fun figuring out new ways to connect to our families.
For children who are on the spectrum or who have developmental concerns, what's your biggest fear about them being forced to stay in their homes?
My biggest concern is families being able to access the resources to help them with challenging behaviors or severe anxiety. One of the kids I work with, his mom has told me repeatedly the only thing she can get him to voluntarily leave the house for is OT. And so for them to now be isolated at home and not have that the routine of school and of OT and not have the behavioral support to help him manage the lack of routine and the change in expectation, I think the whole family is just put under an astounding amount of stress. And they don't have the same support available to them in real time.
I worry a lot about my families, the parents' mental health. I mean, OT is really important. It's crucial. But no one is ever going to die from a lack of pediatric OT. But one of the things we provide is parent support and a way of saying, "You're doing alright, and we're here to help you."
But now everyone's connection has been temporarily severed.
Everyone is doing things they've never done before. About 90% of the parents I work with have never been home with their kids all day for more than like a spring break amount of time. None of them have had to put together learning activities. And then on top of that, a lot of the kids we work with tend to not do too well if they spend too much time in front of a screen. They need movement and physical activities. This brings up a whole new world of challenges, and we're modifying a lot of goals and treatment plans for this acute episode of our families' lives.
I mean, you've actually been answering this question without me even asking it. But I'll ask it anyway. What has your Creighton education meant to you as a health care provider?
My Creighton experience and the OT program were just really, really good. I don't know that as a student I realized how good the program actually is. But being out in the community and in my profession, I'm just really proud of what I did and where I came from.
At Creighton, we were offered so much in terms of opportunities to work with different people and in different practice settings, with the emphasis on pushing the profession forward in a meaningful way. And on the Jesuit values, which help you look at your patients in many ways. In my case, I look at my kids' physical abilities but also their place in the world and their access in the community. That's a unique perspective I've gained from the Creighton OT tradition.