Featured Testimonial About Creighton University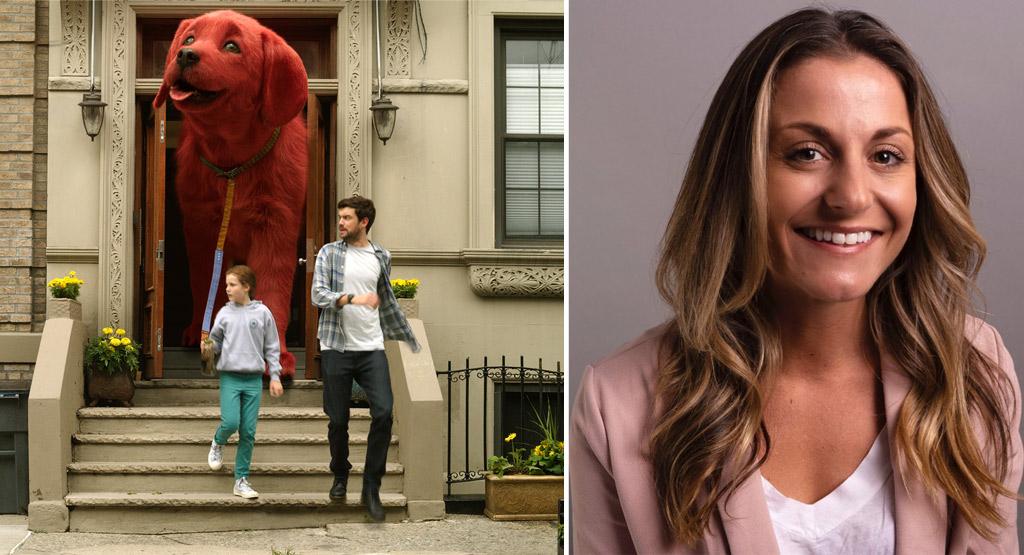 To be successful, you need to have the audacity to go for things, to speak your mind and to pursue the creative endeavors that feel impossible.
By Micah Mertes
Just two weeks after graduation, Lisa Crnic, BSBA'08, made the leap.
Omaha to Los Angeles. Creighton to Hollywood.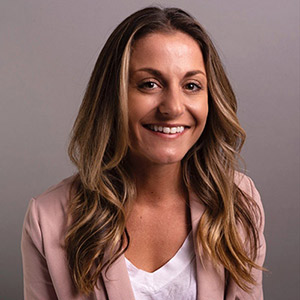 She had no connections and little professional experience, but it didn't matter. This was the dream: making movies. Making big studio movies. There was really only one place to do that, so why not get started as soon as possible?
Over the next 13 years, Crnic's career through Hollywood has taken a long and varied path — intern, assistant, agent trainee, producer, writer, director. This fall, she saw her most prominent credit to date: executive producer of a big-budget studio picture, the new-to-theaters Clifford the Big Red Dog.
Crnic, the aunt of a huge Clifford fan herself, says she hopes the movie brings a little joy to children and families all over the country.
Such joy led Crnic down this path to begin with. She was a movie-lover from the get go. By 8, she was making her own movies with her brother. They screened their early efforts for their neighborhood in Des Moines.
"This wasn't a childhood phase," she says. "It just kept growing."
Crnic started writing plays. She moved to Omaha for Creighton and volunteered with Film Streams and the Omaha Community Playhouse.
With every class and lesson in the Heider College of Business, she knew she'd one day apply it to the film industry. And her Creighton education, she says, gave her the business acumen to thrive and the values to distinguish herself.
***
Agent in training
Crnic's career started small (not unlike Clifford himself). It began with an unpaid internship at a reality TV production company.
But Crnic knew how to work, how to stand out. Her boss encouraged her to apply to Creative Artists Agency, one of the biggest talent agencies in Hollywood.
She got the job, as an assistant to an agent representing such clients as Stephen King, Chinatown screenwriter Robert Towne, Oscar winner James Ivory and many others. She later left CAA to work as an agent trainee at Paradigm Agency.
"There really are few better ways to learn the ins and outs of the business," she says. "The major players, the terminology, how the business works. Pretty much every line of work, every deal, everything goes through a talent agency, whether it's music, TV, film, branding, marketing, comedy, sports, everything."
Yes, Crnic's career was coming along nicely. But then she had a change of heart. She decided to pivot.
Producer
Crnic realized she didn't want to be the agent; she wanted to be the client. She wanted to do what she's wanted to do since second grade: make movies.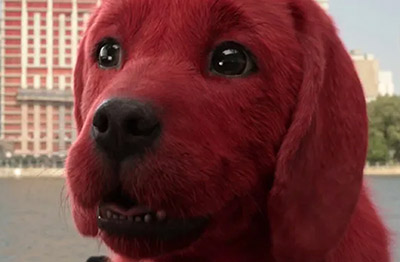 She started her new trajectory as an assistant to Jordan Kerner, the producer of such movies as Fried Green Tomatoes, the Smurfs franchise, the Mighty Ducks series and, most recently, Clifford the Big Red Dog. Before long, Crnic was promoted in Kerner's company to head of development and was tasked with running Kerner's TV/film slate.
For one of the projects — a movie about a big red dog — Crnic took a more active role in not only development but production, earning her credit as executive producer.
"Producing is a great way to actually make movies, to be involved in the creative process but also utilize the business acumen I learned at Creighton," says Crnic. "As a producer, you're kind of the CEO of a production from start to finish. It's definitely a cross between creative and business."
Clifford wrapped in 2019, but its release was delayed multiple times due to the pandemic. It finally hit theaters this November, scoring the No. 2 spot in its opening weekend, behind Marvel's Eternals. To date, Clifford is the most-streamed original film on Paramount+.
Yes, Crnic's career as a producer was coming along nicely. But then … she had a change of heart. She decided to pivot.
Filmmaker
In 2020, Crnic set out on her own, to write, direct and/or produce her own films.
In her first year as an independent creative, Crnic was hired to write and produce an animated feature. She's got a coming-of-age dramedy she wrote in development, which she also plans to direct. She's created a holiday family film treatment for Hallmark. She produced a psychological thriller feature shot in Omaha this past summer. Plus, many other irons, many other fires.
"When you're an independent producer," she says, "you have a ton of projects going on at once, and you push them all forward until one gets greenlit. That's how it works."
Yes, Crnic's career as a solo creative is coming along nicely. But then …
But then nothing, she loves this job. She loved being an assistant, agent trainee and studio producer, too, but she says she's on the right path.
Crnic says she's proud of everything she's been a part of so far, but going solo gives her the freedom to tell the stories she wants to tell.
"I want to work on all kinds of movies," she says. "But my mandate for myself is to champion and cultivate more female creatives and female-driven narratives. I also want to champion underrepresented voices, people of color, people from the LGBTQ community, people who haven't received equal opportunities."
For aspiring filmmakers, Crnic has some advice.
To break into the movie business, an excellent business education sure doesn't hurt.
To be successful, "you need to have the audacity to go for things, to speak your mind and to pursue the creative endeavors that feel impossible."
Always be evolving. Being adaptable is a necessity to success. There are many paths to the life and career you want.
You're far more likely to find the interesting path, Crnic says, when you refuse to stay in a one lane.
* * *
Want to support other amazing students (and future alumni) in the Heider College of Business?
You can make a gift to the Heider College of Business today!
Thank you for supporting one of the nation's finest business schools!