Featured Testimonial About Creighton University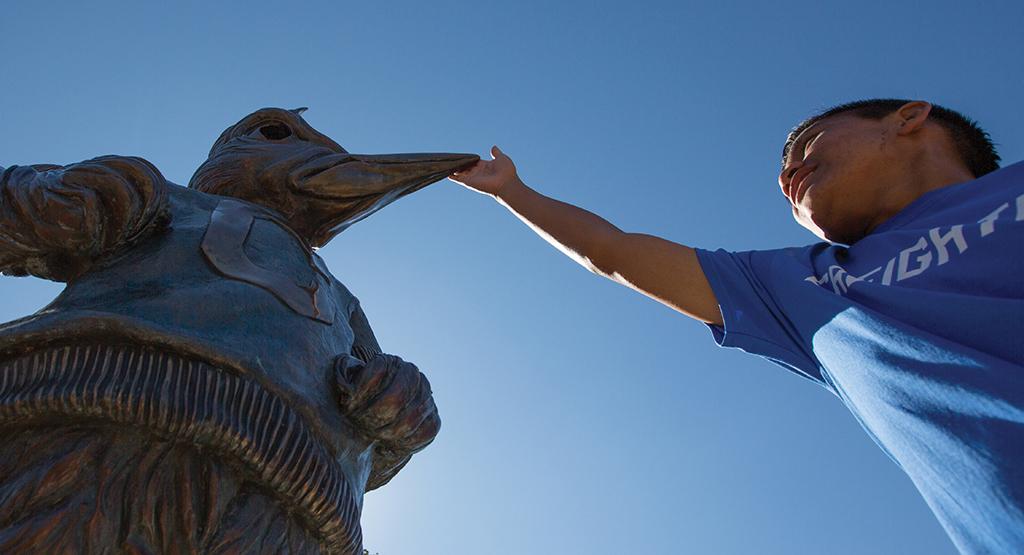 Without the support of so many awesome and amazing people, I wouldn't be at Creighton. In the times I've needed help the most, Creighton has been there for me.
Angelina Manasan
College of Arts and Sciences
If you missed out on Giving Day, you can still make a gift to any number of Creighton causes. Here's how.
***
On March 3, thousands of Bluejays came together to make this our biggest Giving Day to date, with a total of nearly $936,000.
Nearly 2,900 donors made gifts to Creighton in just 24 hours.
That's students, faculty, staff, alumni and friends, from all 50 states and around the world, making gifts to scholarships and student services throughout schools and colleges and areas of campus in Omaha and Phoenix.
These gifts and causes will fuel the Creighton experience for thousands.
As Creighton President the Rev. Daniel S. Hendrickson, SJ, PhD, said, Giving Day is a day "for our community to express their love and passion for Creighton University in a shared, collective way."
Whether someone made a gift of $5 or $5,000 on March 3, they sent a message, Fr. Hendrickson said, that "they want to be a part of the University's success, that they want to see Creighton thrive."
We spoke with dozens of members of the Creighton community.
We spoke with donors about why they give to Creighton. We spoke with deans and staff members about what those gifts will mean for their schools, colleges and organizations. And we spoke with students themselves, about how the generosity of the Creighton community has and continues to shape their lives through the support of scholarships and so much more.
All are deeply grateful to those who made this our biggest Giving Day ever.
* * *
Bridget M. Keegan, PhD, Dean of the College of Arts and Sciences:
"When students fall in love with Creighton, scholarships ensure that they get to come here and deepen that connection to the University.
"Thank you for creating a hope-filled future for our students. Thank you for showing your faith and confidence in them, for helping them go on to achieve their dreams and make our world a better place."

Anthony R. Hendrickson, PhD, Dean of the Heider College of Business:
"Thank you for your support of scholarships. Scholarships are crucial. They allow more students to come to Creighton, and they increase diversity.
"Don't underestimate the power of your gift. When enough people give, it makes a difference."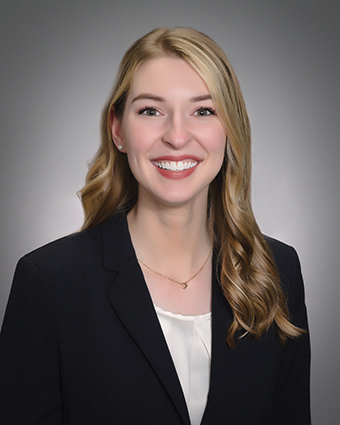 Adrienne Pyle, BA'17, School of Medicine student, Class of 2021:
"To donors who give to Creighton scholarships, I don't know if I'll ever be able to say thank you enough for making this journey possible. It's truly generous and selfless. You have done so much to help students like me accomplish our dreams.
"I see my scholarships as charges to myself to carry out this mission. I now feel called to give back — whether that be money or time or energy or passion or my commitment to other people and to the mission of this institution.
"To everyone who has supported my Creighton education, I can only say thank you. Thank you."

Drs. Deb, PHARMD'91, and Mike, DDS'92, Meehan, donors:
"Creighton is truly a wonderful place. I remember my grandfather, who was the first generation of my family to go to the University, he would always say, 'There's Creighton, and then there's everywhere else.' The older I get, the more I connect with that."
"I believe I'll never be able to give as much to Creighton as Creighton has given to my family."

Mary Ann Tietjen, associate director of the Office of Student Retention:
"Sometimes, it's the small things — like helping a student buy their textbook or covering a fee — that make a big difference.
"Your support of the Office of Student Retention directly impacts students by helping us remove barriers to their success and persistence.
"Our student retention and graduation rates are high. Thank you for being a part of the reason why."

Lauren Gillespie, School of Medicine, Class of 2022:
"Your gift means a lot to me. It shows an investment in the kind of physicians that we'll become and the influence we'll have in our communities. It shows that you believe in a Creighton education and want to support more physicians who take care of the whole person."

Evan Robinson, PhD, dean of the School of Pharmacy and Health Professions:
"Scholarships are a great way to attract and retain excellent students to come to, and stay at, Creighton.
"When you give to scholarships, when you give to any part of Creighton, you're investing in our future and the future of our students. Anything you give, large or small, is a blessing. An absolute and utter blessing to us."

Eric Nguyen, College of Arts and Sciences, Class of 2022:
"I believe that without my Creighton scholarship, I wouldn't have had the amazing opportunity to find myself, my passions and my goals. I've grown in my education, and I've learned so much about myself because of the amazing donors who have believed in me."

Krystal Rice, director TRiO's Student Support Services:
"Thanks to your generosity, our students will be able to focus on their No. 1 priority: learning!
"So frequently, financial responsibilities keep our students from being fully present in the classroom or at campus events. Your gift removes one obstacle and increases the likelihood of their academic success, timely graduation and persistence into graduate school."

Kelsey Philippe, College of Arts and Sciences, Class of 2022:
"I mean this genuinely. I would not be able to attend Creighton or be in the position that I am in right now without the services provided by SSS/TRiO.
"Because of their support, the past three years have been life-changing, beautiful and amazing. I could not be more grateful for all the services provided to me. Thank you for helping me make my dreams come true here at Creighton and allowing me to grow into the person I am today."

Angelina Manasan, College of Arts and Sciences, Class of 2022:
"I'm a first-generation college student, and I was raised by a single mother. We are a low-income family. Without the support of so many awesome and amazing people, I wouldn't be at Creighton.
"Scholarships have helped so much. And Student Support Services has been such an amazing support system. In the times I've needed help the most, Creighton has been there for me."

Lisa Andrus Hayan, JD'03, chair of the School of Law Alumni Advisory Board, who made a $5,000 Giving Day match gift to the law school:
"The intangibles that made our legal education unique — the sense of mission, the community, the open-door atmosphere — are just as true today. And support of the law school is vital in sustaining the unique and special place we know and love.
"In spite of the challenge and roadblocks of the last year, Creighton Law continues to look forward in evaluating opportunities to serve its students and community."

Nikki Rieck, BSW'94: donor:
"I benefited from scholarships and campus programs as a student. Now, it's important for me to help Creighton continue to create those opportunities for others.
"That's one reason I give back to Creighton — so those opportunities and great experiences carry on."

Andrew Dong Lee, School of Medicine, Class of 2022:
"People who support the School of Medicine are supporting future physicians and leaders who will go on to do remarkable things in their communities.
"I thank everyone who is supporting students like me because they're investing in the future of health care."

Gabby Baker and Kailen Wong, seniors in the College of Arts and Sciences and organizers of the Student Green Fund in the Office of Sustainability Programs:
"Thank you for your generous donation to the Creighton University Green Fund! As students who are deeply passionate about sustainability, we're very grateful for your support of student-led sustainability initiatives that will help our University achieve its mission of educating future leaders of change.
"Your gift helps provide students the opportunity to promote environmental justice and sustainable action through programs, projects and educational initiatives. Your generosity invests not only in climate-conscious projects on Creighton's campus and in the surrounding Omaha community, but it is also investing in a more sustainable future for students like us, now and in the years beyond!"

Abbey Collins, assistant director of the VIP Center:
"We are so grateful for all the donors who have chosen to support the VIP Center this Giving Day. The funds raised will allow us to expand our peer education program to continue our mission of preventing interpersonal violence on our campus and in our community. This program empowers student leaders to build the capacity of our students to identify, intervene and prevent violence."

Meredith Lierk, director of the VIP Center:
"Through both peer education programs and Restorative Justice, we are cultivating a culture where our students really are women and men for and with others. This is one of the things that we're most proud of, that we're able to help create spaces where students can build empathy, become Ignatian leaders and really discern meaningfully in their lives.
"Thank you for supporting our mission."

Jana Kellogg, College of Nursing, Class of 2023:
"Our peer educator program in the VIP Center has allowed us to connect to a number of students regarding prevalent issues both on campus and in our society. If only one student attended our peer educator program, it would have been worth it, because that student would have been more informed about how to not only protect themselves from violence, but also to take initiative to stop violence on campus."

The Institute for Latin American Concern in the Dominican Republic:
All Giving Day gifts made to ILAC will support needs of the ILAC/CESI campus.
"The ILAC/CESI campus has been a second home to so many Creighton students, faculty and staff," says Jill Muegge, director of Study Abroad and ILAC operations. "If you have had an impactful experience or even know somebody who went to the D.R. through ILAC, you know it's a life-changing experience. This is the way to keep that experience going."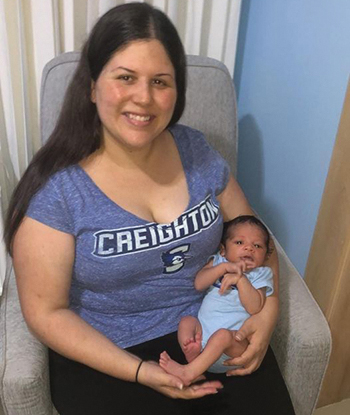 Many alumni who went on an ILAC trip cite it as their defining Creighton experience. Margarita Dubocq, BSBA'04, MS'08, ILAC director for operations in the D.R., came to Creighton because of the University's relationship with the ILAC/CESI campus.
Growing up in the Dominican Republic, Dubocq attended Mass at the center. Later, she was awarded a full-tuition scholarship Creighton had established with her school in Santiago. As an undergrad, she participated in ILAC herself. Now she works out of the organization, just a few miles from where she grew up.
"I understand how scholarships change lives, and I understand why people are so impacted by ILAC," Dubocq says. "That experience defined the rest of my life."
Dubocq got into the Giving Day spirit by taking part in, and winning, the Giving Day Wear Blue social challenge.