Featured Testimonial About Creighton University
My charge is to connect with and foster corporate and community partners who share Creighton's commitment to equity, diversity, and inclusion.
Devin Owens, director of Equity, Diversity and Inclusion- Alumni and Corporate Engagement
Devin Owens didn't create Creighton's National Black Alumni Advisory Board (NBAAB), but an ongoing dialogue with the group is central to the success of her role as inaugural director of Equity, Diversity, and Inclusion (EDI) – Alumni and Corporate Engagement.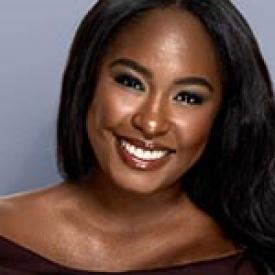 "Creighton doesn't lack diversity," says Owens. "In fact, it is one of the more diverse employers I have seen in the Omaha metropolitan area, and there are both the leadership and initiatives in place to support an even more diverse campus."
Though she works collaboratively with faculty, staff and students, Owens' role is predominantly external.
"My charge is to connect with and foster corporate and community partners who share Creighton's commitment to equity, diversity, and inclusion."
The advisory board is but one conduit to the outside, a group of Creighton graduates that serves as a resource for Creighton's Black community. Owens manages it.
"The board would like to support the University toward even greater equity, diversity, and inclusion at all levels," she says. "We have recruited well-accomplished professionals and community members who are proud to be Creighton graduates.
"Our advisory board members bring a wide range of experiences in athletics, the arts, business, city planning, education, health care, law, public service, publishing, transportation, and more, to the task at hand, but they have one thing in common. They enjoyed a sense of community during their years as Creighton students and want to do everything they can to create positive experiences for current and future students."
Owens came to Creighton in early 2023 from Marian High School, where she developed organization-wide EDI programs grounded in Catholic Social Teaching. She hopes to recruit more alumni to the board, including recent alums – those who graduated within the last decade.
"I am thrilled to work so closely with this group," she says, of the 23-member advisory board. "They have all experienced in different ways how far a Creighton degree can take them. All are well-suited to helping students and alumni forge deeper and lasting connections to Creighton."
Owens says board members are advocates, and as alumni, their words carry credibility. Sophomore nursing student Erica Matey of Minnesota agrees. She recently attended a panel discussion featuring NBAAB members after hearing about the event through the Creighton Intercultural Center.
"My take-aways from the panel were to take on opportunities as you can; be ok with making errors – we're in college and that's what we're here for; and don't stress about things that are beyond your control. I feel like I'm still working on that one."
Matey had only one criticism. "I wish I could have heard even more alumni, from even more disciplines. There is something really affirming about listening to successful African American alumni tell their stories. I really liked it."
Owens says that NBAAB president Bridget Hadley and president-elect Shawntal Mallory are creative thinkers, excited to facilitate students' access to alumni.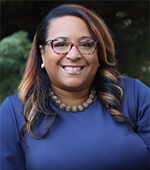 Newest members of the NBAAB include Robbie Bishop-Monroe, DBA'19; Creighton trustee Frank Hayes, BSBA'75; Chris Rogers, MBA'09; Alvin Samuels, Jr., DDS'15, BS'10; LaTrice (Elle) Davis, BSW'99; Michael Reed, MD'96, BS'91; Samori Coles, BSBA'95; and Westin Givens, BA'14.
For a complete list of members, visit: https://alumni.creighton.edu/alumni-community/find-groups-associations/black-alumni