Featured Testimonial About Creighton University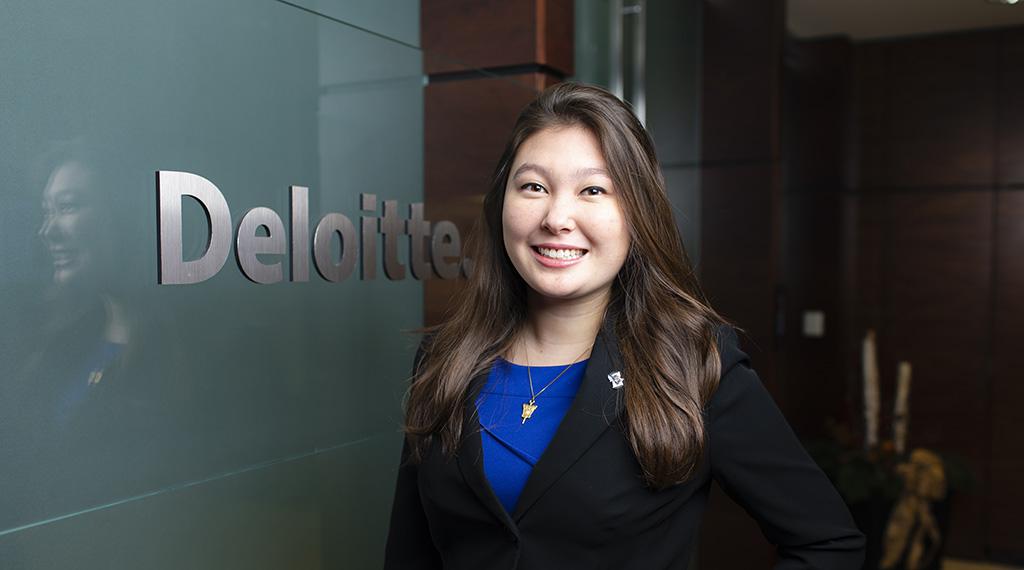 Every penny helps to educate students, but it doesn't really end there. It helps students truly prepare for internships and jobs, whether that's here or Hawaii or places on the other side of the world.

Jennifer Taniguchi
BSBA'19
It can be tough to move one state over to attend college, let alone the 3,740 miles Jennifer Taniguchi traveled from Hilo, Hawaii, to Omaha to study business at Creighton. "I had not met other Creighton students, but I knew many Hawaii kids were heading there," she remembers. "I assumed we could create a home away from home." Jennifer was right.
While she does admit to feeling homesick occasionally (and estimates 16 visits from her dad over the course of her time here), the Heider College of Business has become a family—her ohana. Now, as a Creighton alumna and a full-time Audit and Assurance Senior Assistant at Deloitte in Omaha, Jennifer especially values these relationships.
That speaks volumes about the educational and experiential opportunities we provide to students who wish to apply their talents to the business world. "Within the first month, we were in full suits and going to Fortune 200 companies." Jennifer says.
As a Dean's Fellow, Jennifer received access to a valuable network the moment she arrived at Creighton. At one of these exclusive events, she connected with Union Pacific's director of HR, a Creighton alumna who later helped Jennifer land an internship at the company as a sophomore— even though they were looking for juniors and seniors. She interned at UP two more times over her four years at the Heider College of Business, eventually signing with Deloitte before she began her senior year.
Jennifer represents a growing trend for the Heider College of Business: attracting students on a national and international scale. Over 80% of students come from out of state—and discover an academic atmosphere with transformative connections to the world's top companies and executives. In Jennifer's freshman class, Hawaii was the 3rd most represented state on campus.
WHY ARE SCHOLARSHIPS IMPORTANT?
The Heider College of Business has incredible connections within the Fortune 500 communities of Omaha and beyond. From internships right down our street to trips to economic capitals around the globe, a world-class business experience awaits those who join our family.
Scholarships enable our students to tap into this transformative network. Tuition alone doesn't cover the cost of a Creighton education, which makes scholarship support a key factor in developing the next generation of business leaders through access to opportunities that can exist only here