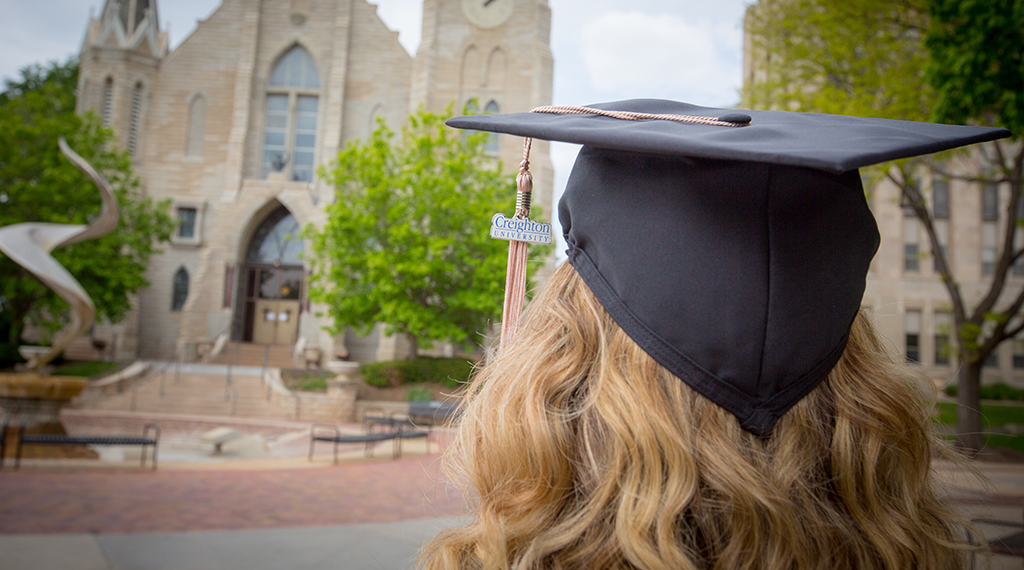 Schedule of Events
Welcome Back Reception
Hosted by the Deans of the Schools and Colleges
Date: Friday, September 17, 2021
Time: 5:30–7:30 p.m.
Location: Anderson Plaza (entrance to Hixson Lied and Eppley from Burt Street)
Graduates and their families are invited to join faculty and staff back on campus for a casual and fun celebration. Light appetizers and beverages will be provided.
Ceremony Honoring the Class of 2020
Date: Saturday, September 18, 2021
Time: 11 a.m. – noon
Location: DJ Sokol Arena in the Ryan Athletic Center
Face coverings are required inside the Ryan Athletic Center.
Please join Creighton President the Rev. Daniel S. Hendrickson, SJ, PhD, and Provost Mardell Wilson, EdD, to celebrate your graduation from Creighton University in person. During the ceremony, you will have an opportunity to walk across a stage and be recognized by Fr. Hendrickson.
Forever A Bluejay
Hosted by Creighton Alumni Relations
Date: Saturday, September 18, 2021
Time: 5:30–7 p.m. pregame, 7–9 p.m. men's soccer game vs. Georgetown
Location: Morrison Stadium
Please join us for a 2020 Forever a Bluejay pregame event and stay for the men's soccer game vs. Georgetown. 2020 alumni will receive free entry to the game, a Bluejay tumbler and a drink ticket. Guests will also receive free entry to the game. A cash bar and snacks will be available. Don't forget to bring your 2020 rally scarf!
We look forward to welcoming you back to Creighton's campus and celebrating you!
Any questions? Please contact events@creighton.edu. Registration closes Friday, September 10, 2021

COVID-19 Response
All of those attending the Ceremony Honoring the Class of 2020 will be required to wear a face covering while inside the Ryan Athletic Center, regardless of vaccination status. Guests are strongly encouraged to wear a face covering at other times on campus as well, as a precautionary measure.
FAQs
Are all Class of 2020 graduates invited to attend the Class of 2020 Celebration Weekend?
Yes, all individuals from the Class of 2020 are invited, no matter which school/college they graduated from.
What should I wear?
We encourage graduates to wear the keepsake cap and tassel they received in 2020 during their commencement. There will be an opportunity for a picture, so look your Bluejay best!
Will the event be canceled if there is bad weather?
The 2020 Ceremony will happen rain or shine, and we will send updates about the other events if there is a weather issue.
Where can I stay if I am traveling into Omaha?
Here is a list of hotels near campus. Many of them have availability for the weekend. We also have rooms available at the Creighton rate at Hilton Omaha at 1001 Cass Street.
What if I can't make it to this ceremony?
We understand not everyone will be able to make it back to Omaha for this event. We encourage you to come back at anytime to celebrate with friends and family.
I'll be there but my family will be at home. Is there a option for livestreaming?
Yes! You may view the Vimeo livestream below.