Featured Testimonial About Creighton University
Creighton has a powerful ability to promote inclusion, critical thinking, dialogue and connection
It was during a flight from Omaha to Washington, D.C., when David Black, BSBA'05, began reflecting on the purpose and the impact of his early philanthropy. Since graduating from the Heider College of Business, Black has supported a number of programs and causes at Creighton University.
"I understood the importance of a gift, but I don't think I had a deep motivation or direction during my early years of giving. There came a time when it really resonated with me how rewarding and more intentional giving could be."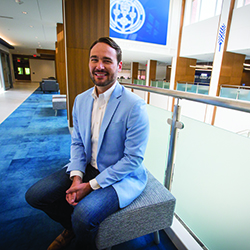 It was on that flight that Black was moved to help support a more diverse and inclusive campus.
In 2009, he created an annual scholarship that recognizes a Creighton undergraduate student who is a member of the Gender & Sexuality Alliance (GSA), and who shows leadership in advancing the organization's mission.
"Creighton has a powerful ability to promote inclusion, critical thinking, dialogue and connection," Black said. "With this scholarship, I wanted current and prospective students and their families to see visible involvement from the alumni community. I want students to know that we welcome them and are here to support them."
With the signature of Creighton's 23rd president, the late Rev. John P. Schlegel, SJ, the David Black Diversity Scholarship was official.
"When asking how we can do more for others, Father Schlegel had no fear," Black said. "He was a mentor and a close friend, and I hope I can be as visionary and impactful as he was. He was full of ambition and pushed everyone to think bigger."
Gifts like Black's help ensure that Creighton students can experience a Jesuit education and provide purpose and opportunities for personal growth, and a transformative sense of belonging. Black has had the opportunity to meet some of his scholarship recipients and says that he has been impressed by them.
Rachel O'Neal, BA'18, received the scholarship during their junior and senior years. At Creighton, they served as treasurer, vice president and president of the GSA; were the editor of the school newspaper, The Creightonian; and took part in Backpack Journalism. Black's gifts were critical in allowing opportunity for these experiences.
"And that means so much to me," O'Neal said. "In my family, it was always expected that you advocate for yourself and others, so it has always been a part of who I am. And now, in part thanks to David, Creighton is a big part of who I am and how I advocate for others."
Since their undergraduate years, O'Neal has had a passion for political science and pursued research in LGBTQ+ global policies and human rights. At Creighton, they learned how to have difficult conversations and grew as a leader. O'Neal is currently a teaching assistant in Colorado, pursing their PhD in comparative politics.