Featured Testimonial About Creighton University
By Nichole Jelinek
For 23 years, Robbie Bishop-Monroe, DBA'19, built a successful career in the accounting industry, from auditor to owning her own firm. During this time, adjunct teaching showed her she wanted something more.
"I enjoyed engaging with students intellectually and integrating ethics into accounting, but I knew I needed my doctorate if I wanted to be in the classroom full-time. I set that goal for myself a long time ago, and I never let that fire die out."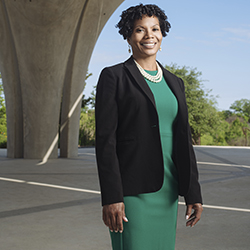 When the timing was right — what Bishop-Monroe says was in "God's own time" — the life-long learner and education advocate began writing the next chapter of her life.
In 2016, as a Doctor of Business Administration Diversity Scholarship recipient, Bishop-Monroe entered into the DBA program at Creighton. Creighton's DBA is a three-year hybrid program that combines elements of online learning with traditional on-campus learning, for which students travel from their home to the University for three residencies each semester.
"My education changed the trajectory of my life. As a scholarship recipient, I am the beneficiary of the generosity of others. I knew that their sacrifices helped me to be in the position I was in."
While working full-time and caring for her family, Bishop-Monroe traveled the 985 miles between Atlanta and Omaha for each of her residencies. It was during her travels that Bishop-Monroe says she was inspired to create the Heider College of Business Travel Fund.
"What is the purpose of earning an education and going through the journey of life if you can't help others? Education is also about finding your place in the world. I knew that as soon as I graduated, I would give back."
In 2019, Bishop-Monroe accomplished both of her goals. She graduated and became an assistant professor of accounting at St. Mary's University in San Antonio, Texas. This fall, Bishop-Monroe will join the faculty at Loyola University Maryland as an assistant professor.
She says leaving St. Mary's is bittersweet because she will miss her students and colleagues; however, she looks forward to continuing to integrate innovative teaching methods and applying Jesuit pedagogy into her classroom at Loyola.
"The DBA program was the catalyst for me to be in the classroom and connect with students. I'm just so thankful that others were willing to take a chance on me. Their gifts put me in a position where I can impact the world."
Upon graduating from Creighton, Bishop-Monroe made her first gift to support other learners on their academic journeys.
"I believe in doing good in the world. When I say 'world,' of course that means global, but it really begins with your neighbors and in your community."
With her gift, she helps Creighton DBA students like Emma Cole. Cole credits Bishop-Monroe with leading her to Creighton. The two met at an American Accounting Association conference where Bishop-Monroe was a presenter. During a conversation, Cole asked Bishop-Monroe about her Creighton doctoral experience.
"I had recently learned that I would need to earn my doctorate to keep my teaching job," Cole said. "I had been praying to God for an answer."
Bishop-Monroe spoke highly of her experience at Creighton, and Cole felt the program met all her needs; it was critical to Cole that she could continue to work while earning her degree from an accredited university.
Cole says she applied only to Creighton. She is now a recipient of Bishop-Monroe's generous gift and is in her second year of the program.
"I have been able to personally tell Robbie 'thank you' numerous times for her encouragement and support. I truly believe that God placed her in my life. She helped reduce my financial burdens, and I deeply appreciate that. To me, through all that she gives, Robbie exhibits love in action and care for others."