Featured Testimonial About Creighton University
The Agnew family will forever be Bluejays. When they received the appeal from Creighton Athletics to support the Bluejays Persevere fund, Jaylyn, BSBA'18, MS'20—former Creighton Women's Basketball star and 2020 BIG EAST Player of the Year—and her parents, Traci and Jay—answered the call.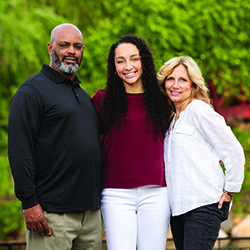 "I just said, 'we all have to give.' Creighton gave me so much. If our gifts can help others to have the same experiences I had, of course we will support athletics," Jaylyn said.
Last fall, Jaylyn made her first gift to Creighton Athletics to help ensure the success of future student-athletes. For Jay and Traci, their gifts to Creighton reflect their regard and gratitude for the transformation they saw in Jaylyn during her college career.
"You put your child into someone else's hands and trust them," Jay said. "I believe a little in the 'it takes a village to raise a child' mentality. I have to give props to Jaylyn's coaches, friends, professors, everyone who helped her on her path."
The Agnews have always been an athletic family, Traci and Jay instilled in their children values of sportsmanship, drive and dedication. Basketball became the sport that Jaylyn fell in love with and became skilled at from an early age. Traci and Jay encouraged her to follow her heart when choosing where to play college basketball.
"I feel like Jaylyn had the best of both worlds, academically and athletically," Traci said. "The whole Creighton experience has been one for all of us. Creighton Athletics is like family now."
Jay and Traci, along with Jaylyn's Grandma Carol, attended every home game. Their most memorable one of Jaylyn's Creighton career was Senior Night when, in her final home game, Jaylyn set the Creighton Women's Basketball record for most points in a single game.
And when Jaylyn wasn't playing, Jay and Traci were still cheering in the stands. Their support earned them "parents of the year" recognition many times.
"We support each player," Jay said. "Teamwork is important and we want everyone to be able to give it their all. We would love for nothing more than to help someone else have these experiences we have had at Creighton."
Bluejay fans are crucial champions of Creighton Athletics. This year, nearly 2,900 gifts were made in support of Bluejays Persevere, Creighton Athletics' fiscal response to the financial impact of the COVID-19 pandemic. Our loyal fans and supporters who participated in Bluejays Persevere allowed us to address this significant financial shortfall and sustain the standard of excellence Bluejay fans have come to expect in the classroom and during competition.
"We can't thank our fans and supporters enough for all they do for us. I have been afforded so many amazing opportunities at Creighton because of people like you, and I think I can speak for all student-athletes when I say that a simple 'thank you' could never be enough." — MARCUS ZEGAROWSKI, HOCH FAMILY POINT GUARD
Partners of Perseverance