Featured Testimonial About Creighton University
I still remember my first day at Creighton well. I didn't know a soul. But the community was such a blessing. It changed my life. People here, they put their arms around you. If you fall down, they pick you back up.

Bob Greenwood, BSPHA'77
Iowa Pharmacist and Donor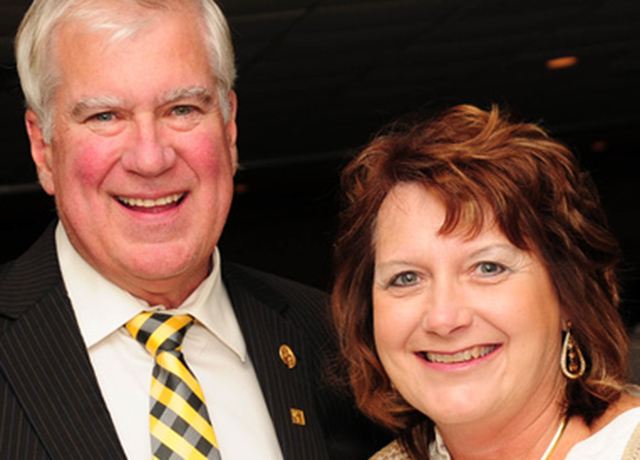 Iowa pharmacist Bob Greenwood, BSPHA'77, recalls the moment it all sunk in for him — vividly. More than 40 years later, he still can't talk about it without a crack in his voice, tears in his eyes.
It was the mid-'70s, and he was a Creighton pharmacy student. Back then — decades before the University would formalize its interdisciplinary health sciences education efforts — pharmacy students made rounds with medical students and residents at Creighton Memorial St. Joseph Hospital on 10th Street.
One day, Greenwood was helping tend to a patient who'd had a stroke. The medical team had done everything they could for the patient, but it was time to deliver the hard news to his family.
"I remember the attending physician asking who would come with him as he told our patient's family that we had done all we could for him, however the damage was too severe for a recovery, and that he would die in the next few hours," Greenwood says. "I volunteered and helped deliver the sad message, and it was truly a game-changer in my life, to have been on the delivery end of an end-of-life message. I'll never forget that day."
It was, he says, just one of those moments — when he learned the meaning of empathy, learned the importance of doing what's best for his patients. The lessons of that day resonated through the rest of his career.
"I don't think I could have learned that level of empathy anywhere else," he says. "The clinical training we received at Creighton was second-to-none.
"Now, this gift … it's my way of saying 'thank you.'"
Bob and Cheryl "Chery" Greenwood, of Waterloo, Iowa, recently made a significant gift to the Creighton School of Pharmacy and Health Professions, and the University has renamed the newly renovated pharmacy skills lab in their family's honor.
The Greenwoods' commitment to Creighton has stayed strong in the four decades since Bob graduated. His and Chery's children all attended Creighton — Tim, BA'09, JD'13; Joe, PHARMD'18; and Abby Greenwood, who finished her degree elsewhere.
A 2014 recipient of the Alumni Merit Award, Bob has served on SPAHP's alumni advisory board and this year joined Creighton's Board of Trustees. He's also taught at the University as an adjunct professor and preceptor. And he and Chery make it back to most Reunion Weekends and to as many Creighton basketball games as time allows.
"Creighton will always be a special place for our family," Chery says. "We've been very blessed, and Creighton is a big part of our success."
***
Bob comes from Farley, a small eastern Iowa town his family helped to shape.
When Bob's father returned to Farley after serving in World War II, he opened a grocery store on Main Street. Bob's uncle ran a bowling alley nearby. His was a family of businessmen and community leaders, many of whom served in local government and other groups.
Bob caught the entrepreneurial bug at an early age. His senior year at Western Dubuque High School in Epworth, Iowa, he helped form the inaugural Junior Achievement Company. He also helped write a business plan, form the venture to the manufacturer and market a product — wooden candle and napkin holders, made and assembled in his high school's shop.
"I wanted to own a business, but I also loved chemistry and knew I wanted to be a pharmacist," he says. "Owning my own pharmacy was always part of the plan."
He eventually succeeded — a few times over. He and Chery now own multiple pharmacies throughout Iowa.
Shortly after graduating Creighton, Bob moved to Waterloo and opened a pharmacy with a few partners. Within a decade, he and his family would own a Waterloo pharmacy outright, gradually adding locations in the years that followed.
Greenwood Pharmacy now offers a range of services, including retail, assisted living, immunizations, medication therapy management and long-term care practice. It was his clinical education, Bob says, that prepared him to offer such a diversity of services.

"I've always loved helping patients however I could," he says. "And I've been able to help them in so many ways. That includes getting people the medications they need and helping guide them through chronic disease states, like diabetes or congestive heart failure."
In the early years, Bob worked 60-to-70-hour weeks. Chery, a nurse, worked equally punishing shifts. The pharmacy closed on Sundays, making time for church, family breakfast and a much-needed respite from the long, hectic work week.
As if the Greenwoods weren't busy enough running a business and raising a family, Bob also served as a leader for various professional organizations, including the National Community Pharmacists Association, the American Pharmacists Association and the Iowa Pharmacy Association.
Bob also served on Waterloo's city council for 12 years. His first term, he ran on a single issue, prompted by a health concern he'd observed as a community pharmacist — the town was burning yard waste, and local asthmatics were suffering. The air quality was so bad in the fall that many people couldn't even go outside or open their windows without having serious respiratory problems.
Bob won his council seat, and within a few months he got an alternative composting program established.
Mission accomplished, he planned to step down. But a few community members convinced him to stay on the council, and he ended up serving for three terms.
All for the better. With Bob Greenwood on the council, the people of Waterloo could breathe a little easier.
***
And, of course, there was Creighton. Always Creighton.
Even in the thick of work, family, business, professional commitments and city council meetings, Bob and Chery stayed plugged in to the University and helped to shape the School of Pharmacy and Health Professions.
Creighton affected the Greenwoods' lives deeply. They, in turn, returned the favor. But long before then, Bob was very close to not coming to Creighton at all.
He'd planned to go to the University of Iowa but, at his mother's request, made a last-minute detour to Omaha.
Bob's senior year of high school, his mother was dying of cancer. She told she wanted one thing from him: She wanted him to get a Catholic education.
The nearest option? A certain Jesuit, Catholic University in Omaha.
"I still remember my first day at Creighton well," Bob says. "My uncle dropped me off at the back door of Swanson Hall, and I didn't know a soul. But the community was such a blessing. It changed my life. People here, they put their arms around you. If you fall down, they pick you back up."
Bob's mother died soon after, but before she passed, she got to see Bob get accepted to the University. Of the many memorable days of Bob Greenwood's life, that's another one that stands out — in part for how much it meant to his mother.
"I didn't have the best grades, but I was driven, and Creighton's pharmacy school took a chance on me," Bob says. "I remember I got that phone call, and they said, 'You're in.'"
Bob trails off, stops talking for a moment, looks down, overcome by the memory. Chery grabs his hand.
He looks back up and smiles.
"Oh boy," he says. "As you can see, this is emotional for me to talk about. Creighton means a lot."