Featured Testimonial About Creighton University
As an undergraduate student preparing for graduation from the College of Arts and Sciences, Leland Barker, PhD, BS'10, says he always hoped to one day return to Creighton as a faculty member.
"Creighton is where I fell in love with exercise science and the school spirit. I'm grateful for my experiences, and I owe a lot to my mentors. Dr. Joan Eckerson helped me find and pursue my passion in health sciences and academia."
In 2019, Barker joined Creighton as an assistant professor of exercise science and pre-health professions, where he now teaches, mentors and financially supports new generations of health science majors.
Since 2010, he and his wife, Aurora Driscoll Barker, BA'11, have supported the College of Arts and Sciences and other areas that hold special meaning to them, such as Athletics, the Computer Science, Design, and Journalism Department (formerly Journalism, Media, and Computing), as well as the COVID-19 Emergency Student Assistance Fund.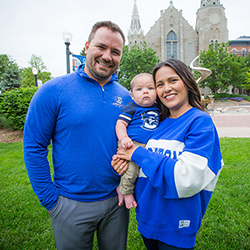 "We recognize that others have helped us get to where we are and I'm trying to pay it forward. I never feel like I'm working because my work resonates with who I am. It's important to feel like I'm helping another student find their path," Leland said.
With their gifts to the Department of Exercise Science and Pre-Health Professions, the Barkers enhance the student experience.
"When I was a student, the program didn't have many opportunities for undergraduate research," Leland said. "But now, we have around 20 to 30 majors involved in research every year. I know how valuable learning the scientific method is, and it is important to me to support that."
Leland and Aurora met in 2008 while playing on Creighton's ultimate frisbee club team. Frisbee offered Leland another opportunity to compete and provided an over-committed Aurora a low-stress social activity.
"My father knew I'd take on too much," Aurora said. "I chose Creighton because he'd challenged me to really think about what I wanted to do in college. He helped me to see that I could make a difference here, and he knew I would thrive in a place where I could make an impact."
At Creighton, the journalism major dedicated herself to several activities and internships. After volunteering in the Undergraduate Admissions Office, she says, "I never shook the feeling of how much I loved admissions."
Aurora is currently the director for recruitment at Creighton Preparatory School and maintains her relationship with her undergraduate advisor, Eileen Wirth, PhD.

"So of course, when Dr. Wirth created her named scholarship in the journalism department, there was no question we were going to join her in supporting students in that way."
The Barkers' gifts help students like 2017 graduate Emily Fisher, who, without financial aid, wouldn't have been able to attend Creighton.
"Receiving a scholarship instilled an attitude of gratitude within me that I strive to incorporate into my life," Fisher said. "Even when I am faced with struggles, I mentally list my blessings, and the struggle doesn't seem so all-consuming. Leading my life with gratitude is just one way I find happiness every day."
The Barkers say there was also no hesitation last spring to make a gift to the COVID-19 student fund.
"Like many people, we were trying to find ways that we could help and in as many ways as possible," Aurora said.
When the pandemic started, Aurora and her sister, Chelsea, turned from making headbands and dog bowties for their Etsy shops to making masks. They used all the profits from their sales to sew more masks that they then donated to the assisted living home where their father now lives.
"And then I saw the appeal from Creighton to help students … I couldn't imagine any student having to leave school because of COVID," Aurora said.
With their gift to the emergency fund, the Barkers helped students like Sarah Synek, who says she is grateful to know she is part of a community that cares about her health, safety and financial well-being.
"Without knowing me or anything about me, the Creighton community stood with me through this COVID-19 challenge to alleviate the intense financial stress and anxiety I was facing."
According to Leland, some of the research now being conducted in the Department of Exercise Science and Pre-Health Professions is pandemic related.
"Our tenured faculty are doing some really cool work on the world's problems, like COVID research and cancer research," Leland said. "While I don't feel like my research in jumping and landing biomechanics is changing the world, Aurora and I want to contribute to help students and faculty pursue their interests."
Fisher, who is now a graphic designer and licensed drone pilot in Omaha, says that she has always felt humbled to know that members of the Creighton community, like the Barkers, are invested in students like her.
"I am forever grateful for the relationships I made at Creighton, the ideas I was exposed to, and the opportunities for growth," Fisher said. "My experiences encouraged imagination—no idea was too out-of-the-norm—and it's this kind of thinking that positively impacts my life today."