Featured Testimonial About Creighton University
The Ferlic Fellowship ignites passions, facilitates the creation of new knowledge, and sustains lasting impact through the scholarly work and research of talented students.
Julie Strauss-Soukup, PhD
Vice Provost for Research and Scholarship
Ferlic Fellow Alessandra Kakish is deeply immersed in her undergraduate research at Creighton University. Guided by mentor Julie Strauss-Soukup, PhD, she examines the possibility of riboswitches as a target for antibiotics to combat antibiotic resistance. Her passion for this meticulous lab work has always been fueled by her desire to make a meaningful contribution to the healthcare field.
"Research is challenging, and it requires more than knowledge and skills," said Kakish. "It requires creative thinking and collaboration. Being a Ferlic Fellow has given me the opportunity to research and allowed me to know myself better."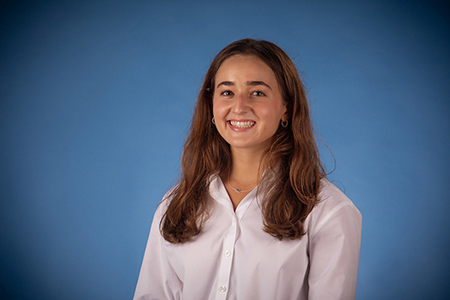 A recent conversation with a close friend's grandmother profoundly affected Kakish. The grandmother shared a heartfelt story about her son's battle with Methicillin-resistant Staphylococcus aureus (MRSA). She described the constant discomfort and vigilance her son endures to prevent spreading the infection to his loved ones.   
"She was so overwhelmed with joy and gratitude that my work revolves around the very issue that he is dealing with," said Kakish. "She wished me the best of luck. The conversation allowed me to view my research in a new light because this was someone's actual life."
Kakish, a premed biochemistry major, is among 243 students who have been awarded the Dr. and Mrs. Randolph Ferlic Summer Undergraduate Research Fellowship since the program launched in 2006.
The fellowship is made possible through the generous support of Randolph Ferlic, BS'58, MD'61, and Teresa Kolars Ferlic, and coordinated by Creighton's Center for Undergraduate Research and Scholarship (CURAS). Gifts to CURAS empower students with research scholarships, travel funds, and more and help the University maintain its status as a leader in undergraduate research.
Alongside their faculty mentors, Ferlic Fellows have written or co-authored 55 publications and delivered 633 presentations. In October, Kakish presented her study, Analysis of Bacterial Viability in the Presence of glmS Riboswitch Ligand Analogs. She was one of this year's 14 Ferlic Fellows who shared their summer project during the annual poster presentation.
"The Ferlic Fellowship ignites passions, facilitates the creation of new knowledge, and sustains lasting impact through the scholarly work and research of talented students," said vice provost for research and scholarship, Julie Strauss-Soukup, PhD. "The legacy of Fellows that exists because of Dr. and Mrs. Ferlic is extensive."
The program's undergraduate projects have allowed participating faculty to go on to obtain approximately $20.8 million of external grant funding from the National Institutes of Health, the National Science Foundation, the Department of Defense, and more.
Ferlic Fellows have garnered numerous national awards and scholarships, including the prestigious Clare Boothe Luce Undergraduate Scholarship, NASA Nebraska Space Grants, Barry Goldwater Scholarships and National Science Foundation Graduate Research Fellowships.
They have gone on to attend medical school and enrolled in some of the most prestigious graduate programs in the world. Post-graduation, Ferlic Fellows become surgeons, research scientists, and professionals in fields such as engineering, data science, law, academia and more.
"As a Jesuit institution, we are guided by the principles set forth by St. Ignatius of Loyola," said Creighton President, the Rev. Daniel S. Hendrickson, SJ, PhD. "We are here to inspire our students to lead purposeful lives and serve others, ultimately working toward creating a better world. This mission is undeniably ambitious, but it endures because of the Ferlics' unwavering belief in our students' potential."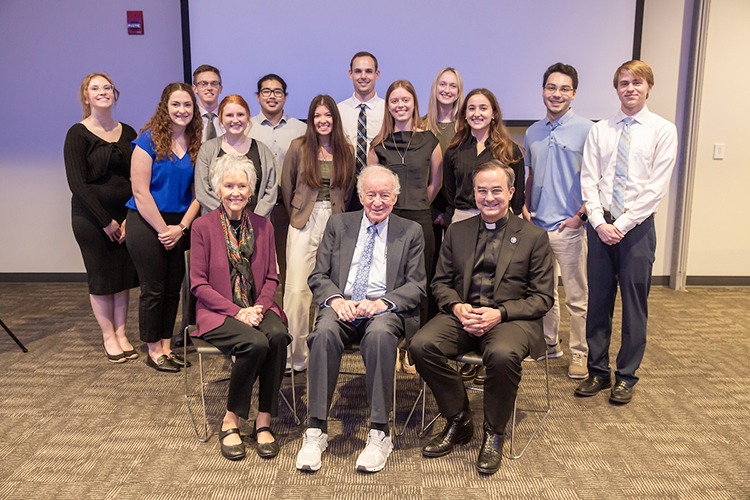 2023 Dr. and Mrs. Randolph Ferlic Summer Undergraduate Research Fellows
Julian Garcia, Class of 2024, Evolutionary and Anatomical Biology 
Fluctuating Asymmetry in Red-Tailed Hawks: An Analysis of Proximal and Distal Limb Bone Segments 
Faculty Mentor: Gabriel Rivera, PhD, Biology 
Elise Gooding-Lord, Class of 2024, Environmental Science & Ecology 
The King of the Hill: Observing Hilltopping in male Papilio polyxenes  
Faculty Mentor: Theodore Burk, DPhil, Biology 
Trevor Haugen, Class of 2025, Biomedical Sciences 
Control of cochlear amplification by cellular and acellular elements of the mammalian cochlea 
Faculty Mentor: Sarath Vijayakumar, PhD, Biomedical Sciences 
Alessandra Kakish, Class of 2026, Biochemistry 
Analysis of Bacterial Viability in the Presence of glmS Riboswitch Ligand Analogs 
Faculty Mentor: Juliane Strauss-Soukup, BS, PhD, Chemistry & Biochemistry  
Maisie Laughlin, Class of 2024, Biology 
Genomic Location of a Putative Male Determining Gene in Black Flies  
Faculty Mentor: Charles Brockhouse, PhD, Biology  
Joseph Poggi, Class of 2025, Biology 
Behavioral Fever and Humidity Preference of Crickets Experimentally Infected with Horsehair Worms  
Faculty Mentor: John Shea, BS, PhD, Biology
Connor Price, Class of 2024, Chemistry  
Chemosensing properties of aminopyridine click chelators 
Faculty Mentor: James Fletcher, PhD, Chemistry & Biochemistry 
Ellie Quattrocchi, Class of 2024, Neuroscience  
Choroid Plexus and the Cerebrospinal Fluid in Healthy Brain Aging  
Faculty Mentor: Gwendalyn King, PhD, Biology  
Landon Reichmuth, Class of 2025, Cellular Biology 
K. lactis Spc42 fails to rescue deletion of Spc42 in S. cerevisiae 
Faculty Mentor: Ann Cavanaugh, PhD, Biology
Lauren Ross, Class of 2025, Biochemistry 
Inhibition Kinetics of Novel Anti-Tuberculosis Compounds  
Faculty Mentor: Lynne Dieckman, MS, PhD, Chemistry & Biochemistry
Megan Rysko, Class of 2025, Cellular Biology 
Characterization of Candida albicans microtubule organizing center  
Faculty Mentor: Ann Cavanaugh, PhD, Biology  
Madeline Soyer, Class of 2024, Biochemistry 
Fatty Acid Composition of Zebrafish Modeling Carnitine Palmitoyltransferase II Deficiency  
Faculty Mentor: Eric Haas, BA, PhD, Chemistry & Biochemistry  
Devon Stoffel, Class of 2025, Exercise Science & Pre-Health Professions 
The Influence of Age and Gender on the Load Velocity Profile  
Faculty Mentor: Mitchel Magrini, PhD, Exercise Science & Pre-Health Professions  
Nicholas Tobin, Class of 2025, Chemistry 
Effects of Ink Composition on 3D-Printing Silica Glass via Direct Ink Write 
Faculty Mentor: Joel Destino, PhD, Chemistry & Biochemistry