Featured Testimonial About Creighton University
On August 10, 20 Haddix STEM Corridor Scholars presented their work at the Haddix Poster Presentation. Support of these types of projects positively impacts students' career trajectories, contributes to Creighton's sustainable, Jesuit mission, and puts Creighton at the forefront of scientific advances.
"The opportunity to do actual research in a biology and neuroscience lab has been invaluable and I will always remember this experience. Being a Haddix Scholar helped me realize all the opportunities available through STEM. I am grateful to Dr. George and Susan Haddix for opening my world to new passions and possibilities." Betel Aga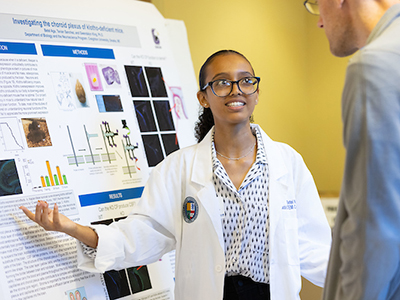 Dr. George Haddix, MA'66, and Mrs. Susan Haddix are ardent supporters of Creighton University students. Their generosity in funding scholarships has enabled many to fuel their passions and realize their dreams of attending Creighton.