Featured Testimonial About Creighton University
All of his life, the late Father Val J. Peter, JCD, STD, Hon'92, pursued the will of God for the betterment of all. The emeritus executive director of Boys Town, who passed away in 2020, was known for being a "life force" - his energy and his passion for serving others inspired an untold number.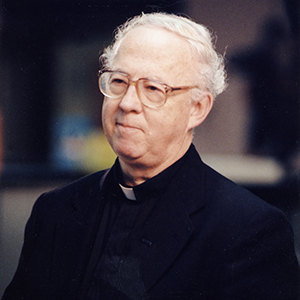 Through a memorial gift of scholarship, Father Peter continues to leave his mark on the world. To honor his legacy as a youth advocate, mentor and educator, the Peter family established the Father Val J. Peter Scholars fund at Creighton University.
The Peter family gift aligns with a key priority of Forward Blue, Creighton University's fundraising campaign. Announced publicly in October, the comprehensive campaign emphasizes scholarships and support for student programs.
"Scholarships are the number one priority of Forward Blue," Mary Chase, EdD, Vice President for Enrollment Management, said. "The reason for this is clear: Creighton exists for students. I am grateful to the Peter family for helping us to continue our legacy of making life-changing experiences available for passionate students."
Thanks to the Peter family's generosity, four first-generation students each year will have access to a Jesuit, Catholic education as Peter Scholars.
Before serving as the executive director of Boys Town, Father Peter was a professor of Theology at Creighton. From 1970 to 1984, he set an example of guidance, generosity and faith for hundreds of University students.
"Few faculty who have passed through our campus have had the overwhelming impact on students that Father Val did during his 14 years in the classroom," Creighton President Father Daniel S. Hendrickson, SJ, PhD, said. "His efforts encouraged countless students to embrace a set of Catholic values that motivated them to walk with Christ."
An Omaha native born in 1934, Father Peter attended Holy Cross Grade School and Creighton Preparatory High School. At a young age, he discovered his calling as a priest and went on to study in Rome, where he earned doctoral degrees in Theology and Canon Law.
Father Peter taught at St. John Seminary in Elkhorn, Neb., College of Saint Mary in Omaha, and finally, at Creighton University – where his classes were always in high demand. He is remembered for wearing a safari hat on the first day of classes, ready to take his students on what he described as a "safari of knowledge."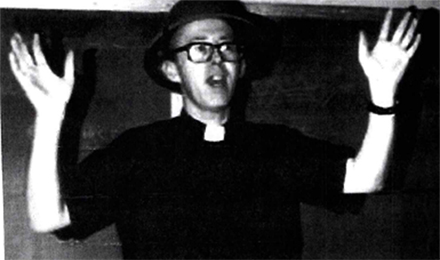 In 1985, Father Peter found his second calling as the executive director of Boys Town, where he earned a national reputation for his leadership and care for others. Father Peter established Boys Town sites in several major metropolitan areas and in 1989 created the Boys Town National Hotline.
Father Peter dedicated his life's work to children and their families. It was important for him to know the name and story of each resident of Boys Town. When he retired in 2005, he remained committed to the Boys Town youth and alumni, whom he caringly called "his kids."
"There was no one like Father Peter and I doubt if there will be anyone like him again," Creighton graduate Herbert Hames, BA'74, JD'77, senior development director at Boys Town, said. "He had a brilliant mind, and his heart was always 100% about kids and our mission. He was deeply rooted in faith and believed education was the key to a successful life. We are all better for knowing Father Peter."
Meet two of the inaugural 2021-2022 Peter Scholars
Kahiau Cockett-Nagamine, Class of 2022, Biology major, pre-med, Hawaii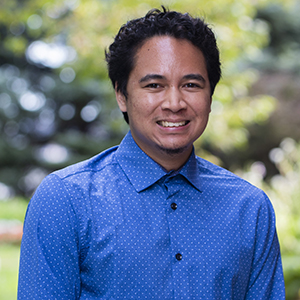 "It was challenging to be a first-generation student so far from home. But if I could go back, I'd tell myself: It all works out and Creighton will become your second home. I wouldn't be at Creighton without scholarships and in gratitude, I will always do my best to honor Father Peter."
Like Father Peter, Cockett-Nagamine is passionate about serving others. He is a member of the Alpha Phi Omega service fraternity at Creighton, volunteered at the Covid-19 community vaccine clinics and as a patient ambassador at the University of Nebraska Medical Center. He also has been active on campus through Hui O' Hawaii and as a biology tutor in the Creighton EDGE Program.
He looks forward to applying the values of his Creighton education by addressing health disparities in underserved communities in his home state.
"Knowledge is a powerful thing. You can share it, you can cultivate it, it really has a ripple effect. I'm never going to stop learning in medicine, and I take my role as an advocate for my patients very seriously. I hope in these ways, I embody some of the values of Father Peter."
Tiffany Lumley, Class of 2024, Psychology Studies major, Florida
"Creighton is such a strong and supportive community, and I think scholarships are a part of this. I am so grateful to be a Val J. Peter Scholar. It's an amazing thing to understand its impact. Scholarships help me as a student, but they are also helping me develop as a person."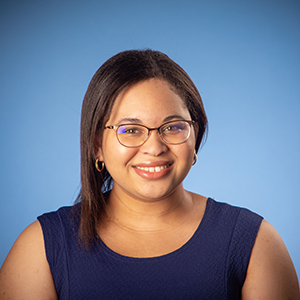 Lumley says her Creighton education has been all that she had hoped for.
"I'm actually shocked by how much I've grown here; how much confidence I've gained; how I'm learning to be a leader. I know that this is all possible because of the gift of scholarship."
She is active in the African American Student Association, History Society, and the Division of Equity, Diversity, and Inclusion. The youngest of three children, Lumley has always felt it is important to challenge herself and to make her family proud.
"My dad is my hero. He's always been there for me, and I know how hard he has worked. As many parents do, he and my mom believe college is the path to success. I am grateful for this wonderful gift."